When it comes to fighting the effects of the state's historic drought, it's hard to argue that South County residents haven't done their fair share.
But while they sacrificed, either voluntarily or through mandatory conservation measures, construction projects in the Five Cities area continued. Residents asked to forsake their green lawns watched as massive tanker trucks sprayed hundreds of gallons of water onto packed dirt, which one day would become a subdivision, hotel, shopping center, or restaurant. It wouldn't be long before resentment over the issue surfaced, and some South San Luis Obispo County residents and elected officials began to consider moratoriums on new construction.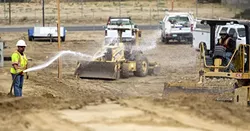 PHOTO BY JAYSON MELLOM
CONSERVATION VS. CONSTRUCTION : Municipalities in the South County are wrestling with whether to pass moratoriums on building to help fight the drought.
The latest clash over the issue reared its head in Arroyo Grande. An Aug. 23 City Council meeting revealed a council divided on instituting some type of ban on construction in the city due to ongoing drought conditions. Mayor Jim Hill, who is currently running for re-election, and Councilmember Tim Brown vocally supported a moratorium.
Hill said he believed that the prolonged drought conditions have ushered in an unprecedented and critical situation for the city. According to city staff, the levels in Lopez Lake will allow the city enough water to last just two years if current conditions continue. Arroyo Grande pulls water from Lopez Lake and the Santa Maria Groundwater Basin, and it shares both sources with neighboring municipalities in the Five Cities.
"It seemed to me that we are at the point where we could not allow additional development," Hill told New Times. "At some point somebody has to take the lead, and I think it's time for Arroyo Grande to take the lead."
Since the state required a 28 percent reduction in water use, Arroyo Grande has passed several mandatory measures of its own, slapping violators with fines and encouraging residents to conserve of their own volition. The carrots and sticks paid off, and the city was able to reduce its water use by 36 percent.
Councilmember Brown believes that residents are being forced to bear the burden of conserving water that will be used for future development and annexation efforts. He characterized the situation as a "slap in the face" to residents who scarified and conserved while developers were free to continue to propose and build large projects that would use water.
"You're telling the residents, 'We don't care about what you've done; we're gonna go full bore and keep building because we think we can, and God knows it's going to rain sometime,'" Brown said at the meeting.
Hill moved to direct staff to develop a building moratorium to bring back to the council for consideration, but the move failed on a 2-3 vote. Several of the council members who voted against the motion raised concerns about the potential impact that a halt to current or future development could have on local jobs and the city's economy.
"We keep talking about wanting a robust economic development plan," Councilmember Barbara Harmon said. "So if we go into even a temporary moratorium, what happens to that opportunity?"
There is also the question of just how much water a moratorium might save. At the meeting, city staff estimated that a construction moratorium would only net a 2 percent decrease in water usage.
"You're taking away a person's property rights for a very small percentage of water that you're going to save," she said.
Arroyo Grande is the latest but certainly not the only South County entity to consider a building moratorium. In July, Nipomo officially entered a second year of severe water shortage. Its Community Services District board of directors voted to halt processing new applications for water service last year but declined to extend that moratorium to current construction projects, including a planned 112-bed senior living facility and other ongoing development projects that may have come to a halt.
Thus far, the city of Pismo Beach is the only Five Cities municipality to instate a comprehensive building moratorium in response to the drought. In December 2015, the City Council approved a three-tiered moratorium system, enacting the first tier, which bans approval of permits for development on vacant lots and requires anyone looking to redevelop an existing building to prove that its water consumption would not increase post construction. The council voted in April to continue the moratorium.
Determining how that moratorium has helped Pismo's water woes isn't an exact science. Pismo Beach Public Works Director Ben Fine said that a moratorium doesn't necessarily save water but instead decreases demand.
While Pismo is the only city in area thus far to enact a ban, questions linger on what other South County cities will do. Fine said that if more neighboring cities passed more construction moratoriums, it would have a greater impact on water supply.
"The more communities that do it, the more helpful it is," Fine said.
Whether Arroyo Grande is the next city to join in remains to be seen, though it may not happen any time soon.
"I think we need to keep that in our back pocket," Councilmember Kristen Barneich said at the Aug. 23 meeting.
Staff Writer Chris McGuinness can be reached at cmcguinness@newtimesslo.com, or on Twitter at @CWMcGuinness.