JANUARY

Don't things always start out so fresh and so clean after the New Year? Then Greka spilled 84,000 gallons of crude oil—their second spill in as many months. Somehow, this spill went undetected for 12 hours, mixing with rainwater, and flowing into a nearby creek. Silly Greka!


FILE PHOTO
ELECTED OFFICIAL : With not one, but two lawsuits in 2008 naming Sheriff Pat Hedges an instrument of privacy invasion, many voters are counting the days until Nov. 2, 2010.
The
Governator
proposed closing 48 state parks, including Montaña de Oro, to eradicate the (then)
$14 billion budget gap
. The parks are still open, but budget problems are expected to get worse—at press time the state budget gap was widening at a rate of $40 million per day.
After
Sheriff Pat Hedges
helped bust the Morro Bay
medical marijuana
dispensary, some folks looked to set up a new dispensary in Templeton. The SLO County Planning Commission approved the dispensary, but that wasn't the end.
And finally, as the county prepared for widespread budget cuts, Hedges went before the Board of Supervisors, seeking additional funding for the Gang Task Force.
FEBRUARY

Dan DeVaul
got a New Year's kick in the balls from the county for violating numerous county codes on his ranch/unlicensed rehab facility, Sunny Acres. The county handed down $12,000 in fines for selling Christmas trees, among other things.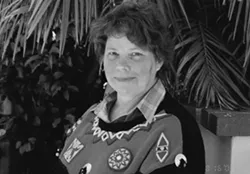 FILE PHOTO
CLOSURE COMING? : Two years after Sharon Ostman, a well-known homeless woman, was found slain in a creek, police made an arrest for her murder.
When things seemed as though they couldn't be worse for the facility, they got plenty worse when police arrested former Sunny Acres cook Freddie Joe Lewis on suspicion of murder—more than two years after a homeless woman,
Sharon Ostman
, was found slain in San Luis Creek. Then the county called DeVaul a slumlord for housing all those homeless people in a barn.

Mardi Gras
, long celebrated with a parade and good-natured debauchery in SLO, seemed to have been finally snuffed out after police deployed more than 100 officers on Fat Tuesday.
SLO P.D.
handed out 36 tickets, and handcuffed 28 revelers.
Dalidio Ranch
received yet another blow after a SLO judge overturned Measure J. Dalidio vowed to keep fighting to develop the 131-acre property—just like he has for the last decade.
Outspoken Pismo City Council Member
Bill Rabenaldt
was censured by the other members of Pismo Beach's City Council for sending a series of relatively inoffensive e-mails.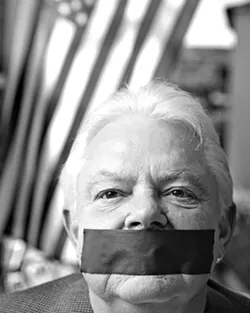 PHOTO BY STEVE E. MILLER
CENSURED, BUT NOT SILENT : Pismo City Councilman Bill Rabenaldt was shunned by his fellow council members, who forbade him from speaking on behalf of the city, after he sent out some risqué emails to staff and council.
Former New Times Staffer Kai Beech explored love from behind bars—no, he wasn't arrested—with a touching story about how prisoners keep the love alive with their partners on the outside.
The Amgen tour of California made its way through SLO, possibly for the last time. Word is that the tour, which boasts some big-time corporate sponsors, was asking the city for more and more each year. Judging by the 2009 route, it looks like a lot of cities got fed up with the tour's demands.
MARCH
SLO City Council Member
Allen Settle's residency
was called into question after a reporter followed him home—to Arroyo Grande. Settle explained that he was sort of living in two houses: the 1960s tract home in SLO where a bunch of college kids were living, and his new hilltop mansion in Arroyo Grande. Fellow council members kicked at the dirt in response.
The
Save Mitchell Park
group was born, and started showing up at SLO city meetings to keep a parking lot from being built on part of Mitchell Park. Seniors from the senior center said they needed the new parking, but residents from the neighborhood preferred a community garden, which had been planned for the park.
Not far from Mitchell Park, Staff Photographer Steve E. Miller chronicled the trials and tribulations of a pair of freewheelin' dudes without shelter as they spent their day rolling cigarettes, riding bikes, and hanging out at the park.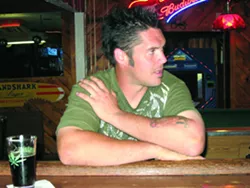 PHOTO BY KAI BEECH
DOUBLE JEOPARDY? : Irish Abe was offered a plea bargain on charges related to selling pot to undercover cops, only to have the DA take back the offer. He had been mistaken for another Baxter.
Abe Baxter, the pot-slinging, ultimate-fighting, dirty-dancing, plea-bargaining San Luis Obispo man who was busted on suspicion of selling pot to an undercover agent outside the Morro Bay medical marijuana dispensary, took a plea bargain, only to have it taken back by local prosecutors. They said they mistook "
Irish Abe
" for another Baxter.
March 19, 2008 marked the five-year anniversary of the Iraq war. Can you say "Mission Accomplished"?
APRIL
The
UCSB Economic Forecast Project
predicted a mild recession for California. Well done.
New Times hired veteran newsman Ed Connolly as editor.
Shredder
promptly ripped him after mistakes started to appear in the paper. Welcome!
The Downtown Association
got permission from the city of SLO to split and become a fully autonomous promotional body, except they will still be funded by a special tax, which the city collects from downtown business owners.
SLO Police arrested
Nic Rodriguez
on suspicion of felony vandalism. The 24-year-old, whose stickers were plastered all over town, suggested that it was his fans posting his work. Police confiscated various art supplies from his house, including several finished and empty canvases. Days after his arrest, the outlaw artist took part in a group art show, where he reportedly did quite well. Hopefully it will help cover the cost of his legal fees.
ILLUSTRATION BY RUSSELL HODIN
PUBLIC ENEMY NO. 1 : Sunny Acres operator Dan DeVaul had too many run-ins with the county this year to count. But it's "clear as a goat's ass uphill" Devaul has no intention of shutting down his self-styled rehab facility.
Self-styled rehab operator
Dan DeVaul
racked up more than $20,000 in fines from the county for housing homeless people in substandard accommodations and for failing to remove debris from his ranch.
The Board of Supervisors overturned the Planning Commission's approval of a
medical marijuana dispensary
in Templeton because, they said, it was too close to a school, even though it was across the highway. Now patients will have to get their weed off the streets, like the kids do.
Morro Bay City Councilman
Rick Grantham
was caught making unflattering comments about public speakers, saying "There must be a lot of hungry squirrels out there, 'cause all the nuts were in here." It turns out that the mic was still on and the video ended up on YouTube. Whoops!
MAY
Pat Hedges
, the pot-hating, eavesdropping Sheriff of SLO County, was ordered by a judge to return a bag of marijuana to
Craig Steffens
, who had a doctor's prescription for the drug. All charges against Steffens were dropped but Hedges refused to return the pot. Hedges was threatened with contempt before he would hand over the medicine, which Steffens weighed immediately, "to make sure it's all there."
Mitchell Park was determined to be an appropriate place for a parking lot. The SLO City Council voted 3-2 in favor of the $200,000 parking lot for seniors. You'd think the drama might end there, but neighbors continue to fight the plan.
PHOTO BY STEVE E. MILLER
SOMETHING'S AMISS : Sierra Club leader Andrew Christie points to county documents, which were mysteriously edited. Christie said the missing parts were those that restricted off-road vehicle use at the Oceano Dunes.
Local
Sierra Club
officials found key language missing from a staff report presented to the Planning Commission. Just as the county was attempting to sell a 580-acre piece of land at the
Oceano Dunes
to the state for off-road vehicle recreation, the club found a statement and a map, which dedicated the land as buffer zone—not a recreation area. County officials couldn't explain why the info went missing, but said it was incorrect anyway.
A fledgling oil company,
Excelaron
, announced plans to extract oil in the sleepy Huasna valley. Neighbors were not pleased.
JUNE
Local politicking grew ugly up to the election of the new Board of Supervisors. Paso Robles Mayor
Frank Mecham
and Cal Poly English lecturer
Adam Hill
won in landslide victories, while
Jim Patterson
squeaked by with fewer than 300 votes over his opponent. Patterson, Hill, and Gibson are thought to form a new "green" majority. Too bad they wouldn't actually take office for another six months, because a lame-duck board could push forward a lot of controversial development in that time.

New Times'
anonymous columnist
Shredder
won an award with the Association of Alternative Newsweeklies, which is a pretty big deal if you're part of that club. Sucks for the girl or guy who writes the crap; you can't exactly list an award to an anonymous columnist on a resume.
Local hero to the homeless
Dan DeVaul
descended from county code violations to criminal charges when the district attorney filed misdemeanor charges against him for neglecting to correct the cited code violations at Sunny Acres. The infractions included maintaining a fire hazard, unlawful storage of vehicles, and, of course, housing people in unsafe structures. DeVaul believed the charges were politically motivated.
Same-sex couples
lined up to be married June 17, along with the rest of the civilized state. Kern County protested by refusing to process all marriages for a week.
The county found itself entangled in a new Hedges lawsuit when an Atascadero
medical marijuana
patient,
Elaine McKellips
, filed a lawsuit against Sheriff Pat Hedges, the San Luis Obispo Sheriff's Department, and the County of San Luis Obispo for allegedly illegally confiscating and holding her medical records. McKellips was a member of the now-defunct
Central Coast Compassionate Caregivers
medical marijuana dispensary. Her records were confiscated by sheriff's deputies at the time of the raid and held, she said, in violation of HIPPA regulations—a patient's privacy law.
JULY
Colin Rigley joined New Times as a staff writer. Management published a glamorshot of him in some sort of bizarre, journalistic hazing ritual.
The City of San Luis Obispo approved selling a municipal parking lot and building one block from the mission for $1.1 million, even though it had been appraised at $8.8 million. The land will be used to build the
Chinatown
project, a three-quarter-block development, which is to include hotel, residential, and retail space. The sale price was controversial because developers the Copelands had previously paid $13 million for adjacent properties, which in total were less than half the size of the city-owned property.
An outbreak of distemper killed at least 20 cats at the
county animal shelter.
News of the outbreak came just weeks after the grand jury reported they could not complete an investigation of the shelter because they were being blocked from attending important meetings.
ILLUSTRATION BY RUSSELL HODIN
PIGS AT THE PUBLIC TROUGH : The city of SLO is facing a budget crisis as the result of a binding arbitration decision. When the city and the police union failed to agree on new contract details, the process moved to binding arbitration—where a third party makes the decision—and SLO ended up with rookie cops who need nothing more advanced than a high school diploma to earn more than $80,000 a year.
New Times
sounded the alert about a looming disaster: the
Montebello
, a deteriorating sunken oil tanker just six miles off the Cambria coast. Then disaster struck the city of San Luis Obispo's budget with the
binding arbitration
decision. Under the deal, the SLO Police Officers Association can expect a 30 percent raise over four years; most officers will make more than $100,000 per year. The raises cost the city $4.4 million from the '08-'09 budget, and $1.8 million a year thereafter. The city went from the biggest budget surplus in recent history, to the biggest budget crisis. Can you say
bye, bye Measure Y
?
SLO County Animal Services received another not-so-flattering report from the Humane Society of the United States. The report cited several instances of inhumane treatment of animals, lack of proper training for staff and volunteers, and an overall impression that cats received poorer care, compared to dogs.
The Natural Resources Defense Council released a report that waters around
Pismo Beach
had
bacteria
levels 23 percent higher than acceptable under state standards.
Charles Lynch
, the Arroyo Grande man who operated Central Coast Compassionate Caregivers, stood trial in a federal courtroom. Lynch, whose medical marijuana dispensary was raided in March '07, was charged with several crimes related to the business. Although marijuana use has been decriminalized for use by patients with a doctor's recommendation in California, the federal government does not recognize that the herb has any medicinal qualities.
AUGUST
Charles Lynch
was found
guilty
on five charges related to growing and distributing marijuana.
Sheriff's Deputy
Bryan Goossens was one of three local men caught in a
child porn sting
. The investigation, which was led by the FBI, nabbed a total of 55 men between SLO County and southern California. Emphasizing the positive side of things, a rep from the Sheriff's Department said they were pretty sure he wasn't looking at kiddie-porn during work.
Morro Bay leaders held a special meeting to discuss major changes to city operations—or un-incorporating.

Sheriff Hedges
was let off the hook by the Attorney General, at least concerning any criminal charges for wiretapping one of his own officers. Still, a civil suit dragged on and court documents revealed Hedges' apparent motive for eavesdropping on Undersheriff
Gary Hoving
. According to the documents, the Sheriff spied on Hoving because he thought the deputy was
"making fun of" him
. Stay tuned to find out how much Hedges' bruised ego will cost the county.
SEPTEMBER
Code enforcement officers arrived at
Sunny Acres
with Sheriff's Deputies in tow to post notices for eviction from mobile homes at the makeshift rehab facility. Many residents, who would otherwise be homeless, vowed to stay. Code enforcement officials vowed to return.
SLO County settled the sheriff eavesdropping suit for $660,000. Sheriff
Pat Hedges
and his second-in-command,
Steve Bolts
, were accused of violating Hoving's civil rights having wiretapped his office, but the county decided to settle the suit before it went to court.
Sheriff's Deputies arrived at
Sunny Acres
to padlock any "unsafe" structures people may have been living in.
New Times
Staff Writer
Kylie Mendonca
reported on Burning Man, the Nevada festival of freaks, where she found "Donald-Ducking" (that is, wearing a shirt and no pants or undies) is a national trend.
A group hoping to mine sand and gravel from the Salinas River requested that they skip the normal county planning process, claiming that county staffers were intentionally slowing the process. According to statements by the Department of Planning and Building, the miners accused county staff of "having a complete lack of intelligence and ability to make informed decisions; personal bias and personal agendas …" Seems like a good way to get your project stalled.
The Board of Supervisors baffled many people by tentatively approving the transfer of more than 5,000 acres of
Suey Ranch
to Santa Barbara County. Then it was discovered that the owners of the property had contributed to the campaigns of supervisors
Jerry Lenthall
and
Harry Ovitt
. Not surprising, Lenthall and Ovitt supported the transfer. In the end, Katcho opposed the deal, and Suey Ranch stayed in SLO County.
The
Atascadero Chamber of Commerce
hired Wal-Mart's own public relations firm to conduct a study as to how many Atascadero folks wanted a Wal-Mart. Then the chamber said that 51 percent of 762 businesses surveyed were in favor of a
super Wal-Mart
, but it turned out that only 446 businesses actually responded.
SLO County schools held a mock bake sale in front of the county courthouse, hoping to bring attention to potential state budget cuts. At a dollar each, the group hoped to sell about 325 million brownies.
OCTOBER
New Times broke the story about the 10-year-old murder of
Andrea Lynn Hug
. The Sheriff's Department at first botched the investigation, calling it an accident. But some folks in the department just wouldn't let it rest. It never sat right with them and they kept at it until the department reopened the case. Before too long, they began to focus on a one-time Grover Beach cop in the case.
Another cover story revealed that the people putting together the 10-year plan to end homelessness didn't believe it would end homelessness in 10 years—or ever. But they did get to play with some neat
finger puppets
.
A New Times intern went under cover and literally under the streets of SLO County to track down notorious tagger
SOAK
. The police are supposedly onto the guy, but haven't nabbed him yet.

Insomniac Video
closed, which sucked for anybody needing a copy of Nosferatu, and people got super anxious about the coming election, especially Proposition 8, the same-sex marriage ban. New Times published the positions of local candidates in a pre-election cover article.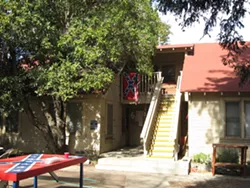 PHOTO BY PATRICK HOWE
THAT'S SO CROPS HOUSE : Next time a friend or relative makes some kind of embarrassingly small-minded quip or racially insensitive comment, just let them know: That's so Crops House.
New Times broke the story of the
Crops House
at Cal Poly, which we photographed displaying a noose and confederate flags (along with lots of McCain-Palin signs). Campus officials could have reacted more forcefully, but did remove the house residents.
Colleen Enk
, the subject of a cover article, was sued for standing up against the sand and gravel miners who've been bullying their way toward mining the North County streambeds.
NOVEMBER
Election day came and went; Barack Obama came and George W. Bush went. Locally,
Dave Romero
kept his seat in SLO, joined by new council members
Jan Marx
and
John Ashbaugh
. Atascadero's Wal-Mart-limiting measure went down in flames. In Morro Bay, Mayor
Janice Peters
squeaked by with 48 votes more than her opponent George Leage.
Proposition 8 passed, ending gay marriage for the time being.
Cal Poly students protested the racist and homophobic items found at the Crops House.
Shredder
called out university officials and the house residents for their lame attempt at damage control, which centered on freedom of speech. "Um, so you didn't put the flag up, but you, ah, also don't think there's anything wrong with it?"
Maria Romo
got a settlement from the county after a county social worker allegedly coerced her into engaging in sexual acts by threatening to take away her children.
Turns out there are as many electric charging stations in the county as there are
electric cars
: four.
Ranchers in rural Arroyo Grande took it upon themselves to fight an Australian-supported company from turning their quiet valley into an active oil field. After only six months, they seemed to have a better understanding of environmental laws than the county, which seemed more than ready to sign off on drilling operations. Still, some wondered whether there was anything useful in the ground, because historically the Huasna crude has been crud.
Former sheriff's Capt.
Gary Hoving
was finally recognized after retiring from the county. It was bittersweet, the sweet parts being the nearly 29 years when he wasn't spied on by
Sheriff Pat Hedges
.
Business executives and politicians got a crash course in how to talk about the grim economy at the SLO County Economic Outlook. The first tip: Don't use the word grim.
Firefighters found themselves shooting right back to SLO from the Tea Fire in Santa Barbara when a fire on the hillside near Johnson Avenue put homes and other buildings in danger.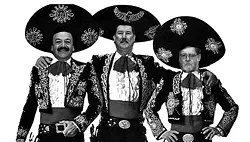 ILLUSTRATION BY NEW TIMES STAFF
THREE AMIGOS : With supervisors Harry Ovitt (right) and Jerry Lenthall (center) on their way out, the pro-development majority set out to ignore staff recommendations against some proposed projects.
The 3-2 Board of Supervisors vote continued the Santa Margarita Ranch project on an appeal, with the tentative tip of the hat from
Jerry Lenthall
,
Harry Ovitt
, and
Katcho Achadjian
.
But even in a bad economy it's good to have a SLO County government job, for those who managed to keep one. Rising salaries worsened the county debt and threatened to discontinue many public jobs.
Dan DeVaul
got a convoluted letter from county code enforcement that said he would have to start cleaning up or someone would do it for him and leave the bill.
"These SOBs are stuffing me down, stuffing me down, and not letting me build affordable housing for people who need it," DeVaul said.
Geologists discovered a potential fault line about 1,600 feet from the
Diablo Canyon Nuclear Power Plant
. The new fault is believed to be capable of a magnitude 6.5 earthquake, but PG&E officials said the plant could withstand such a temblor.
The SLO City Council approved demolition of the Sauer Bakery building and the Blackstone Hotel to make way for the Chinatown project. The move was a blow to the
Save our Downtown
group, which has opposed the Chinatown project and forced changes in the design.
KCPR 91.3 FM turned 40 years old. DJs old and young looked back on the station's beginnings and the new KCPR role "to provide people with a blend of music that they will not find on any other station," said longtime
DJ Jimm Cushing
.
The Laetitia agricultural cluster development in south SLO County could surpass the Santa Margarita Ranch project with its 23 unavoidable impacts.

DECEMBER
The paper got a little squirrelly, as intern Anna Weltner explored the world of furries—people who dress like animals and even take on animal personas, whatever that means.
Cal Poly freshman and Sigma Alpha Epsilon pledge
Carson Starkey
died in an apparent hazing incident. While police were tight lipped, someone whispered to Shredder, telling of bags full of bottled liquor pledges were told to consume, and a bucket that students used as a
vomit receptacle
. Now that's a party.
A local medical marijuana patient broke his silence about being held in jail for 21 days after Sheriff's Deputies raided his home and arrested him for growing pot—even after he presented evidence of being a patient.
The city of Atascadero gave developers a $1.5 million loan to get the
Colony Square
project off the ground. Although the project was approved in 2005, developers failed to get a private loan before the market crashed, leaving many to wonder if they really tried before asking for a public bailout.
County supes, in what was supposed to be their last meeting, approved a sand and gravel mining operation without an Environmental Impact Report, possibly in violation of California environmental law. Lawsuit, anyone?
Meanwhile the proposed Santa Margarita development decision was continued and continued and continued until the last Board of Supervisors meeting, until the outgoing board finally approved it a week after what was supposed to be their last get-together.

New Times
followed up on reports of
SLO City Park Rangers
targeting the camps of people who had no other shelter in an effort to clean up the creeks. The residents of those camps reported having their property trashed and their tents destroyed just days before rains came. But the culprits weren't rogue rangers: Orders to destroy the shelters were apparently in line with city policy, which considers such actions a final resort when folks just won't move on.
Greka
finished up 2008 the same way they started it—and finished 2007—by spilling several thousand gallons of oily water and several hundred gallons of crude. The infamous refinery added three small spills over a two-day stretch. The only plausible answer for how this continues to happen is that it must be a miracle.
And we all had a happy New Year ever after.
Send comments to editor Ed Connolly at econnolly@newtimesslo.com.