It's Wednesday, Feb. 27, and I am drinking a Cosmo on the rocks made by a robot. It's delicious. My first question is this: Who would win in a bartending contest between Tom Cruise's character Brian Flanagan in Cocktail and Bartendro 15, the bar-bot that made my drink?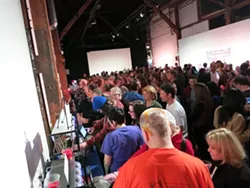 BIG HIT! : Party Robotics displayed Bartendro 15 and Bartendro 7 at Robot Games' "BarBot" convention, an exhibition of cocktail-dispensing robots, where over two days their robots dispensed more than 500 drinks!
Even Party Robotics marketing director Erin Berman has to admit Cruise would win, though Bartendro 15 would be "less messy."
My next question is this: Can Bartendro 15 ask me how my day was and commiserate?
"It doesn't do that yet," Erin says, "but I suppose you could program that in"—and by "you," she means someone who knows about computer programming, because Bartendro and Party Robotics is all about open source code that users can modify for their own pleasure.
OK, let me back up for a second while I use my iPhone to get Bartendro 15 to make me a Gummi Bears (Midori, Triple Sec, simple syrup, lime, and cranberry juice, in case you're wondering).
I'm at computer programmer Robert Kaye's house, hanging with his business partners Pierre Michael, who does the mechanics side of the biz, and Erin, their marketing wiz. They've invited me here to see their bartender robots in action because they've just started a Kickstarter campaign to (hopefully) raise $135,000 by Sunday, March 31, to start putting their invention into mass production. (I'm now in the future! When last I checked on Monday, March 4, four days after they started their campaign, they had 84 backers pledging a total of $20,464. Not bad for four days!)
PHOTO BY STEVE E. MILLER
THE A TEAM! : Erin Berman, Robert Kaye, and Pierre Michael are the trio responsible for Party Robotics, the local company that makes Bartendro bartender robots.
The bar-bots are incredibly easy to use. You decide what liquors and mixers to attach, and your choices drive the drink menu. Bartendro 15 has 15 liquids, and in its current configuration can make 42 drinks. There's also a Bartendro 7, which they've used as a margarita station. The interface—in this case a Samsung tablet—has a sobriety test attached, and to make a margarita with one of the top shelf tequila selections, you have to pass it; otherwise your margarita is made with the cheap stuff. How awesome is that?
By pushing a few "buttons" on your phone or tablet, you can decide to make your drink sweeter, stronger, whatever! If you're having a party, think of the possibilities.
"Normally at a house party, you might have a bar set up to make three different drinks—vodka and cranberry, rum and Coke," Erin says.
With Bartendro, however, you can have a whole bunch of fancy drinks, some of which might be really hard to make, but since the bot dispenses the liquids to volumes as close as one milliliter, your mixes are exact, drink after drink.
"And when you clean up, there's no sticky floors," Erin adds. "Bartendro cleans up by running a cup of soapy water through the tubes."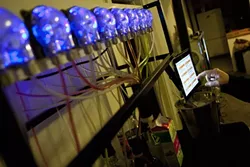 GET ON (THE MOTHER) BOARD!: Visit partyrobotics.com to find their new Kickstarter campaign. The site has a brief video explaining their invention and talking a little about themselves and their plans. You can pledge as little as $1. Pledge $5 and get a "sweet die-cut" sticker; pledge $15 and get a shot glass with logo and a sticker; pledge $30 and get a T-shirt and sticker; pledge $75 and get the shirt, shot glass, and sticker; and so on up to $10,000, which will get you your own Bartendro 15 and a whole lot more.
I could see this being great for a caterer, too. People can use their smart phones to peruse the menu, and walk up to Bartendro, put a glass if ice under it, press their order, and in less than five seconds, have a great drink! That would get rid of long lines!
In a few days, Rob, Pierre, and Erin will be taking Bartendro to San Francisco for Robot Games' "BarBot," an exhibition of cocktail-dispensing robots, where they hope to wow the crowd with the simple elegance of their design. Lots of bar-bots are big, cumbersome, and ridiculously expensive. When they start production, they hope to have Bartendro 15 in the $3,000 range.
"Most of them are about 10 grand," Rob says, "and they're nice, but they're too big to travel with them; they're not open source, so you can't modify them, so they're not part of the makers community."
According to Rob, Pierre, and Erin, the makers community—people open to sharing their designs and programming code—are the cutting edge of the new industrial revolution.
"We want people to tinker with the software," Rob says. "Buy a bot, go hack on it, send us those new features so we can add them onto the next generation of Bartendro."
I don't know much about programming—OK, I know nothing—but that doesn't stop me from getting Bartendro to make me a Carrot Cake (Kahlua and butterscotch schnapps).
The other nice thing about Party Robotics is it's a local company, and 90 percent of the manufacturing is done right here in San Luis Obispo.
They get the pumps from Asia, but they modify them, add in the electronics and LED lights, build and powder-coat the frames, and assemble them here.
Of course, you should use Bartendro responsibly. You can program in whatever combination of liquids you want, but as Rob notes, "The Sour Apple Pucker does not play well with the Bailey's Irish Crème—it curdles it."
Lucky for me, I'm drinking Carrot Cake. Cheers!

Glen Starkey takes a beating and keeps on bleating. Keep up with him via twitter at twitter.com/glenstarkey, friend him at facebook.com/glenstarkey or myspace.com/glenstarkey, or contact him at gstarkey@newtimesslo.com.