The aftermath of Hurricane Katrina has yet to be properly resolved, with thousands of residents displaced from their homes and the failed levee system still prone to disaster. It's a sad state of affairs that in the world's richest nation, we've failed our fellow citizens in their time of need. As a nation, we seem to have collectively put the disaster out of the spotlight, but New Orleans' Dirty Dozen Brass Band continues to remind its audience that massive flooding and the devastation of homes and communities in Louisiana is an ongoing concern.
PHOTO COURTESY OF THE DIRTY DOZEN BRASS BAND
KEEPING IT REAL : The Dirty Dozen Brass Band, touring in support of What's Going On, their recreation of Marvin Gaye's classic album, plays Downtown Brew on June 28.
# The band's most recent album, What's Going On, is an update on Marvin Gaye's classic and features guest vocalists Chuck D, Ivan Neville, G. Love, Guru, and Bettye LaVette. The band continues to perform, as they will on Thursday, June 28 at Downtown Brew, bringing its musical message into view.
"It just made sense in light of all that happened with the storm," said trumpeter Gregory Davis, who with fellow Dirty Dozen co-founders Roger Lewis (baritone and soprano sax), Kevin Harris (tenor sax) and Efrem Towns (trumpet, flugelhorn), make up the group's core. "But even beyond that, to ask 'What's going on?' in the world makes sense. What happened with 9/11, what happened with the tsunami, what happened with the earthquakes over in Iraq and Afghanistan, what's happening with the so-called war? What's really going on?"
"It's a timely question," added Harris. "What the hell is going on? It's been freaky out there. Bad enough when human beings are snapping at each other left and right, but when nature is drowning thousands of people with tsunamis and hurricanes and scourges? Things are changing, getting strange."
Tapping into Marvin Gaye's anger at the state of the world 35 years ago seemed apt, but recreating such a seminal album left the band with some trepidation.
"I'm a big-time Marvin Gaye fan," said Towns. "You listen to the words on that album it's his personal diary of what the hell's going on. 'God Bless My Father,' 'Mercy Mercy' Marvin was a bad dude, one of the greatest who ever lived. Just to contend with Marvin's music was a challenge in itself. I didn't want to just copy his music, but make the songs our own."
The band members felt a personal connection to the Katrina disaster because they were personally affected by it. But it wasn't so much the homes they lost those can be rebuilt but rather the loss of irreplaceable items one collects over the course of a lifetime that hurt the most.
"I'm not talking about clothes and shoes and material things, but family albums," said Lewis. "I have a 7-year-old daughter. I had pictures of myself as a child, but I can't share them with her because they were destroyed. All she's really going to know is her dad as a 64-year-old man."
Despite the overwhelming sadness of the loss of life and mementos, the band members are trying to stay positive and make something good out of all this.
"Katrina exposed a lot of issues and social irregularities that shouldn't be tolerated in the society we live in, but appear in our own backyards," said Towns. "New Orleans will prevail, but as far as the social stuff, it's what's been going on. Gee, it takes a catastrophe like Katrina to expose the whole thing."
"During the making of the record, we went through a lot of highs and lows, anger and joy," said Davis. "What's Going On is all of that."
Tickets are $15 advance at Boo Boo Records, or $18 at the door. The show starts at 7 p.m. with opening act Blue Orchid featuring Denis Farley and Steve Tracy.
SLO County's got talent
Maybe we need our own TV show, a sort of America's Got Talent/Star Search/American Idol kind of thing.
PHOTO COURTESY OF DEBORAH KIRK
SINGER-SONGWRITER SENSATIONS : SLO Town resident Deborah Kirk is one of 20 songwriters who will perform original material at Linnaea's Cafe for the July 1 West Coast Songwriters Showcase.
# More than 20 songwriters from all over the Central Coast will compete on Sunday, July 1 at Linnaea's Cafe for the monthly West
Coast Songwriters Showcase beginning at 7 p.m. The showcase includes a competition among WCS members for Best Song and Best Performance of the night. Guest judges will be professional songwriters Kate Bennett, Daniel Whittington, and Deb Thacker. Cliff Stepp of KVEC-AM is the MC.
Performers include Bill Gessner, a Minnesota-based singer-songwriter who also teaches at the SummerSongs camp held annually at Zaca Lake Michael Shelton from Orcutt, who won the Best Performance prize in May SLO residents Deborah Kirk, Mark Lancaster, Amie Richie, Daniel Hawks, Michael Chiorello, and Matthias Clark Dallas Pehl from Paso Robles and Santa Barbara-area performers Jackie Morris, Rebecca Troon, Susan Marie Reeves, Stephen Styles, Cara Tower, and Jena Douglas.
The show is free. Come check out the songwriting skills of local folks.
Triple your pleasure
Downtown Brew's Grass Roots Tuesdays series has another killer line-up of local acts scheduled for Tuesday, July 3. The evening kicks off at 8 p.m. with y'alternative act Pennyjar opening.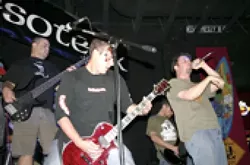 PHOTO COURTESY OF ESOTERIK
METAL-TASTIK : After a two-year hiatus, local metal act Esoterik has reformed and plays Downtown Brew's Grass Roots Tuesdays on July 3. Rock on, boys!
# "Five years into this shit and we still have three of the four original members," said founding member Patrick Hayes. "Not too bad for a band playing the least beloved of all musical styles, 'Alt.Country,' whatever that means now."
The band's self-released debut album, Hell or Highwater (2003), sold-out of its entire two print runs, and for the last year they've been working on a follow-up.
"We have about 20 new songs in the can for a record that we really want to put out this year," said Hayes. "We just lost our dear drummer Patrick McGraw to the wild plains of Arizona and the comfort of a woman. We wish him well and are proud to announce that the throne will be taken up by Mr. David Radmacher of Virgil Cane fame."
Sad Lisa is next on the bill, describing their music as "Black clouds of distortion giving way to acoustic musicality, screaming angst turning to whispered introspection." Early, pre-Sad Lisa incarnations of the music began in 1997 during informal acoustic jam sessions in small cave-like apartments near the train tracks of SLO Town. Sad Lisa became a full-blown rock project in 2001. A hiatus in late 2003 ended when the band reunited in the summer of 2005 for a Hollywood recording session where they rediscovered their chemistry and decided to reform, write new material, and return to the stage.
Headlining act Esoterik, a popular metal band that disbanded about two years ago, also recently reformed with four out of the five original members (bassist Mike Ostash is the newest addition). The band is working on new material and should have a new song recorded for SLO & Dysfuctional Volume 4, the Clear Channel-produced local music compilation series.
"I got a phone call about four months ago from Tyler (lead guitar)," said singer Greg Sellars. 'Greg,' he said, 'what do you think about getting the band back together?' I laughed. 'Have you been drinking?' I asked him. It seemed he and our rhythm guitarist (Ryan Cook) had been discussing the idea of an Esoterik reunion. Right now we're just glad to be back playing music together."
Three bands, two bucks at the door, and dollar pints that sounds pretty sweet.
Vox deux!
Two of the area's best vocalists Inga Swearingen and Jody Mulgrew will be "pulling on roots of jazz and popular music to create joyous, front porch harmonies" for two upcoming concerts.
Inga is a classically trained vocalist and voice teacher who can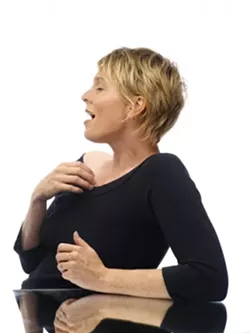 PHOTO BY BARRY GOYETTE
SING OUT, SISTER : Inga Swearingen (pictured) and Jody Mulgrew play July 3 at Morro Bay's Coalesce Bookstore and July 6 at SLO's Tridosha Healing Center.
# scat with the best of them. Jody is the engaging front man of the Johnny Starlings. Both are accomplished songwriters and friends who enjoy singing together. Expect both original compositions as well as covers ranging from Everly Brothers to the Eurythmics.
Bassist extraordinaire Daniel Seeff will join Inga and Jody on Tuesday, July 3 at Morro Bay's Coalesce Bookstore at 8 p.m. ($12 call 772-2880 for reservations) and Friday, July 6 at SLO's Tridosha Healing Center at 7:30 p.m. A pre-concert Cajun-themed dinner is also available at 5:30 p.m. ($15 advance, $20 at the door dinner is $10 call 544-8120 for reservations).
Straight outta Africa
The 95-member-strong Christ the King Choir from Kampala, Uganda will arrive for the first California International Choral Festival and Competition early because they're traveling the greatest distance of all of the visiting choirs. This is the group's first U.S. visit, even though it's been in existence since 1936.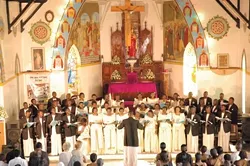 PHOTO COURTESY OF CHRIST THE KING CHOIR
THEY GOT SOUL : Hailing from Uganda, the Christ the King Choir has arrived early for the first California International Choral Festival & Competition and will perform July 4 at the Creekside Mobile Home Park, July 5 at the Steynberg Gallery Tea and Coffee House, and July 6 at Hostel Obispo.
# Pat Harris, the festival executive director, said, "Because this choir is coming so far, they have planned an extended stay on the Central Coast. For many choir members, it is their first time in the US. Local groups and organizations have enthusiastically stepped up to make sure they have a great time here."
On Wednesday, July 4, the Creekside Mobile Home Park and SLO Morning Kiwanis group will host the choir for an old-fashioned 4th of July celebration in the mobile home park community center. SLO Morning Kiwanis will serve a chicken barbecue with all the trimmings. Cost is $6 and children under 10 get free hot dogs and chips. For more info, call 595-5775.
On Thursday, July 5, the choir will sing at the Steynberg Gallery Tea and Coffee House. The $5 admission will be given to the choir to defray their expenses while here. For more info, call 547-0278.
On Friday, July 6, Hostel Obispo (1617 Santa Rosa) will be the site of a community potluck that will also be a fundraiser for the choir. A $7 donation is suggested for an evening of food and music in the Hostel garden. Guests are invited to bring a ready-to-serve dish to share and enjoy Ugandan specialties prepared by the choir members. Lemonade and iced tea will be provided. Reservations are required. Please call the Hostel (544-4678) between 4:30 and 10 p.m. to make your reservation.
More music
The Downtown Association's Concerts in the Plaza is already off to an astounding start, drawing at least a couple thousand people to Mission Plaza the last couple of Fridays. This week, on Friday, June 29 local bluegrass act the Cuesta Ridge Mountain Boys take the stage at 5:30 p.m. Admission is free and beer and wine are available for purchase.
PHOTO COURTESY OF U4EA
MENAGE A TROIS : San Francisco-based singer-songwriter Gentry Bronson and Atascadero musicians Ron Hagadone and Sharine Borslien recently formed a new act, U4ea - The Euphoria Project, and play June 29 at Last Stage West and June 30 at a house concert in Atascadero.
# Rancho Deluxe, the L.A.-based critically acclaimed country act, headlines Paso Robles' Concerts in the Park summer series this Friday, June 29 from 5:30 to 7:30 p.m. at the City Park in downtown Paso Robles. Their sound is driven by Americana roots songwriting and world-class musicianship, and there'll be line-dancing lessons too.
San Francisco-based singer-songwriter and pianoman Gentry Bronson and Atascadero musicians Ron Hagadone (guitar) and Sharine Borslien (voice/flute) recently formed a new act, U4ea - The Euphoria Project, and cut their debut album, Bootleggers #1, which I haven't heard, but a four-song demo the group sent me highlights the group's solid songwriting chops. The three members support each other's songs with a variety of instrumentation (no drums, though), and the demo clearly demonstrates the synergy these musicians collectively enjoy. Hear them on Friday, June 29, when they're the featured local artist on Coast 101.3 FM's "The Bill Pesso Show" at 8:15 a.m., or see them that evening from 6 to 9 p.m. when they perform at Last Stage West ($5 at the door 461-1391 for more info). On Saturday, June 30, U4ea plays a house concert at The Hatchers' in Atascadero. Seating is limited. Tickets are $15 per guest. Send a check or money order to BlipsWerx Productions, P.O. Box 312, Atascadero, CA 93423, or contact Sharine Borslien at 460-0276.
The Clubhouse at This Old House has a couple of hot shows lined up this week. On Friday, June 29, The b Foundation, a surf/reggae/rock outfit from Pasadena, plays a 10 p.m. show. This is feel good music, upbeat with a positive message. To give you a taste of the band's status, here's a few of the acts they've shared a stage with: Slightly Stoopid, Pepper, Common Sense, Long Beach Shortbus (Members of Sublime and LBDA), Kottonmouth Kings, OPM, Voodoo Glow Skulls, Fishbone, ZebraHead, English Beat, Authority Zero, The Skeletones, Dubcat, Half Pint, and Bargain Music. They recently released Trouble Standing, their second full length CD. On Saturday, June 30, The Clubhouse hosts Fighting Chance and 80 Proof for a 10 p.m. show. SLO's Fighting Chance, another reggae-influenced act, tours relentlessly, but this one's for the locals. 80 Proof is a Texas-based country act. Now get out there and check out SLO Town's newest live music venue.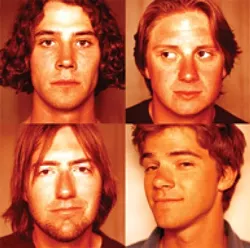 PHOTO COURTESY OF SIKO
FUNKY FOUR : Local funk juggernauts Siko headline Downtown Brew on June 30, supporting their newest album Legsaround.
# Local funk juggernauts Siko headline Downtown Brew this Saturday, June 30, supporting their newest album Legsaround. Though comprised of a quartet of young guys, they bring a lot of musical experience to the table from show choirs to drum lines, symphonic bands to jazz trios, and Latin percussion study to years of theory knowledge. They've also played with everyone from Eek-A-Mouse to The Aggrolites, General Public to G-Love & the Special Sauce. The evening also includes another local favorite, The Playbacks, a funk act led by Sam Sharp (formerly of Joose). Simple Citizens, hailing from Palmdale, will kick off the 8 p.m. show with their own brand of hip-hop, jazz, funk, and reggae. You must be 21-and-over to attend. The cover is $5 at the door.
The Comforters, a folk-pop duo from Eugene, Oregon, play Linnaea's Cafe this Saturday, June 30. The husband/wife duo writes narrative tunes with the pop sensibilities of artists like Aimee Mann or The Cowboy Junkies. Among myriad influences, they cite the three B's as their foundation: Beatles, Bergman, Bacharach. Jason explained, "The Beatles, I don't think I really need to say anything else, do I? With Bergman, it's the pace, the shadows, the internal life, the closeup as the tip of the iceberg. Bacharach, well, we feel quite free to use major 7th chords whenever we darn well feel like it, thank you very much!" See Jason and Pia beginning at 8:30 p.m.
Get ready to dance again this Sunday, July 1, when The woO! returns to the Monday Club from 10 a.m. to noon with experimental funk fusion act Minds Eye with Ryan Herr and Adam Kapuzinski. The woO! is a weekly dance event where attendees are encouraged to "dance like nobody's watching." It's also a great workout, and after every event there's a free gathering for teas in the Monday Club's garden.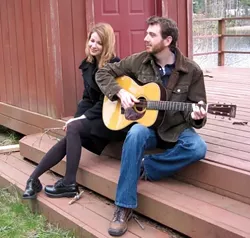 PHOTO COURTESY OF THE COMFORTERS
GET COMFORTABLE : The Comforters, a folk-pop duo from Eugene, Oregon, play Linnaea's Cafe this June 30.
# N.Y.C. trumpeter Richie Vitale, former featured soloist with the bands of Count Basie and the Village Vanguard Orchestra, plays the next Famous Jazz Artist Series concert at the Hamlet in Cambria. Vitale, a TCB Records recording artist, will be joined by bassist John Witalla and drummer Ron Marabuto as well as concert co-producers Charlie and Sandi Shoemake. See them on Sunday, July 1, at 4 p.m. ($15) and 7:15 p.m. ($12), or stay for both shows ($20). Reservations are recommended: 927-0567
According to their myspace page, Forever In Fall hails from Santa Maria, but according to their press materials, they consider Los Angeles home base. Maybe that's because the band, which formed in 2002, sent three of the original members to Musicians Institute in Hollywood, the acclaimed music school that churns out rock stars like a double cheese burgers churn out clogged arteries. They headline an all-ages, 6:30 p.m., Numbskull Productions show on Sunday, July 1 at Downtown Brew ($10 at door). Play It By, Tugnut, and Turned Up Missing will open the show.
You can enjoy a "good old fashioned" 4th of July celebration this Thursday, July 4 when the Village Summer Concert Series offers a noontime free concert at the Rotary Bandstand on the Village Green in the Historic Village of Arroyo Grande. The Village Band and the Central Coast Celebration Chorus will present a program of stirring patriotic and popular music while the South County Historical Society sets the mood with traditional red, white, and blue decorations, period costumes, and BBQ.
Celtic master fiddler Jamie Laval and violin/mandolin/cello virtuoso Ashley Broder play the Red Barn Community Music Series in Los Osos on Thursday, July 5 (please note this is a Thursday evening, not the Red Barn's normal concert night). The nationally touring duo mixes bluegrass and Celtic arrangements, sometimes employing mandolin and fiddle, sometimes twin fiddle, and occasionally bringing in a cello. They're both classically-trained, committed to a life on the road, and gleaning musical influences primarily from Appalachian, Irish dance, and Scottish bagpipe tunes as well as creating their own unique compositions. The show begins at 7 p.m., and a $10 donation is requested at the door.
Reggae act Jr. Toots plays Downtown Brew on Thursday, July 5 at 8 p.m. (18-and-over, $10 advance or at the door). The group is touring in support of its newest album, Crown of Fire. Now put down that bong and go buy your ticket before you forget, stoner.
---
Glen Starkey's calm inner peace is masked by his Tourette's-like outbursts and prickly outer demeanor. Suggest a new swear word at gstarkey@newtimesslo.com.