PHOTO COURTESY OF JERRY BROWN 2010
MOONBEAM? : How will Jerry Brown deal with a $25 billion deficit? Will he try to raise taxes? Institute drastic cuts?
Thank God it's over.
That's probably a common sentiment regarding what for many was a long, miserable, and drawn-out election season. Liberals and progressives are glad the horror of the national election results has past, and conservatives—and many independents, it turns out—feel something finally went their way.
But what did it all mean? Do the election results really matter? And if they do, what do they mean for me? Did the election change anything?
Like it or not, the 2010 election is a fact and, like all American elections, will impact the life of every man, woman, and child alive.
A striking fact emerged as New Times quizzed political experts and pundits: No one has a clue as to how the president will move forward and deal with the Republican majority and no one knows how Jerry Brown will deal with his nemesis, the state budget.
Through all this political hot air and mystery, New Times took a shot at trying to figure out what it all means.
The election swings both ways
For Californians, the election results split in what seemed diametrically opposite ways. On the national level, the Republicans, in the political sense, vanquished nearly everything in their path. Republicans gained 60 seats in the House of Representatives, six in the Senate, and seven governors' chairs, and took control of 19 state legislatures.
The state of California was a bulwark against the rising red tide, electing a nearly pure Democratic slate, not to mention holding the Legislature fast.
Perhaps the first and single most important issue that needed to be explored was how the election affected President Barack Obama and his ability to establish his agenda for the second part of his term.
There's no doubt that Obama and the Democrats took a terrible beating; though many analysts say the slaughter can be attributed to the faltering economy, other commentators say a glance at the history of other presidents considered to be transformative will show there's something more at heart here.
According to Andrew Gelman, a professor of statistics and political science and director of the Applied Statistics Center at Columbia University, the Republicans had a six percent swing their way from what they had in the 2008 presidential election.
"It's not surprising that the president's party lost a lot of seats in a midterm election," Gelman said. "The Democrats had a lot of seats that were vulnerable."
I'll trade you a Carter for a Reagan or a Roosevelt … or maybe a Clinton?
Ronald Reagan was another president burdened by a terrible economy—the worst between the Great Depression and now—and he had a rough midterm election, too. He lost 27 seats in the House and held steady in the Senate in 1982, which at the time was seen as a real whipping and a wholesale rejection of the president's agenda. Reagan bounced back along with the economy and had a landslide election victory in 1984.
Another president considered transformative in the 20th century was Franklin D. Roosevelt, who also faced the judgment of the electorate in a midterm election in 1934. He faced the worse economic depression in the nation's history with an unemployment rate of 21.7 percent. The result? The American public rewarded Roosevelt and his New Deal with nine new senators as well as nine new House members.
Of course, there are differences between the two examples.
Reagan's party was already a minority party in 1982, so he had fewer seats to lose, Gelman said. And the economy actually expanded significantly in 1934 for Roosevelt, he added.
Of course, Roosevelt never had to face what Obama will soon have to face: a House of Representatives inhabited by an opposition majority that loathes his agenda.
Reagan and Bill Clinton faced two houses of Congress that were diametrically opposed to them, but both, in different ways, got the better of their opponents and managed to get major parts of their agendas passed. Will Obama be able to have the political acumen to deal with 240-plus Republican congressmembers who believe they were elected to stop his agenda?
What would Bill do?
"Does he pull a Clinton?" is the question everyone in Washington is asking, said Jeremy Jacobs, editor-in-chief of the National Journal's politics blog, Hotline On Call. "Will Obama move to center and work with the Republicans or will he try to use them as a foil?"
Obama was notorious for not dealing with the Republican minority in Congress before the latest election; it took a year and a half after his inauguration until he had a meeting with Senate Minority Leader Mitch McConnell in the White House. Never in his political life had the president had to deal with Republicans in a position of power.
"Clinton was successful at dealing with the opposition in getting the small things done," Jacobs said. "He was a master at that. It remains to be seen if Obama can or wants to do that."
Many of the new Congress members will be Tea Partiers who are dedicated to rejecting practically any proposals the president can come up with. Any legislation the president wants to pass will have to go through them and the newly inspired Republicans.
The first test for the president will be over the expiration of the Bush tax cuts. If Congress does nothing, taxes for most Americans will dramatically increase. The expiration will raise tax rates across the board on income and capital gains and increase burdens on married couples, parents, and the working poor. Obama had said he would only approve a continuation if it didn't include tax breaks for the upper classes.
Just last week, the president signaled that he might be willing to extend all the Bush tax cuts, including those for the wealthy. White House senior advisor David Axelrod revealed that Obama might agree to an extension for the higher brackets for a few years if middle class tax cuts are given a permanent extension. Democrats have expressed fear that he's caving to the new political realities and losing his progressive heart.
"I just don't see how he can do it," Jacobs said of the president's keeping to his old position on taxes.
One gloomy fact for Democrats is that many of the left's most cherished legislative dreams are now likely gone. There is virtually no chance of another stimulus bill. The $800 billion package has proven so divisive and loathsome among Republicans that a successor bill will be impossible.
Though most experts don't believe that the president's health-care package can be repealed, new Speaker of the House John Boehner has expressed an interest in restraining the new law by defunding parts of it.
Another question is whether House Republicans and the president decide to work together or allow the next two years to be stalemated for their own political purposes, said Walter F Stone, professor of political science at U.C. Davis.
According to Stone, there are two likely outcomes. One is Obama and the Republicans creating a stalemated government and both sides blaming the situation on each other. In this scenario, a rising economy would probably help Obama get re-elected. The other strong possibility is that the Republicans work with the president and appear to be a reasonable party and then have a lingering sour economy. That could spell political doom for Obama.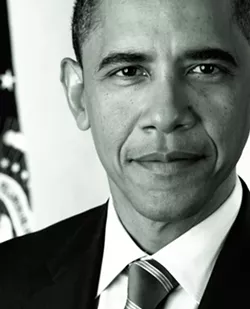 PHOTO COURTESY OF CHANGE.GOV/PETE SOUZA
DECISIONS : Will President Obama move to the left, right, or middle now that he and his party lost the House of Representatives?
Yes, the past does repeat itself
On the state level, the political changes have also been dramatic.
Jerry Brown returned to the governor's office after a nearly 30-year absence. And, as an unexpected and unwanted inauguration present for Brown, it was recently revealed by the California Legislative Analyst's Office that the state is facing a $25 billion budget deficit.
No one interviewed for this story had any idea of how the California budget will be made whole. They all said they didn't think anyone else did either.
John Ashbaugh, SLO city councilman and SLO County Democratic Central Committee member, was an intern who worked for Brown in the Governor's Office of Planning and Research in 1975. He freely admits to being an admirer of Brown— Ashbaugh talked about Brown in the same way an ex-student speaks about his old, favorite teacher—and said the governor elect was years ahead of his time.
Ashbaugh said he believes Brown will be able to do what Arnold Schwarzenegger was unable to do: balance the budget.
How will he manage that?
"I suspect he's going to find ways to cut costs and raise revenues," Ashbaugh said. "We are adults here, and I think people will realize that the state is worth it."
But Ashbaugh concedes he doesn't know how the new governor will do it.
"He said he would not raise taxes without a majority vote of the people," Ashbaugh said. "We'll have to see. I don't know what he's up to."
To pass a tax in California requires a two-thirds majority, and there was talk before the election—by Gray Davis, former governor and chief of staff for Brown—that Brown would call a special election for a tax increase in the spring.
Tax increase? Maybe not
Brown is now singing a different tune, perhaps because the political landscape has shifted a bit. The results of the propositions are perhaps confusing, but seem to indicate the public isn't in the mood for anything like a tax increase.
"There's no chance of a tax increase," said an emphatic Allan Hoffenblum, a political analyst, former staff director of the Assembly Republican Caucus of the California Legislature during some of the years when Brown was governor, and the publisher of the California Target Book, a non-partisan, multi-volume subscription service that tracks and analyzes political races in California. "It would take a special election to raise taxes, and that won't happen."
Hoffenblum said this isn't because Californians don't agree to tax increases, "but in this political environment they won't agree to a tax increase.
"They won't either until trust is restored between them and the Legislature."
Though California was perceived as solidly left in the election, voters rejected Proposition 21, an $18 car registration tax that would have fully funded state parks. For advocates of a rejuvenated car tax, this is a sign the electorate might not be tolerant of paying more to register their cars.
By a wide margin, the public also approved Proposition 22, which now restricts—theoretically—the state from pinching money from cities to help balance the budget. This will make it even harder for the state to find enough money to get back in the green.
On the other hand, it will now only take a majority—instead of a two-thirds majority vote—to pass a budget, because of the passing of Proposition 25. This perhaps diminishes the power of the Republican minority, but the public also passed Proposition 26, which will now require fee increases to be passed by a two-thirds majority.
"In a lot of ways, the election in California was a split decision when you really look at it," Hoffenblum said.
Look out, Lois
Voters threw another wrench in the works by passing Proposition 20 and rejecting Proposition 27, which will end congressional gerrymandering as we know it.
Under present law, California political boundaries are set to be drawn by an independent commission consisting of an equal number of Republicans and Democrats and a smattering of independents. Voters approved this in 2008 in the form of Proposition 11, taking away redistricting power from the state Legislature.
Proposition 20 would take the idea a step further: The commission will now create the boundaries of districts for the House of Representatives. This would entirely take the redistricting process out of the hands of elected politicians.
Proposition 27 would have done the opposite. The election committee would have been eliminated and all state and federal legislative boundaries would once again be drawn by the California Legislature.
Hoffenblum sees this as the real dramatic result of the election. The redistricting commission will change the political map of California, and no one is quite sure how it will turn out.
Heavily gerrymandered districts—like Lois Capps's 23rd Congressional District, which stretches along the coast from Malibu to the border of Monterey County—will likely be changed significantly.
"There are a lot of Democratic Congress members who are going to wake up and not be pleased with what happed to their comfortable districts," Hoffenblum said. "A lot of Republicans won't be happy either. Their safe districts will have a lot of people in them that don't usually vote Republican."
San Luis Obispo's Ashbaugh conceded the passage of Proposition 20 will make it more difficult for Democrats.
"Democrats will have fewer safe seats," he said. "We had to deal with a redistricting plan we didn't like in 1991 [judges designed the election districts for the 1990s]. We'll find strong candidates, and we'll work it out."
Hoffenblum said he thinks Brown has a unique opportunity to deal with out-of-control pension costs because he's on such good terms with the state's all-powerful unions.
"He could have a Nixon-goes-to-China moment," Hoffenblum said. "He knows he was perceived as a failed governor the first time, so I am sure he wants to do things differently this time."
I've seen this somewhere before
The likely result of this election on both the federal and state levels is a stalemate—political stalemate between Congress and the president in Washington, D.C., and a fiscal stalemate between the desire for low taxes and plush government services. Perhaps this is exactly what the public wants, Jacobs said.
"I don't think much will change," he said. "The arguments will be longer and deeper. The public will likely continue to sour on government and become even more cynical.
"Of course, I could be wrong."
Staff Writer Robert A. McDonald can be reached at rmcdonald@newtimesslo.com.