Behind every so-called "tourist" town, there lies a real, thriving life force. This is something Avila Beach residents know well. Beneath the façade of this perfect little beach getaway, you'll find a quirky place where artists, surfers, winemakers (and yes, retirees) mingle.
Look out onto the white, sandy beach and you'll see longtime local Colleen Gnos' artwork splashed across an unassuming lifeguard tower, depicting the community as it existed decades ago, when rough-cut fishermen ruled the tides. Walk Front Street, and you'll find—among the lilies and birds of paradise—a humble stone that reads: "Betty's garden, a labor of love. Enjoy!"
PHOTO BY HAYLEY THOMAS CAIN
DEEP DIVE : Corinn "Rinney" Gallo and James Whitaker are at the helm of a new locals' hangout on Front Street in Avila Beach.
It's not all ice cream and souvenir shacks along the waterfront. There are real places to nosh and imbibe (Kravabowl, Sinor-Lavallee) and now, a new third-wave coffee joint for locals to call home. Kraken Coffee Co. is the latest offering from SLO entrepreneur James Whitaker, who co-owns the business alongside his girlfriend and partner in crime Corinn "Rinny" Gallo.
When I caught up with the couple, both were hard at work during their first few days in business: Whitaker behind his laptop facing an unreal expanse of blue ocean, and Gallo behind the counter serving up cappuccinos to a buzzing weekday crowd. Across the street at the beach, a gaggle of sunbathers took in the perfect 70-degree weather.
Yes, the coffee shop sells ice cream and souvenirs (that would be Batch ice cream, high-end cook books, trucker hats, and Live Local Apparel T-shirts), but you can also pick up a killer pastry courtesy of Back Porch Bakery, a latte complete with a swoosh of artistic foam, or a single-origin pour over made from beans roasted locally at the Kreuzberg Coffee Roastery.
Note: Whitaker and business partner Chris Tarcon own Poor But Sexy Inc., which includes Bowl'd Acai in downtown SLO as well as Kreuzberg Coffee Co. and Batch (both of which now boast SLO and Paso Robles locations).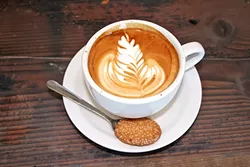 PHOTO BY HAYLEY THOMAS CAIN
CATCH THE THIRD WAVE : Cappuccinos, lattes, pour overs, Whalebird Kombucha, and more are served up with a touch of nautical whimsy at Kraken Coffee Co. in Avila Beach.
"Most coffee shops have a small retail section, but we felt Avila could use a decent sized one. There's about 10 shops downtown, and most cater to the weekend tourist. We want to cater to a little higher-end customer," Whitaker says. "There's a huge local community who live out here in the hills and come out here every morning. There's retirees but also a diverse community out here with Squire Canyon and See Canyon."
So, how did Gallo and Whitaker join this group of blessed individuals?
The couple met about a dozen years ago, allowing their friendship to spark into a romance only recently. They're giddy with new possibilities, and it shows. Whitaker is proud to have lured Gallo from a corporate job into the unpredictable tide of entrepreneurial life.
"She's a creative person at heart; she got her degree from Davis in costume and textile design," he says.
Gallo laughs and nods, laying out the all-too-familiar scene, set about 10 years ago. The economy was bad. As a single mom, she needed the stability.
"I was working in the insurance industry; it was a lot of data entry and sitting behind a desk," Gallo says. "This really is the first time I've really allowed my creativity to come back out."
That creativity has emerged from the deep recesses of her soul like a watery beast. "Kraken"—the fanciful name given to a mysterious sea monster of the deep—offers up a rich inspiration to draw from.
"We saw this really cool fish-scale tile and we thought, 'How can we incorporate the tile into the business?'" Gallo says. "It's crazy, but a lot of this was centered around that tile."
PHOTO BY HAYLEY THOMAS CAIN
ONE FOR THE LOCALS: Sure, tourists bring in revenue, but locals make the town. Avila Beach's community of surfers, retirees, and artists now has a new coffee shop to call home.
Adds Whitaker, "We wanted something nautical, dramatic, and literary; I'm a huge book nerd. I remember reading adventure stories at 10 years old, under the covers. The whole theme of the place is about adventure."
That vibe splashes to life here. Visitors are met with grappling hooks, vintage glass bottles, netting, and paddle boards. Tentacles creep across the light-filled walls creating a playful energy. Upstairs, there's greenery, vintage lamps, and plenty of nautical nooks perfect for tucking into a good book. It's amazing what these two have done in a matter of 60 days (they got the keys Feb. 1, found a name in March, and opened in April).
This timeline is even more amazing when you remember that this was, essentially, pure side hustle in action.
"Corinn still had her corporate job full time and a 6-year-old running around, and I still couldn't abandon my day job at Kreuzberg, so this was all nights and weekends," Whitaker says.
Thankfully, friends swooped in to help, creating a mighty strong crew for this fledgling ship. Kraken developed its sea legs quickly.
Although it's been a plunge into a whole new set of stresses, Gallo says she'd do it all again, admitting, "When James first brought this idea up, my first thought was, 'You're crazy; you're absolutely nuts.' It took about two months of him talking about it for me to finally say 'yeah.' I thought, what is there to lose?"
GET YOUR SEA LEGS: Kraken Coffee Co. is located at 310 Front St. in Avila Beach. For more information and hours, call 439-1177 or visit the business on Facebook.
I still have one burning question left, and I know I have to let these two get back to building that dream. That question is, of course: "How do either of you expect to get any work done while taking in such a gorgeous beachfront view?" I mean, you could toss a croissant onto the beach from their front door. Not that you'd ever want to, but still.
"We walk out there on our breaks or when we close shop; it's not maddening. It's amazing," Gallo says, looking out toward the pier.
Added Whitaker, "We have two Tommy Bahama beach chairs that we drag out there and—anytime we need a break—we take turns going out to the beach."
And what can one do out there besides wiggling toes and breathing in the salty air? One word: binoculars. I mean, you never really know what's under the surface, and that's what keeps life interesting.
Says Whitaker, "No kraken sightings yet, but we may have seen a narwhal once."
Hayley Thomas Cain is riding a narwhal to her next interview. She can be reached at hthomas@newtimesslo.com.