The maps San Luis Obispo County officials have before them look like a bureaucrat threw up on a GIS computer model. These are the maps local officials have to morph, tweak, and finesse in their effort to redraw SLO County's supervisorial district lines.
A reporter describing data from the U.S. Census Bureau as a "clusterfuck" elicited relieved chuckles from a roomful of county staffers commingled from the administrative, planning, and clerk-recorder offices. They call themselves an "internal cross-functional team."
"Our challenge isn't just adjusting the population, but it's making the boundaries make sense," said John Kelly, a map specialist in the county's Planning and Building Department.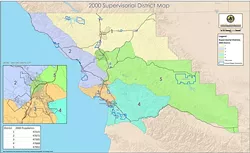 IMAGES COURTESY OF SLO COUNTY
AFTER: Between 1990 and 2000, SLO County's supervisorial districts underwent dramatic changes. As county officials redraw district boundaries again, such a transformation is just as likely.
The Census Bureau seemingly followed no logical process when it divided up the region to collect population data in SLO County. The bureau organized populations into "designated places," which don't follow such rational lines as roads, rivers, or even established boundaries of unincorporated towns—Cambria, for example.
Overall, data from the 2010 Census shows that SLO County's population increased by 24,424 people, or roughly 10 percent more than the 2000 population—not including inmates at the California Men's Colony and patients at Atascadero State Hospital.
Supervisorial districts—the five chunks of county land split among five county supervisors' jurisdiction—must each hold approximately the same population. And that's really the only requirement.
Unlike in state or federal districts, the teams carving up the county don't take into account demographics or party affiliations as they seek to balance each district. County officials can't segregate racial populations, but aside from that it's a numbers game.
"It's mostly based on population, and we're trying to balance the districts as much as possible," county Administrative Analyst Leslie Brown told New Times.
A 10 percent population shift might not seem so dramatic, and at first glance doesn't look indicative of drastic shifts in supervisorial districts.
But between the 1990 and 2000 censuses, the boundaries of SLO County's districts underwent huge changes. In 1990, District 1 encompassed most of the county's territory north of Atascadero as well as nearly all of the East County, including just about every swath of land east of Pozo. Ten years later, that district was cut in half, with much of the East County transferring into District 5.
If such a change were to occur today, District 1 Supervisor Frank Mecham's constituents would suddenly find themselves in District 5. That's Supervisor Jim Patterson's territory. Though supervisors are nonpartisan positions, anyone with even a tepid interest in county politics would understand they had been shifted from the jurisdiction of a business-oriented Republican to an environmentally minded Democrat.
And District 5 is home to two of the most controversial projects in the county's history: SunPower and First Solar's utility-grade solar projects proposed in the Carrizo Plains.
A similar shift to what happened in 2000 could occur again. The 2010 Census showed District 1 underwent the largest population jump in the county, with 10,777 new residents, about a 23 percent increase.
To compensate for population shifts, each district will have to be reconfigured in such a way as to have a population as close as possible to the "ideal population" of 52,438. That's about 5,000 more people per district as compared to the 2000 ideal population. Furthermore, such an increase is almost identical to the changes made between 1990 and 2000. In other words, the district lines are going to be moving.
District 1, for example, will have to lose 5,560 people to hit its ideal population, which will be the biggest shift in the county.
Newcomer Paul Teixeira's 4th District has to lose 2,948 people, which may come out of Edna and the southeast portion of San Luis Obispo. Adam Hill's 3rd District, on the other hand, has to gain 4,234 people.
Complicating matters is the fact that four of the five districts each contain a portion of the City of SLO—the most heavily and densely populated city in the county. County officials seem unable to explain why the county was divided in such a messy way. However, outside of making SLO its own district, much of the boundary changes in the county will probably happen in the outlying unincorporated areas.
Asked about his constituents' concerns, Mecham said he doesn't think many of them are worried about being moved into a different supervisor's jurisdiction, but want to maintain their community lines.
"What I've heard from them, they really don't want to see the community split and have dual representation by supervisors,"
he said.
But keeping communities together could mean entire towns will shift from one district to another. Mecham may lose jurisdiction over all of Templeton, he guessed, but he said he'd rather do that than bifurcate the town between his and Patterson's districts.
County officials are continuing to finagle the district lines into a rough form, which they will then take to community agencies and the public for input. So far, however, no one has chimed in, leaving the team kind of guessing how best to organize the boundary lines.
"We'd rather hear from them now than after the ordinance is adopted," Clerk-Recorder Julie Rodewald said.
It's not unprecedented for people to be unhappy with life after redistricting. Lines drawn in the 1981 redistricting process were challenged by two voter referendums and in court, according to the Clerk-Recorder's Office. Because of the delays, the ordinance formally changing the lines wasn't officially adopted until 1983.
According to the county's rough timeline, officials will soon begin holding community meetings that will continue through July. County supervisors are set to hold the first public hearing in September, and must adopt the new district lines by Nov. 1 to meet legal deadlines. That's just in time for the 2012 election when Mecham, Patterson, and Hill will all be up for new terms—probably in new districts.
News Editor Colin Rigley can be reached at crigley@newtimesslo.com.