Surfboard in hand, Vanessa Venegas braves the foggy chill of morning as often as she can to catch the best waves of the day at Pismo Beach. But it wasn't always this way.
She didn't even like the ocean when she started working at Pancho's Surf Shop about three years ago. A surf lesson from her boss changed that opinion.
"I was scared of it," she said. "I never really went to the beach as a kid growing up in Las Vegas. But I love it now. I could be at the beach all day."
PHOTO BY RYAH COOLEY
SURF IN STYLE : Nipomo artist and yogi Vanessa Venegas hand paints surfboards and skateboards. This surfboard was inspired by the sacral chakra, one of the body's energy centers associated with creativity and zest for life.
Venegas' newfound love of the ocean coincided with a reawakening of another one of her passions: art. As a kid, the now-21-year-old Venegas was always drawing. But life got busy with school, friends, and a move from Las Vegas to Nipomo during her high school years.
Then she attended a small outdoor art and music festival in San Luis Obispo. One of the artists there had a big blank canvas out and was asking everyone to draw something.
"I thought it was really cool," Venegas said. "I hadn't painted in years and I was having so much fun. That kind of just sparked me again to do stuff. It was cool seeing how it connected a group of people like that."
She started making room for art in her life again.
"What inspires me a lot is people," she said. "Interactions with people, feeling what other people feel."
Then a few months ago, when a friend asked her to paint his surfboard, she jumped at the chance to combine her passion for art with surfing and create something special that someone would use every day doing what they love.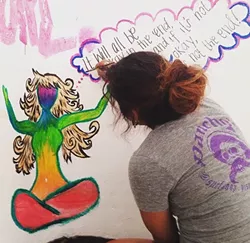 PHOTO COURTESY OF VANESSA VENEGAS
IT'S A PROCESS: Venegas works on an acrylic painting titled "Colors Within."
"People who surf and skate, they love their boards," Venegas said. "That's their baby. It's cool to have something that is different, and, also, if someone that you know made it for you, you can tell the love and effort that someone put into it. It's fun for me, and if people like it, then that's awesome."
One of Venegas' recent creations beams with sunset hues. Vivid reds and oranges cut by intricate white designs—tiny trees, stars, and cacti. She said the surfboard was inspired by the sacral chakra, which is one of the body's energy centers associated with creativity and zest for life.
Venegas recently completed yoga teacher training and said her yoga practice helps keep the creative juices flowing and enables her to find new inspiration.
"I feel really good if I'm doing a lot of yoga," she said. "It opens up my mind and I feel really inspired. It all goes hand in hand."
Venegas insists that her style isn't professional, but more reminiscent of cartoons and doodles.
PHOTO COURTESY OF VANESSA VENEGAS
HELLO SUNSHINE: Venegas paints on more than surfboards and uses more than yoga for inspiration in this piece, entitled "Purple Skies."
In addition to riding waves in the ocean, Venegas is also an avid skateboarder. Her next collaboration of art and movement will be painting skateboards that are handmade by her friend Ian Howell in Nipomo. She often turns to nature when she creates, and a serene depiction of a forest with mountains and a moonlit sky ensconced in a circle will grace the top of her first hand-painted skateboard
When Venegas paints or draws, she likes to bring balance and symmetry to her work, never allowing one element to overwhelm another. This particular fascination, along with her yoga practice, led her to drawing mandalas. Mandalas are geometric figures that represent the universe in Hindu and Buddhist symbolism.
"Monks used to draw them in sand," Venegas said. "They would create these intricate sand mandalas with all of these symmetrical designs. They're basically supposed to be really therapeutic for your mind. Building symmetry physically like that, you're also clearing your mind and organizing your thoughts."
Venegas said she plans to do a mandala-painting workshop sometime in December at Harmony House Yoga in Pismo Beach.

CONNECT WITH THE ARTIST: Check out Vanessa Venegas' latest creations on Instagram by following @mayonesssa. Want a custom painted board? Email Venegas at vanessa.panchossurf@gmail.com.
While Venegas spent a good chunk of her life in an art rut, she says she's now happier and more balanced doing what she loves. While the creative rivers might not always flow easily, Venegas said the best way for people to access their artistic side is to just start creating.
"I'd say, just do it," Venegas said. "Do it every day. If you don't have inspiration, just go somewhere like an art gallery or online and get inspired. For me, it's more just the act of creating something. It's definitely something that I started to do for myself. It was a way for me to express myself and show how I was feeling instead of saying it because it's hard to talk about things sometimes."
Ryah Cooley hasn't surfed since high school because the water is too freaking cold at rcooley@newtimesslo.com.