Wolfgang Amadeus Mozart composed more than 600 works in his lifetime, his first when he was 5 years old. And of the scores of operas, concertos, and symphonies he composed, many are considered to be the greatest breakthroughs of their genre. His audiences—European royalty, common folk, and everyone in between—adored him. His talent was celestial, a shooting star gathering ferocious velocity.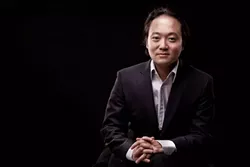 PHOTO BY JULIAN GAVIRIA
SCOTT YOO, FESTIVAL DIRECTOR:
"I hate that guy," every other living composer was understandably thinking.
But alas, such is the wicked nature of genius! Every composer works in the previous giant's looming shadow. Beethoven was sharply aware of Mozart's presence over his shoulder; Brahms would miserably compare his own compositions to the titanic, crashing successes of Beethoven before him, each one caught in the cruel stranglehold of another's genius, a lingering grip that could still be imposed long after death. Generations of giants, tormented by doubt!
Yes, genius is a bastard. Doubt, however, is a secret ally, pushing the artist to keep innovating, purging work of inferior ideas, trying to burst through the familiar into something wonderfully alien, something to which the old rules can no longer be applied.
This is a sentiment well represented by Festival Mozaic's 2012 summer season, themed "In the Footsteps of Giants." An annual celebration of classical music and beyond—taking place this year from July 11 to 22 throughout San Luis Obispo County—Festival Mozaic turns its focus toward the many generations of inspiration and influence in musical composition, charting a course through baroque and classical styles and eventually landing in the contemporary compositions of the present.
The Mozaic experience is grouped into four distinct categories. First, a series of chamber concerts brings together groups of festival artists in intimate environments. Then there's the Festival Orchestra, comprised of performers culled from the nation's top orchestras.
Among those Festival Orchestra performers is Anne Marie Gabriele, an oboist who will perform Mozart's "Oboe Concerto" at a concert in Mission San Miguel.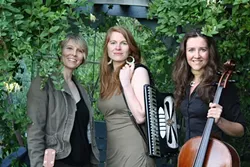 PHOTO COURTESY OF MOIRA SMILEY
MOIRA SMILEY AND VOCO:
"I find Mozart to be incredibly difficult," she said in a phone interview. "Every note has to be in its place."
Gabriele picked up the oboe in high school, she said, attracted to the instrument's melancholy personality and "plaintive, mournful, vocal sound." An oboist in the Los Angeles Philharmonic, Gabriele has served as principle oboist in the Festival Orchestra since 2006.
A "Notable Encounters" series offers music lovers the opportunity to interact with festival musicians in a comfortable, intimate setting, often over a delicious meal. By focusing on just one musical selection performed at the festival—Felix Mendelssohn's Octet in E-flat, op. 20 over dinner at the Monday club; Erich Korngold's Suite for Two Violins, Cello and Left-Hand Piano, op. 23 over a champagne brunch at the Cal Poly PAC—the series allows listeners a chance to cultivate a deeper understanding of what's at work in a given piece.
Last, a "Fringe" series will showcase classically trained musicians crossing over into world music, jazz, bluegrass, folk, pop, and beyond. At one Fringe event in particular, an evening titled "Classical Musicians Doing Decidedly Un-Classical Things," the Sonus Quartet will offer a deliciously eclectic mix, wandering through works from Shostakovich, Morricone, Bernard Herman, the Beatles, and Led Zeppelin.

GET CLASSICAL: Festival Mozaic's summer celebration takes place July 11 to 22 at various locations throughout the county. Tickets can be acquired online at festivalmozaic.com; by phone at 781-3009; by fax at 781-3011; by mail at Festival Mozaic, P.O. Box 311, San Luis Obispo, CA; or by visiting festival headquarters at 2050 Broad St. in San Luis Obispo, open Monday through Friday from 9 a.m. to 5 p.m.
Singer, songwriter, storyteller, and multi-instrumentalist Moira Smiley will perform with her group VOCO, with local jazz favorite Inga Swearingen lending her voice to the mix. Influenced equally by folk music as by Hungarian composer Bela Bartok, VOCO features soaring, often wordless harmonies accompanied by cello, accordion, banjo, and body percussion—a rhythmic, dancy, organic technique Smiley began building into her songs, she says, after seeing the South African group Ladysmith Black Mombazo. It seems the eclectically inclined Smiley can make music from just about anything, citing PVC pipes, flip-flops, buckets, and brooms, in addition to the body.
Also striking is the purposefully unintelligible quality of many of the group's vocals: "Wordless choruses in folk and pop songs allow us to 'become' the music really effortlessly," Smiley explained.
Smiley frequently performs her own intriguing arrangements of Bartok's work, seeking to honor, she says, the composer's "pioneering work in art music and ethnomusicology—the love of visceral rhythm and form alongside a rigorous pursuit of fine-ness."
Musical Director Scott Yoo selected this year's theme to emphasize context in musical composition, he explained.
"Right now I'm in Mexico City with a bunch of friends, and I was remarking that I enjoy collisions of worlds, and linking different people together from different parts of my life. And I like that with music, too," he said.
In a chamber concert called "Illustrious Kinship: An Evening at Hearst Castle," Yoo will explore the musical relationship between Brahms and Antonin Dvorak. Already a well-established name, Brahms became a mentor to Dvorak, then an unknown Czech composer, in the mid-1870s. The concert will highlight Brahms' influence on Dvorak's music, and his role in bringing it to international recognition.
Another chamber concert, titled "Renown, Reverence and Rediscovery," will celebrate the legacy of Johann Sebastian Bach, and showcase his influence over three works by different composers. The evening opens with Yoo's performance of Bach's bafflingly difficult Chaconne from Partita No. 2 in D minor, BWV 1004, a challenging work even for the highly accomplished violinist.
"It's such a titanic masterwork," explained Yoo of the piece, commonly referred to as the Ciaconna. "You try to approach [it] knowing it's better than you're ever going to be."
A frightfully envious-sounding Brahms even wrote of the Ciaconna, "On one stave, for a small instrument, the man writes a whole world of the deepest thoughts and most powerful feelings. If I imagined that I could have created, even conceived the piece, I am quite certain that the excess of excitement and earth-shattering experience would have driven me out of my mind."
For Yoo, any performance of such a work, however masterful it may be, always remains a limited expression of the piece's perfect beauty.
"I have never stepped off a stage and thought, I did that piece justice," Yoo said, with the humility of one treading where giants have gone. "I don't think any musician has."

Arts Editor Anna Weltner treads where trolls, fairies, and werewolves have gone. Contact her at aweltner@newtimesslo.com.