PHOTO BY STEVE E. MILLER
ALLEN SETTLE : The former SLO mayor and current councilman says he spends time at both his house in Arroyo Grande and his official San Luis Obispo residence.
# At the undramatic end of a recent Tuesday night's San Luis Obispo City Council meeting, councilman Allen Settle climbed into his 1999 Toyota four-door sedan and took a long and winding drive to his house.
To the one in Arroyo Grande. The one that's not in the city he represents.
Settle, a former four-term San Luis Obispo mayor who is in his fifth term on the council, was tailed by a New Times reporter following up on questions to the paper from residents of the Laguna Lake neighborhood where his official city residence is.
One close neighbor to the Laguna Lake house, who asked not to be identified, said by appearances Settle has not lived full-time in the house in more than a year, but does drop by regularly.
None of three vehicles parked in the driveway of the Laguna Lake home on a recent morning matched the license plates of some 10 vehicles that the California Department of Motor Vehicles says are registered under Settle's name.
Asked about the questions, Settle said the Laguna Lake house, which is on Drake Circle, is still his actual home.
When he was then told about a reporter following him to Arroyo Grande, he said that he had gone to the Arroyo Grande house, which he also owns, to pick up papers he needed.
He then added that he does live in the Arroyo Grande house some of the time, but considers the San Luis Obispo home to be his official residence. Both, he said, also have tenants living in them.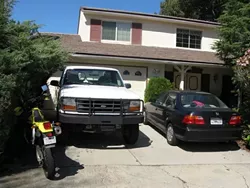 PHOTO BY KYLIE MENDONCA
HERE? : This 1960s tract home is Settle's official San Luis Obispo City residence. A neighbor said Settle doesn't appear to live there full-time.
# "I'm in and out of there," he said of the Arroyo Grande home.
Settle said he imagines those who raised questions about his residence are motivated by politics.
"If you vote against their interests, they try to smear you," he said. "That's what you get for entering public service."
Pacific Bell has a listing for Settle at the Arroyo Grande house as well as one at the Drake Circle home.
Jonathan Lowell, San Luis Obispo's city attorney, said the formal residency requirements of elected officials is a complex area of the law. He was responding to questions in general, and not talking specifically about Settle's situation.
"Residency requirements can be complicated because it's not always entirely clear. Some people have more than one home and you just don't want to delve into their personal lives too much," he said.
He said the question involves an intersection of the city's charter, municipal code, and potentially state election law.
PHOTO BY PATRICK HOWE
OR HERE? : This 1990 Arroyo Grande house is where Settle returned after a recent city council meeting. He said he was just dropping by.
# Settle, a Cal Poly professor of political science who also teaches classes on law, owns numerous houses in the city.
According to the county's records, the Laguna Lake house that he lists as his city residence has a homeowner's tax exemption on it, which means that he has certified to the county as well that that home is his official residence.
In all, Settle owns at least five houses, according to public records. The real estate appraisal site Zillow.com lists the 1990 Arroyo Grande home's worth at more than $1.4 million, with five bedrooms, 4.5 bathrooms, and 11 total rooms on a 2.5 acre spread.
The one he listed as his official residence, meanwhile, is a 1966 four-bedroom tract home that Zillow estimates as worth $623,000.
New Times reported in October that County Supervisor Jerry Lenthall has been taking a homeowner's tax exemption--thus calling it for tax purposes his official residence--for a house outside of his 3rd District boundaries. Lenthall called the issue a paperwork error and said he lives in a home within his district boundaries.