I'm really fired up, and I wish I could say it was from the residual heat of a really great salsa. But after 14 years of dining in SLO County, I'm still ranting and raving that I can't find a satisfying meal in a Mexican restaurant. And here's something those restaurateurs should be worried about local food lovers agree with me.
I love Mexican cuisine, and I've wished someone would tell me I'm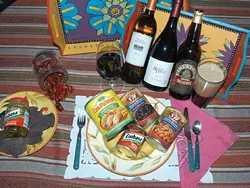 PHOTO COURTESY OF KATHY MARCKS HARDESTY
IN THE CAN : Food writer Kathy Marcks Hardesty is tired tired! of meals at local Mexican restaurants that taste like they came from a can.
# wrong and point out a place I can rave about. It hasn't happened, so I finally took it upon myself to find a restaurant devoted to authentic Mexican foods that I could rate highly. Unfortunately one after another left me hungry for better. That did it.
I decided I'm not ignoring this problem anymore. I'm finally asking aloud: What's the problem with SLO County's Mexican restaurants? I don't care whether these eateries provide an upscale dining experience or serve tamales and tacos from a burrito wagon I want the food I'm served to be made of quality ingredients and to be flavorful.
But too many times, I've been served frijoles that tasted like they came from a can, over-fried beef, chicken and fish that was reduced to the texture of rubber, and salsa as soupy-looking as V-8 with much less flavor. When I finally found a salsa obviously made of freshly-cut tomatoes and onion, I was let down at first taste. It must have been made from those insipid grocery store tomatoes that aren't worth adding to a bologna sandwich.
I recently experienced an absolutely delicious meal at El Herradero (in Santa Maria) thanks to chef extraordinaire Rick Manson, which I reported in "Chef Rick's Culinary Tour of Santa Maria" (June 28). After that column appeared, people began recommending I try their favorite Mexican restaurants in SLO County. I heard glowing reports, which motivated me to try a few new local restaurants. Eternally optimistic, I hoped each one would blow me away so I'd have to retract my negative comments about run-of-the-mill Mexican foods.
In full disclosure, I only visited each restaurant here once. A colleague admonished me: "You can't review a restaurant when you've only eaten there once." Actually I can. With 12 years of restaurant experience (six months of it cooking in an upscale Mexican restaurant in my hometown, Vacaville) followed by 12 years of writing a wine and food column, my experiences have earned me the respect of most local chefs.
I've always believed that every new restaurant deserves a second chance and I still do. But once they're past the rocky opening stage they're fair game. And everywhere I sampled had been open for more than six months, which gives them no excuse for poor service or serving inferior food. Unless, of course, they've got the resort town syndrome: The restaurateur figures they're not going to see those tourists again, so why make the effort to provide an experience that will bring them back? Thankfully, I've rarely witnessed it in SLO County.
For this report, I ordered classic dishes served in every Mexican eatery for lunch. I also arrived before or after the busy lunch hour when the kitchen wasn't slammed. On my trek, I encountered thick and greasy complimentary chips, fresh but tasteless or soupy salsa, and good-looking tacos that failed to please. I braved chicken that appeared precooked and refried on the grill, rendering the small chunks hard and leathery, as well as chicken with an unappetizing, greasy crust. I found tender but flavorless beef and pork. I examined what looked like runny guacamole, a bland liquid save a little boost from cilantro and onions. In all, the meals could be better if the cooks would just pay a little more attention to details, but there's also the problem of the occasional lethargic waiter one of whom asked my husband, Dan, if he wanted dressing for his salad after we started eating.
Not everything was a bomb on this taste-testing trip. I did manage to find an enchilada that I enjoyed on a combination plate, but an accompanying pork chile verde was a letdown, a bland sauce filled with gristly and inedible chunks.
In all, I admitted to friends that I'd give one or two of these places another chance. Who knows?
One thing that always worries me when trying a new restaurant is an empty dining room. You don't see that in places serving exceptional foods. A line of people willing to queue up is a sure sign the food's worth the wait. Though I saw no queues at the places I visited, I still believe that the quality of Mexican eateries is improving. If these restaurateurs pay a little more attention to the food the kitchen sends out, we'll all be queuing up outside their doors.
You can reach New Times' Cuisine columnist at Kathy@GrapevineRadio.net.