PHOTO COURTESY OF CAFÉ MUSIQUE
GENRE JUGGLERS : Step right up and witness the greatest show on earth when Café Musique performs two album release parties: July 10 at Cambria's Theatre at the Old Grammar School; and July 17 at Castoro Cellars Winery.
T
he five members of Café Musique seem to eat, sleep, and breathe music. It wafts from their very pores, a delicious exotic perfume, part Eastern European, part Latin, with hints of swing, classical, and folk.
These inveterate players—Brynn Albanese (violin and vocals), Piper Heisig (percussion and vocals), Duane Inglish (accordion), Fred Murray (bass), and Craig Nuttycombe (guitar and vocals)—are inextricably tied to the local music scene.
Inglish was a founding member of the Live Oak Music Festival; Albanese—after a career with Tanglewood Festival Orchestra, Boston Philharmonic, and Boston Pops Esplanade Orchestra—currently teaches violin and is an orchestral coach for the Cal Poly San Luis Obispo Symphony; Murray moved to the Central Coast in 1998 where he's played with a very diverse collection of bands and recording projects; Heisig's name has appeared on many band such as Those Darn Accordions and Cats & Jammers; and Nuttycombe was half of the A&M Records duo Lambert & Nuttycombe before releasing several solo records and playing in many Central Coast bands over the years.
On Catching Your Breath, the ensemble's second full-length release, they once again combine dizzyingly satisfying musicianship, artistic synergy, and an eclecticism that allows them to present Leonard Cohen's "Hallelujah" and have it sandwich perfectly between F.M. Alvarez's accordion-driven "La Partida" and Duane Inglish's bouncy original composition "Chango Spango."
The group's version of Eddie Cantor's '20s mega-hit "Dinah," with Nuttycomb's sweet crooning forefront, is a Charleston dance waiting to happen. Chango Spasiuk's "Tristeza" translates to "Sadness," but you sure don't need to know that to feel the melancholy emotion weeping out of Café Musique's rendition. You can lose yourself in this music.
Café Musique will play two album release shows: Saturday, July 10, 3 p.m. (doors open at 2:30) as part of the Allied Arts Music Series in the Theatre at the Old Grammar School (1350 Main St, Cambria; $15; 927-8190); and Saturday, July 17, 7 p.m. (doors open at 6) at Castoro Cellars Winery (1315 N Bethel Rd, Templeton; $15; www.castorocellars.com/events or 888.DAM.FINE)

PHOTO COURTESY OF ED GERHARD

GERHARD'S GUITAR : On July 9, Grammy-winner Ed Gerhard returns to the Coalesce Bookstore.
Get into Gerhard
One of the Central Coast's favorite touring musicians is rolling through town again this Friday, July 9, when Grammy-winner Ed Gerhard returns to the Coalesce Bookstore at 7 p.m. ($20; call 772-2880).
This time around, Gerhard will be playing his new Breedlove Hawaiian Lap Style Guitar, which he developed with the company and which he plays on his upcoming CD.
His music was featured in the Ken Burns documentaries Mark Twain and The National Parks: America's Best Idea. He won his Grammy for his arrangement of "Moon River" on the Henry Mancini tribute album Pink Guitar. His CD Luna was named one of "240 Essential Albums" in Acoustic Guitar Magazine's 20th Anniversary issue. In short, the dude's awesome.
PHOTO COURTESY OF DAVE CRIMMEN
SIX FOOT FOUR OF FUN : Towering rockabilly stalwart Dave Crimmen brings his swaggering, rockin' good time to Old Cayucos Tavern on July 9 and 10.
Missing him would be Crimmen-al!
Dave Crimmen is a towering, six-foot-four-inch guitar slinger who's sassy, smoky crooning conjures the ghost of Elvis during his Sun Records era in '50s Memphis. On The Son of Sun, Crimmen sounds like what Chris Isaak wishes he sounded like—harder, more authentic, grittier.
Even the old timers recognize Crimmen's talent. On his 2007 CD, Big Daddy D, he was backed by the Jordanares for a couple of tracks. That's the band that backed Patsy Cline, Ricky Nelson, and Elvis Presley. And Bill Haley's Original Comets recorded one of Crimmen's songs.
The man's a swaggering, rockin' good time. See for yourself this Friday and Saturday, July 9 and 10, at Old Cayucos Tavern.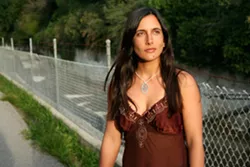 PHOTO COURTESY OF AMY OBENSKI
CELLO TOO : Amy Obenski, who's becoming a Linnaea's café favorite when she tours through town, returns on July 10 with her cello player in tow.
Fellow cello
Amy Obenski plays a wide array of genres—jazz, classical, rock, R&B—but usually we get her solo when she rolls through town. This time around she's bringing her cello player, which promises to deepen her already arresting and engaging sound. I'm still waiting to see her live with her full band; her latest album, From the Deep, featured grand piano, cello, viola, bass, drums, mandolin, and accordion!
With a voice best described as sultry, the Santa Cruz-based performer delivers original songs that have been called "gripping" by critics, and she's been gaining commercial success as well. In 2007, her song "Carousel" was used on Grey's Anatomy, and music from her second album is still being used on the MTV show MADE.
Obenski is both talented and lucky. Her first album, What We Tell, was discovered by an MTV executive who randomly heard her music on someone's iPod. She's also an activist. After earning her degree in Environmental Studies from UC Santa Cruz, she created a series of continuing benefit concerts called "Take Back Your Forest," raising money for The Sempervirens Fund, an organization that protects redwood forest in the Santa Cruz Mountains.
See her Saturday, July 10, at 8 p.m. in Linnaea's Café.
Have piano, will travel
Piano Brent (aka—Brent Dannells) recently wrote to fill me in on a few of his upcoming gigs: "As the newest member of the Dr. Danger Band, a lot of my musical energy has been spent in learning their songs. They're open to doing originals, and we've already incorporated one of mine. However, as a songwriter for 30 years, there are some that fit the band and many that don't. I have two upcoming solo shows where I'll be digging into the song bag."
See the piano man on Saturday, July 10, at 7 p.m. in the Gather Wine Bar in Arroyo Grande (no cover.)
"It's an intimate venue, so I'm just bringing an amp for Bertha and let my voice be un-amplified," said Brent. "I'll be throwing in blues, standards, and maybe an Irish tune or two."
On Saturday, July 17, he plays an 8 p.m. show at Linnaea's café (no cover).
"I'm calling it 'Blues Stuff & Nonsense.' In the past, a lot of my songs have been cathartic, expressions of unpleasant emotions. My focus in this show is for playful songs including my take on Charlie Chaplin's 'Nonsense Song.'"
PHOTO BY DREW REYNOLDS
DOWN TO THE DUO : Rob and Zach of Pinback hit Downtown Brew on July 11 in their duo incarnation, giving fans a fresh interpretation of their songs.
Downtown Brew for you
Downtown Brew has a couple of shows lined up for you this week. On Sunday, July 11, check out Pinback Presents the Rob & Zach Show (8 p.m.; all ages; $15).
"Hey all, how goes it?" asked Zach of Pinback in a press release. "Rob and I wanted to let everyone know that we are planning a West Coast Tour; however, these shows will be much different than the past 10 years that we've toured. We've decided to have some fun and present our songs in a new light. Instead of playing our songs the traditional way by having a backup band play all of our extra parts, we thought it would be entertaining and fresh for just the two of us to play live. The idea is to present our music at times in a more broken down manner very similar sounding to how it might be for Rob and I when we're coming up with a song for the very first time. Hopefully, this way we can create a new atmosphere for a familiar song. However as we pick each song from our catalog to play, we plan on not limiting ourselves to the same formula over and over. We hope to be creative in how we will approach each song individually."
On Tuesday, July 13, punk act New Tomorrow will scream into the club to open for From the Top, The Stakes, and Radio Grenade (7:30; all ages; $10).
This Wednesday, July 14, ska-punk-raggae act The Supervillains skank into the club with Nada Rasta (7:30 p.m.; all ages; $9 presale or $10 at the door).
PHOTO COURTESY OF JANET ROBIN
GUITAR GODDESS : Steve Key's Songwriters at Play singer-songwriters' showcase continues on July 13 with a feature artist whom Michelle Shocked once called "one of the best guitarists in the world, male or female." That performer is Janet Robin.
Hired gun
Steve Key's Songwriters at Play singer-songwriters' showcase continues this Tuesday, July 13 with a feature artist whom Michelle Shocked once called "one of the best guitarists in the world, male or female." That performer is Janet Robin, who fans will recognize as a former featured touring member of the Lindsey Buckingham Band (Fleetwood Mac), Meredith Brooks Band, and, most recently, Air Supply.
Robin is sort of a citywide treasure in Los Angeles, her home base, where she recently sold out the prestigious Hotel Café, where she was joined on stage by Vicki Randle (The Tonight Show Band, Aretha Franklin, Herbie Hancock).
Most recently, she recorded Everything Has Changed with producer John Carter Cash (son of Johnny and June) at Cash Cabin Studios outside of Nashville. Carter Cash was a co-producer on Walk the Line and produced several records for his father as well as a Grammy Award winning record for mom. Built by Johnny in '79, this studio is where the iconic country star recorded much of his later work including his final recording, American VI: Ain't No Grave.
"We've talked at great length about this project and he understands my desire and vision to record an album that's representative of my live performances," Robin says of her producer. "In John, I've finally found
a producer who understands what I am striving to achieve in the studio."
Check out Robin's riveting sound this Tuesday. The showcase starts at 6:30 p.m.; she should go on about 7:30.
PHOTO COURTESY OF KENNY EDWARDS
LIVING LEGEND : On July 8, La Bellasera Hotel & Suites in Paso Robles hosts a concert with the legendary Kenny Edwards.
More music…
This Thursday, July 8, at 7 p.m., La Bellasera Hotel & Suites in Paso Robles hosts a $15 concert with the legendary Kenny Edwards. As noted last week, this is the guy who co-founded The Stone Poneys in 1965 with Linda Ronstadt and Bobby Kimmel. After that, Edwards teamed up with Karla Bonoff, Wendy Waldman, and Andrew Gold to form the legendary group Bryndle, eventually signed to A&M Records. When Ronstadt shot to the moon as a solo performer, she tapped Edwards and Gold as band members during her meteoric rise in the '70s. Since then, Kenny has collaborated and played with Stevie Nicks, Warren Zevon, Bonnie Raitt, Emmylou Harris, Glen Phillips, and Ringo Starr. Reservations are recommended by calling 591-9053.
Code Blues is the next act at the popular Concerts in the Park series at the City Park in downtown Paso Robles this Friday, July 9, 5:30 to 7:30 p.m. The self-described "rhythm machine [is] devoted to expounding a unique and engaging expression of that compelling musical form called West Coast Blues." Join the party.
Merrell Fankhauser and his Tiki Lounge Dancers perform at 6 p.m. on Saturday, July 10 at Hapa Haoles Restaurant (460 S. Dolliver, Pismo Beach). "It will be an authentic Hawaiian style luau and show!" said Fankhauser. "Dress in tropical attire and have some ono fun!" For advanced tickets, call 773-4788.
The Sizzlin' Summer Concert Series continues this Sunday, July 11 with local talent Unfinished Business, who'll rock the park with their rousing renditions of classic '60s rock from 3 to 6 p.m. in Ramona Garden Park. Attendees will have the opportunity to enter a drawing to win tickets to see Sammy Hagar at the Mid-State Fair on Saturday, August 24.
This Sunday, July 11, San Diego bassist Rob Thorsen and his trio (pianist Joshua White and drummer Duncan Moore) play the next Famous Jazz Artist Series concert at the Hamlet in Cambria. Most recently, Thorsen released Lasting Impression, which topped the national jazz charts for months. Series co-producers Charlie and Sandi Shoemake (vibraphone and vocals) will also be on hand during two performances: 4 p.m. for $15; 7:15 p.m. for $12; or see both for $20. Reservations are recommended: 927-0567.
PHOTO COURTESY OF OPAGUE
THE KIDS ARE ALRIGHT : Opaque, an ensemble of young student musicians from the famous Oberlin Conservatory, play July 13 at The Clubhouse at This Old House.
Oberlin Conservatory in the Bay Area is known for producing excellent musicians, and this Tuesday, July 13
, the Clubhouse at This Old House will present one of Oberlin's up-and-coming ensembles: Opaque
(aka—The Oberlin Pacific Quintet). The group features Los Osos native Sean Miller, a drummer studying under Billy Hart and Jamey Haddad. What's really going to blow you away when you hear this group is that most of its members are mere freshmen at the music school. Downbeat's at 7 p.m.
Alt-rock act Vantage makes their SLO Town debut this Tuesday, July 13 when the Washington-based quartet plays a 9 p.m. show at Frog and Peach. Their influences are wildly divergent, from Stevie Wonder to The Smiths, from Pearl Jam to Fleetwood Mac and Jeff Buckley. Sometimes poppy and swirly, other times gauzy and dreamy, it's pretty hard not to take an immediate liking to these rain-weary kids.
Keep up with Glen Starkey via twitter at twitter.com/glenstarkey, friend him at Myspace.com/glenstarkey, or contact him at gstarkey@newtimesslo.com.