What do you remember about Terry's Bar and Grill? Was it the taxidermied animals on the walls or the photo of Marilyn Monroe behind the bar, coyly eating breakfast in bed?
Was it the "grill," aka the microwave that nuked your 1 a.m. cheese enchilada after too many beers? Was it the smoking patio/parking lot out back that, although just a stone's throw from Highway 101, felt strangely intimate? What about the old juke box where you could drop in a few quarters and hear ZZ Top's "Cheap Sunglasses" or CCR's "Green River"?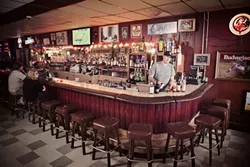 PHOTO BY STEPHEN DUMMIT
SIT ON DOWN: At Whiskey and June in Atascadero, you get all the dive bar experience with a craft cocktail menu. Pictured, co-owner Daniel Green mans the bar.
The Atascadero dive bar institution—now Whiskey and June—may have changed names, owners, and offerings, but die-hard fans know that the history remains. Regulars of Terry's are now regulars of Whiskey and June, which may be the biggest compliment owners Daniel and Erin Green could ever hope for.
"What we have in this bar is something that people spend hundreds of thousands of dollars to re-create. How foolish would we be to tear that apart, building new shelves and updated modern-looking refrigeration and lights?" Daniel said. "Basically, all we did is take everything off the walls and off the bar, scrubbed it down, and put it all back."
At Whiskey and June, Marilyn still winks at you from the wall, the shuffleboard is still free, and you'll probably run into someone you know (on my first visit I ran into my Tribune food writer counterpart, Katy Budge!).
The real change is reflected in the offerings. Whiskey and June's multi-page menu offers up more than a glimpse of an old-school Playboy pinup: Choose from 150 whiskeys from around the world, a slew of fancy craft beers, and classic cocktails made the old fashioned way.
"This town is very much a blue collar, white collar, no collar all-American drinking town, and whiskey is considered the American spirit," Daniel said. "We don't take ourselves too seriously, which is something a lot of craft cocktail places try to do. We keep it very simple. We measure our cocktails and live by an old-school cocktail code, but we also have a chupacabra hiding in the corner of the bar and a bear rug hanging from the ceiling. We have a jukebox called 'The Princess' and songs skip on it, but you can get three tunes for a dollar. Little things like that will never change."
Of course, the Greens take one thing pretty darn seriously: the booze. With on-site barrel-aged whiskey, classic Moscow Mules and Manhattans on draft (yes, cocktails on draft), rotating whiskey flights from Japan, and Kentucky staples like Willett and Van Winkle, it's no wonder The New York Times recommended the bar for "exceptional cocktails in an unexpected setting."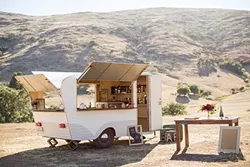 PHOTO BY CAMERON INGALLS
BAR ON THE GO: Whiskey and June's mobile bar brings classic craft cocktails to you.
The Greens were as tickled as anyone to receive that bit of press. The entire bar-owning experience has been an all-out adventure. Before landing in San Luis Obispo, the pair spent time in New York City, where Erin studied nursing at NYU while Daniel, a Templeton native, cut his teeth at a string of upscale bars and restaurants, including Eleven Madison Park.
"This bar has so much life and so many characters that we never knew," Erin said.
Fun fact: Neither Erin nor Daniel had ever stepped foot inside Terry's before purchasing it.
"We met Terry Latham one time when we came in to take photos," Daniel said. "I took pictures of everything, and I was taking photos of the microwave—the 'grill'—and he said, 'What kind of moron takes a picture of a microwave?'"
Daniel and Erin always laugh good-naturedly at this story. One: That's just who Terry is, a sly curmudgeon with a heart of gold. Two: Terry is a friend and a regular.
PHOTO BY CAMERON INGALLS
CRAFTY: Whiskey and Jun e co-owner Erin Green stirs up something fun.
"We have grown to have a really good relationship with Terry, and we like him very much," Daniel said. "He's in the bar every day."
When the Greens purchased the coveted liquor license—one of only a handful in Atascadero—they were surprised to find something Terry had yet to mention. A catering license was attached to it.
"We were like, 'What?' The license allows Whiskey and June to take our full bar anywhere in California," Erin said. "When we found that out, we decided we should take advantage of this."
And so, they did. The couple's 1957 trailer is tricked out to the nines and makes trips to local weddings and other events.
"People just love to congregate around it. It's really fun," Erin said. The trailer comes with world-class spirits, service, and a punch of old-school charm.
Erin made me a classic whiskey sour, the same drink she'd make whether she was in the trailer, in the bar, or on the moon. Made with Wild Turkey, lemon juice, simple syrup, and an egg white, it was probably the first "real whiskey sour" I've ever had. It was delicious.

ROAD TRIP!: Whiskey and June is located at 5950 El Camino Real in Atascadero. For more information or to rent out the mobile bar, visit the bar on Facebook or call 466-9974.
All I needed now was something "thrown on the grill." At Whiskey and June, this is a must. Where else can you find a historic microwave sitting alongside a vintage cocktail recipe file organized by the Dewey Decimal System?
"Our dream was to have this be a dive bar experience, where you can order something you actually want to drink," Erin said.
HayleyThomas loves this bar at hthomas@newtimesslo.com.