It's not uncommon for Joanne Ruggles to work from nude models. But in her current show, "Hanging by a Thread: Mother Earth in Peril," it's the artist, and not her subjects, who is exposed. While her gray and black figures are charitably cloaked in abstraction and anonymity, Ruggles is the one whose dreams, hopes, and fears are laid bare.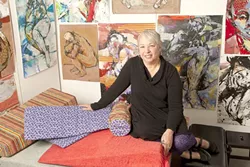 PHOTO BY STEVE E. MILLER
IN LIVING COLOR : Artist Joanne Ruggles, pictured, often renders the human form in brilliant colors, though her latest body of work is dominated by shades of black, white, and grey.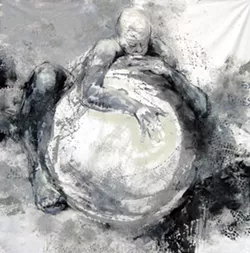 PHOTO COURTESY OF JOANNE BEAULE RUGGLES
A MOTHER'S DREAMS : Ruggles started her current series three years ago, when a life drawing model happened to bring her exercise ball to a workshop. The maternal image that resulted has stuck with Ruggles ever since.
"In order to paint anything, I can only paint my story," explained the artist and Cal Poly professor. "What I see in the model is going to be what resonates with me, no matter who's modeling."
The body of work that went into "Hanging by a Thread" began three years ago, in Grand Junction, Colo., where Ruggles was leading a life drawing workshop. On a whim, one of the models brought along her exercise ball, thinking she could do some interesting poses with it.
"She took a couple poses with this ball, and my immediate reaction was, oh my god, this is so maternal: This woman clutching this orb," Ruggles remembered. "These were Mother Earth poses."
The maternal figure and the mysterious orb became the predominant motif in her current show, hanging at Allan Hancock College's Ann Foxworthy Gallery. Some of her figures crumple in various expressions of grief, mourning a concrete-scarred planet as a mother would a terminally ill child. Elsewhere, a figure seems to scold her orb-like progeny.
One work depicts a mother and daughter curled up tightly together on the ground.
"Those were two women modeling for me," Ruggles explained. "It was a workshop I was teaching up in Quebec."
The tender scene, though staged, had a profound effect.
"Two of my students had to leave the room in tears because it was so touching, seeing these women compassionately comfort each other," Ruggles continued. "One girl ran out of the room crying, and she said, 'My mother died six months ago. And when I saw that, it's such a beautiful thing, but it makes me think so much of my mother.'"
Another nude figure appears to offer herself up as a sacrifice. She falls to her knees, raising her arms to heaven as if imploring, "Take me instead."
No stranger to unconventional mark-making implements, Ruggles has employed a stamping technique to litter the landscape with jumbled letters—as if to represent the constant clutter of language, obscuring the surface of fine art.
PHOTO COURTESY OF JOANNE BEAULE RUGGLES
LAMENT : A figure in the show "Hanging by a Thread: Mother Earth in Peril" expresses grief at the ruin of the planet.
MATERNAL FIGURES AND THE MYSTERIOUS ORB: Joanne Beaule Ruggles' show "Hanging by a Thread: Mother Earth in Peril" hangs at the Ann Foxworthy Gallery at Alan Hancock College, 800 South College Drive in Santa Maria, through Sept. 28. The gallery is open 9 a.m. to 3 p.m., Monday through Thursday. Call 922-6966, Ext. 9252, or visit

hancockcollege.edu

for more information.
Arms outstretched, the figure divides the large-scale piece into fourths, imbuing the work with a classical, even religious, aesthetic—something the artist may not have intended, but is well aware of.
"Most religious paintings will have that kind of duality, you know: despair and redemption, dark and light. As I worked on it, the more I began to see it. It almost has a crucifixion quality to it," Ruggles reflected. "It has a dark side and a light side. There's some light on the dark side; there's some dark on the light side."
Ruggles freely recognizes the religious—or at least spiritual—quality of the series. That quality, she said, is reflected in the design of the Foxworthy Gallery itself: "It feels like a sanctuary," she said. "There's a chapel-like quality to the space. For me, it allows the show to be a reverent warning."
While the series speaks of human wastefulness and concerns about the future of the planet, nowhere to be seen is the triteness, or worse, trendiness that all too often accompanies these themes. "Hanging by a Thread" is too honest, too sincere, for any of that stuff.
Instead, Ruggles often uses unexpected artifacts—a doily, a trivet, random bits of packaging—to leave marks, as if to demonstrate the sort of human detritus that might be found in future decades and used to explain Western civilization.
A work titled A Mother's Dreams depicts a nude woman, head smoothly bald, embracing a large sphere. Her eyes are shut, or cast so far downward that we are unable to see them. Her expression of love is clearly meant only for the precious orb around which her entire being curls. Ruggles holds the piece very dear.
"The feeling I have about this painting would be very similar to looking at my daughter pregnant," she said. "It's that kind of emotional connection."
But nowhere is the extremely personal nature of her art more pronounced, more directly confronted, than in a piece called Exhibitionist.
Ruggles often begins in the abstract and waits to see what figures take shape. But in this particular work, which incorporates torn sheets of wallpaper, she saw a version of herself emerge in the empty white space. Indeed, the bare torso of a woman seems to step forward, unbidden, through the dark shapes. Out of this vague, feminine silhouette, the artist coaxed what she referred to as a metaphorical self-portrait. For her, the exposed figure accurately embodied the vulnerability of having one's sacred creations exhibited publicly.
However, this very exposure, she believes, is also her obligation. Ruggles is deeply influenced by the work of German Expressionist Käthe Kollwitz, and the great figure artist's philosophy on the role of art and the artist resonates throughout her work.
"She had this obligation to use that life-drawing skill to move society ahead, to make social comment. And I believe that," Ruggles said of Kollwitz.
"I think those of us that draw figures, we have the capacity to say something about what it is to be a human being. … We have the capacity to speak of humanness."
Arts Editor Anna Weltner thinks you have the sweetest orb she's ever seen. Contact her at aweltner@newtimesslo.com.