A skeptical SLO City Council on April 24 pushed forward plans for a new four-level 445-vehicle parking garage at the corner of Palm and Nipomo streets, even as members worried out loud about whether it would get used enough to justify a more than $12 million price tag.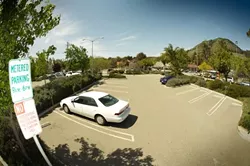 PHOTO BY JESSE ACOSTA
DO WE NEED IT? : A parking garage planned for the corner of Palm and Nipomo streets moved forward with a 3-2 vote from the San Luis Obispo City Council. Mayor Dave Romero noted that the current lot (pictured) does not exactly fill up.
# In a special meeting, the council voted 3-2 to put out bids for consultants to begin work on the plans, but at the same time members ordered city staff to assess prospects to instead acquire the parking lot next to Wells Fargo Bank off Marsh Street.
The split had Christine Mulholland and Andrew Carter voting against the motion and Mayor Dave Romero, Paul Brown, and Allen Settle approving it.
But it nearly didn't pass at all. Romero expressed strong reservations, noting that the current 79-space surface parking lot that's on the site now is typically only half full. (A walk through the lot after the meeting found only 17 cars at 2 p.m. on a Tuesday.)
Romero only consented after the motion was changed to include the Wells Fargo examination, and even then seemed unenthusiastic he said it might make more sense in four years than it does today.
"My fear is we're going to build a white elephant down there at Palm and Nipomo," Carter said, noting that so far there's been little attention given to how to pay for the project.
As envisioned, the structure would be built on land the city owns and require the demolition of a duplex and several single-family houses there. It would be set back along Monterey Street to build a cultural facility members mentioned the Little Theatre and preserve an impressive oak tree as well.
Council members rejected two competing plans for mechanical parking structures, in which people would turn over their keys to attendants to park, as too expensive.
Representatives of area businesses, the adjacent but not-yet-opened San Luis Obispo Children's Museum, the Chamber of Commerce, and the Downtown Association all spoke in favor of the project.
If the project were to go forward without interruption, it's expected to be completed in the summer of 2012.