When singer-songwriter Whitney Rose was just 2 years old, she'd already found her calling. She'd sing Hank Williams' classic "There's a Tear in My Beer" to patrons at her grandparents' Prince Edward Island bar, Union Hall.
Now the 31-year-old plays what she calls "Countrypolitan music"—think '60s girl group meets honky-tonk feminism. She'll play SLO Brew on Wednesday, Feb. 28 (10 p.m.; 18-and-older; $12 at ticketweb.com), singing songs about female empowerment, male retribution, truckers, cheaters, and more. Her third full-length album, Rule 62, was released last year, and she spoke to New Times by phone while on tour in Canada.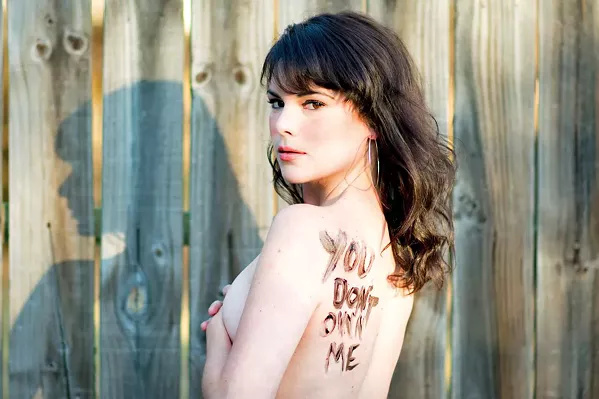 Photo Courtesy Of William Meadows
YOU DON'T OWN HER Countrypolitan singer-songwriter Whitney Rose plays SLO Brew on Feb. 28, bringing her '60s girl group meets honky-tonk feminism sounds.
The first thing you'll notice about Rose, beyond her amazing voice, is her style. She's retro without being corny, channeling the coolest elements of the '50s through the '70s.
"Those are basically my favorite decades of fashion, and as I get older, I'm less scared to delve into that era even though it may not be the coolest thing today," Rose admitted. "I just appreciate a time when no one went to the supermarket in their pajamas. They took pride in their appearance."
Not only her look but also her music picks up on the cues of a bygone era.
"To be honest, most of the music I listen to today is from the '50s, '60s, and '70s, and now stuff from the '80s and '90s is sounding a lot better than most of what's coming out today!" she laughed.
Who's most influenced her?
"Kitty Wells—I've loved her most of my life, and Patsy Cline, and of course the obvious ones like Hank Williams and Dolly Parton. Oh, and I love Keith Whitley."
What about her live shows? What can people expect?
"Well, I think the best way to describe my shows is I perform a lot of my original music with select covers that at least attempt—though maybe not always succeed—at making sense of my original music, so yeah, I do covers that tie into what I'm trying to do."
Any examples?
"Well, I cover some Merle Haggard, who's definitely part of my country influence. In fact, I probably should have listed him with the others I mentioned, but I also do some rocking era Linda Ronstadt, The Ronettes because I have a huge doo-wop influence—but I don't want to be put on the line to play those covers because we do change them up regularly."
In her late teens and early 20s, Rose was a bit of a wandering spirit, attending five different colleges and studying English and journalism. She's about "half a credit from a bachelor degree," she said, adding, "but there's nothing in my being that's the least bit interested in finishing that degree."
Did all that studying and reading inform her songwriting?
"Oh absolutely! I've just always loved writing, so I was writing fiction before I ever started writing songs. I've written fiction my whole life, mostly short stories."
Hemingway and Steinbeck are two of her favorite authors, and a lot of her songs go right for the emotional jugular vein, like the closer on Rule 62, "Time to Cry," about a woman shutting down her ex: "I let you walk all over me as if that's how it's supposed to be/ But all you ever did was bring me down/ So, don't you chase me, don't you call/ Don't try to change my mind at all// And now you got the nerve to say you need me/ To say you can't believe I said goodbye/ You watched me shed a thousand tears and then some/ But now it's your time to cry."
Rose now calls Austin, Texas, her home base. Does she feel more Canadian or American?
"I travel so much I don't really consider myself much of anything, but I was born in Canada and am a Canadian citizen, though I'm very much invested in the United States, which is my home now."
How does she think it's going here?
"Ha! I would definitely change a few things if it was up to me. The difficulty of living in America and not being an American citizen is I feel like I don't have much of a voice, first and foremost because I can't vote. Maybe at some point I'll go for citizenship because what happens in America is important to me, and some pretty shitty things have been happening."
Anything else she wanted to mention?
"Just that really, from the bottom of my heart, I'm so excited to get to California. I think it's 7 degrees right now!"
Photo Courtesy Of Chase Mcbride
MCBRIDE RETURNS Former local singer-songwriter Chase McBride, who had an international hit last year with "On the Other Side," returns to play SLO Brew on Feb. 25, in support of his new single "The Color Blue" off his just-released new album Green Shade.
Also at SLO Brew this week is one of my favorite formerly local singer-songwriters, Chase McBride, who plays SLO Brew on Sunday, Feb. 25 (7 p.m.; 18-and-older; $10 at ticketweb.com), in support of his new album Green Shade.
McBride—an expert at delivering hooky, sunny, breezy pop and folk songs—was a New Times Music Award winner when he lived locally, but he left for greener musical pastures, and he found them, releasing the critically acclaimed album Cold Water last year. It generated the hit song "On the Other Side," which hit Spotify's U.S. Viral 50, Global Viral 50, Netherlands Viral 50, and Weekly Buzz playlists.
McBride has returned with a new single "The Color Blue," that's showing the same kind of traction as "On the Other Side." It's got a touch of '80s synth, and McBride's assured voice rides atop the melody with some help from guest vocalist Sean Hayes.
"I wrote the initial parts for this song while house-sitting in Joshua Tree," McBride said via email. "I had a pared-down recording studio taking over a guest bedroom and was indulging myself by experimenting with electric guitar tones and staring out onto an empty portion of the desert. I was listening to a lot of JJ Cale at the time and speaking with a friend of mine who was struggling with a new relationship, continuously getting ahead of himself and projecting too far into the future. It was a reminder for me to enjoy the present moment, and resist attaching myself to my own expectations. The chorus lyrics reflect that sentiment, 'I don't want to move too slow, if this is touch and go, I want to feel it too.' It's about truly living in a moment—taking life, relationships, or whatever else is happening one step at a time."
Black Match will open the show.
Genesis calling
Steve Hackett presents his Genesis Revisited, Solo Gems, and GTR 2018 Tour de Force concert at the Fremont Theater on Friday, Feb. 23 (9 p.m.; all ages; $61.50 to $81.50 at Boo Boo Records or eventbrite.com).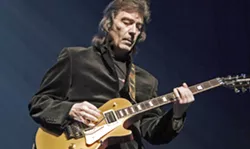 Photo Courtesy Of Steve Hackett
PROG ROCK GUITAR ICON Steve Hackett of Genesis and GTR plays the Fremont Theater, revisiting music from his bands and solo work, on Feb. 23.
Hackett, a Rock and Roll Hall of Famer, was guitarist for the English prog rock act Genesis, a noted solo performer, and founding member of the super group GTR with Steve Howe of Yes and Asia.
The extraordinarily versatile player and talented composer has worked in the rock, jazz, blues, and world music genres.
"He is equally adept in his classical albums that include renditions of pieces by composers from Bach to Satie, his own acoustic guitar compositions that have gained the admiration of many, including Yehudi Menuhin, and ambitious guitar orchestra albums such as A Midsummer Night's Dream, recorded with the Royal Philharmonic," according to his bio.
Guitar fans won't want to miss this one!
EDM—'Dum Dee Dum'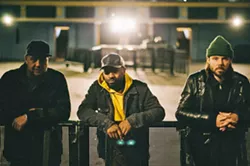 Photo Courtesy Of Keys N Krates
BRINGING THE PARTY EDM trio Keys N Krates plays a Collective Efforts concert at The Graduate on Feb. 25.
Collective Efforts presents Keys N Krates on Sunday Feb. 25, at The Graduate (9 p.m.; 18-and-older; $27 at Boo Boo Records or eventbrite.com), on their Cura Tour, with special guests Promnite and Jubilee. The Toronto-based electronic music trio throws kick-ass dance parties, and their first hit—and its hilarious accompanying video—"Dum Dee Dum," established them as a tour-de-force in the EDM scene. Other party hits include "Glitter" featuring Ambré, and "Flute Loop" featuring Ouici.
One, two, three at The Siren
Numbskull and Good Medicine Presents, in conjunction with Morro Bay's The Siren, has three cool shows this week!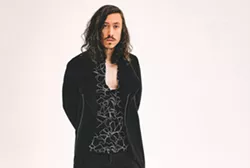 Photo Courtesy Of Noah Gundersen
INDIE DARLING Seattle-based indie folk singer-songwriter Noah Gundersen plays a Numbskull and Good Medicine Presents show at The Siren on Feb. 23.
Noah Gundersen plays on Friday, Feb. 23 (7:30 p.m.; 21-and-older; $17 presale at Boo Boo Records or ticketfly.com; or $20 at the door). The Seattle-based indie folk singer-songwriter pens whisper-to-a-scream gems.
Eagles tribute band Desperado plays the Siren on Saturday, Feb. 24 (8 p.m.; 21-and-older; $20 presale at Boo Boo Records and ticketfly.com or $25 at the door). These guys capture the Eagles sound and feel with remarkable clarity.
Finally, you can enjoy an intimate evening with Langhorn Slim and special guest Twain at The Siren on Tuesday, Feb. 27 (7p.m.; 21-and-older; $20 presale at Boo Boo Records or ticketfly.com or $25 at the door). "Everyone's searchin' for something better around every corner, but it's already right here," Nashville's Langhorne said in press materials. "We're all born whole—through livin' we fall apart."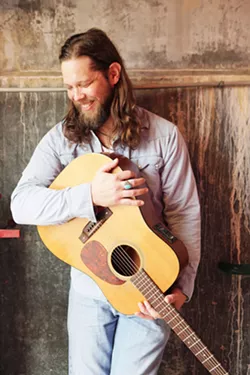 Photo Courtesy Of Josh Field
TRUE GRIT Austin-based Americana singer-songwriter Josh Field will bring his dark and desperate sounds to Last Stage West on Feb. 23, Luna Red on Feb. 24, and the Pour House on March 1.
Also this week at The Siren, check out Floating Records recording artists Jeffrey Halford and The Healers on Thursday, Feb. 22 (8 p.m.; 21-and-older). The band took home seven 2017 year-end awards for their acclaimed album, Lo-Fi Dreams.
Straight outta Texas!
Josh Field delivers dark, gritty, Texas-style Americana, singing in a raspy, low-rumbling voice that sounds like it's been ridden hard and earned every mile of wear and tear. He plays three solo shows this week, at Last Stage West on Friday, Feb. 23 (6 p.m.); Luna Red on Saturday, Feb. 24 (10 p.m.); and the Pour House on Thursday, March 1 (7:30 p.m.). Δ
Keep up with New Times Senior Staff Writer Glen Starkey via Twitter at twitter.com/glenstarkey, friend him at facebook.com/glenstarkey, or contact him at gstarkey@newtimesslo.com.