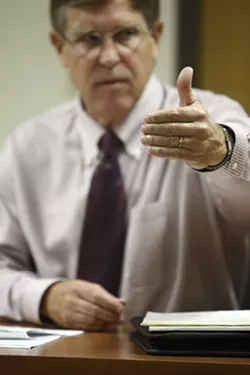 PHOTO BY STEVE E. MILLER
A BALANCING ACT : During an August press briefing, Shea said that while the D.A.'s office tries to keep the public updated on current cases, the protection of defendants' rights is a greater priority.
An inconspicuous, brown wooden door at a far corner on the second floor of the San Luis Obispo County Library opens to the Local History Room, where one can find a wealth of reference material about the county origins, from books about its early settlements to old censuses.

Inside a maroon metal file cabinet at one end of the room, newspaper clippings are neatly organized into several categories, from historical buildings to old grand jury reports. Inside a file labeled "SAN LUIS OBISPO COUNTY DISTRICT ATTORNEY" a couple dozen aged clippings highlight achievements and critical decisions by the county's district attorneys over the years. The D.A. from 1979 until 1984, Christopher Money, is the subject of many of the articles as is his successor, Barry LaBarbera. Beyond LaBarbera, there's nothing.

Who's missing? If you don't know, you're not alone.

A New Times reporter wandered among the crowd at a Farmers Market in downtown SLO, randomly posing one question: "Can you name our D.A.?" Of the 50 people asked, just one-a middle-aged, silver-haired man in a blue collared shirt and leather jacket-answered correctly.

"Gerry Shea," he said. Bingo.

Gerald T. Shea, 59, has headed the San Luis Obispo County District Attorney's Office for more than a decade. Elsewhere, aside from supervising teams of deputies and investigators, district attorneys are the public faces personifying the local justice systems. They typically court and revel in publicity.

Shea, on the other hand, is rarely recognized in public or quoted in the media. He's been mentioned or quoted only 43 times since 2001 in The Tribune, for example: just over four times per year on average, and most of those quotes were in 2003 and 2004 regarding his controversial handling of a vehicular manslaughter case against the son of the county's treasurer. In light of how infrequently he's been quoted in local media or has stepped into the public spotlight, unless you're a lawyer or behind bars you probably would not have been able to name him, either.
Why would Shea's name matter to anyone other than lawyers and defendants? In less than a year, county residents will vote on who will run the office responsible for administering justice here and keeping criminals off our streets. Shea has declined to state whether he will run again in 2010 for another four-year term. If he continues at his position, he would be the longest-serving D.A. in SLO County in more than 50 years, yet hardly anyone knows anything about him.

New Times wanted to know more about this important elected official who steers clear of the limelight and what his reelection would mean for the county.
The interview
The first and last time New Times interviewed Shea was in 2003 regarding his handling of the Kenneth Freitas case. Dan Blackburn, who was then news editor, and former photographer Chris Gardner met Shea at his office and were greeted with a stern, "No photographs. It's our policy to provide our own photos." Shea initially would not allow Blackburn to use a tape recorder during the session, expressing doubts about the newspaper's accuracy. An eventual compromise resulted in Shea pulling out his own recorder to ensure the validity of Blackburn's tape in what has become known in the newsroom as the Battle of the Dueling Recorders.

Regardless of that history, Shea granted New Times a recent interview apparently without reluctance, knowing the purpose would be to gain insight insight into the man himself.

Days before the interview was scheduled, Shea surprised the reporter when he emerged from the armored doors of his office into the lobby and personally handed over some requested documents, greeting the reporter with a handshake and warm smile. Dressed in a pale striped shirt with a buttoned-down collar, khaki pants, and a brightly colored tie, he offered up a little small-talk about college and the importance of thorough journalism, crossing his arms informally and swaying casually, occasionally adjusting his thin-rimmed eyeglasses while nodding politely. He mentioned his busy schedule but offered his assistance for the story.

As the interview approached, the D.A. seemed apprehensive when he called to confirm the date. He wanted the questions in advance. Lacking those, Shea set some familiar ground rules: "We do have a policy against voice recorders in the office," he said sternly before warning that his schedule would only allow for a conversation no longer than 15 minutes or so. He also asked whether the reporter would be alone.

From the onset of the interview, Shea appeared uncomfortable that the New Times photographer had snapped so many pictures of him during a preceding press briefing. He was friendly and courteous, however, while trying to convey through the brevity of his responses that time was quickly running out. He pulled out a white notepad filled with what appeared to be talking points or prepared answers to the few questions he could glean from the conversation over the phone.

Questions about his background in college and his family were responded to in quick one- or two-word bursts, indicating as he leaned back in his chair, pen in hand, that these were not issues he wished to discuss. Throughout the rest of the short and somewhat awkward session, Shea began to seem wary, looked a bit tense, and sat upright in his chair, following a pattern of focusing intently while each question was asked, then slightly tilting his head down to his notebook, eyes scanning the page while delivering his response.

Asked simply what motivates him, Shea finally had an opportunity to put his prepared responses to use. "The attributes of a good D.A.'s office," Shea said after a brief pause, slowly running his fingers back and forth across the edges of the notebook. "First, by holding perpetrators accountable; second, handling cases in a timely fashion; and third, supporting victims of crime and along with other agencies in the county, make the county a safer place."

After the last word of his response, Shea quickly lifted his head from the notebook with a cool thin smile. After reiterating once more that he had no plans to refer to the 2010 election, three more questions regarding his initiatives were asked in rapid succession before his secretary returned to the briefing room to remind him of his next scheduled meeting. After a suggestion that further questions be e-mailed to him for lengthier responses, a handshake, and an agreement to continue by phone at a later date, the interview was over.

Who is he?

Gerald Shea-or Gerry, as he's known by friends-was born and raised in eastern San Diego County and became interested in criminal justice after receiving his bachelor's degree in English from San Diego State University in 1971. A law degree from Loyola University, a private Jesuit school in Los Angeles, followed three years later.

From 1974 to 1977, Shea began his legal career as a Deputy Attorney General with the California Attorney General's Office in Los Angeles. While there, he tried criminal appellate cases, reviewed transcripts, and responded to written motions, as well as prosecuting criminal jury trials.

Shea has been with the San Luis Obispo County District Attorney's Office ever since, starting as a Deputy District Attorney in 1977 where he prosecuted both misdemeanor and felony cases. Eight years later in 1985, he was appointed Chief Deputy District Attorney.

On June 2, 1998, Shea succeeded Barry La Barbera as District Attorney after winning a landslide victory against Terrence O'Farrell of Atascadero, a former Deputy District Attorney who had gone into private practice in 1981 and ran unsuccessfully against La Barbera in 1994. According to official election results, Shea won approximately 70 percent of the county's vote with 36,146 ballots over O'Farrell's 15,234 (29.5 percent). At the time, Shea was reportedly backed by all of the D.A. Office's then 28 lawyers and 14 investigators (the office now includes 30 deputy D.A.s and 13 investigators).

If he's not a publicity seeker, it may be because he hasn't had to be. He ran unopposed as an incumbent in the 2002 and 2006 county elections.

What has he accomplished?

When Shea came to office, there were several specific issues he especially wanted to tackle. Juvenile crime, gun- and gang-related crime, economic crime, and victims' assistance were priorities among his first agenda.

Right off the bat, Shea began working, in conjunction with the Probation Department, to decrease the number of juvenile cases in the criminal system. According to Shea, there has been a 30 percent decrease in such cases under his watch. In regard to gun-related cases, he said his office has fairly enforced the "10-20-Life" law, which came into effect just before he gained office and allows for extended penalties for offenders who use a firearm during the course of a crime. As a result, Shea said, the number of crimes where a gun is used has dropped by 35 percent. "I am very proud of those successes," he said.

According to a grand jury report released earlier this year, gang-related crimes and activity are on the rise in SLO County after a steady decline from the late '90s until about 2007. Shea's office is attempting to deal with this trend, having created the Rehabilitation and Reentry branch of the Anti-Gang Coordinating Commission. This branch is managed by the D.A.'s office and works to reintegrate former gang members and parolees into society.

Shea's office has also created several ambitious initiatives and expanded other existing programs in the last 10 years. The Bad Check Program, for example, is a new component of the Economic Crime Unit and allows merchants to send insufficient drafts directly to the D.A.'s office for collection, bypassing the police department. The DUI Taskforce, Elder Abuse Agency, Child Abuse Interview Team, and an environmental enforcement group that collaborates with the state and federal Environmental Protection Agency have also been instituted under his leadership.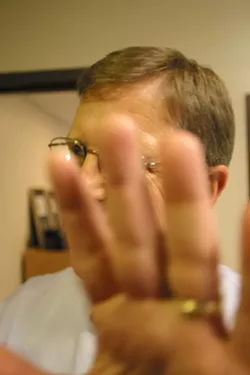 FILE PHOTO BY CHRISTOPHER GARDNER
NO PHOTOS : District Attorney Gerald Shea fends off a New Times photographer prior to a 2003 interview.
Perhaps the most notable characteristic of Shea's tenure as D.A. is the conviction rate for felony criminal cases his office boasts. More than 88 percent of such cases brought to trial in 2006 and 2007 resulted in a conviction. Of those, approximately 10 percent culminated in grants of drug rehabilitation (resulting in no conviction), dismissals, or reductions to misdemeanors after the preliminary hearing, according to the D.A.'s office. Data for last year are not yet available.
Though he's not well known by the public, Shea has certainly worked to be prominent in his field. He is active in several local and legal organizations, serving on the board of directors for the SLO Women's Shelter, acting as chair of the Domestic Violence Task Force, and serving on the executive council for the county's Children's Services Network. Furthermore, he is the former president of the California District Attorney's Association, past president for the Institute for the Advancement of Criminal Justice, and a former representative for the entire state as state director of the National District Attorney's Association.
In Shea's tenure as D.A., he has overseen the successful prosecution of many high-profile cases, all of which he said were major accomplishments for his office. He pointed to the Rex Krebs case, the murder-for-hire case of Justin and Roselee McCulloch and Mark Weyand, and the Peter Dirks case involving a murder from the 1980s, the first cold case in the county solved using DNA evidence (the expansion of which was a top Shea campaign priority), as examples of such successes. More recently, Shea mentioned the prosecution of Fred Lewis for the 2007 murder of Sharon Ostman, and the 2008 conviction of Abiel Ayala for the gang-related execution-style murder of a man in Arroyo Grande.
"One of the things we tried to do when I first came to office was handle the particularly high-profile cases, such as murders, effectively," Shea said. "I just hope that [the outcome of these cases] brings a sense of justice to the victims' families and because of that, contributes to an overall safer community."
Controversy
Though the D.A.'s office has been successful in many prominent cases during the last 10 years, there have been black clouds, most notably the Freitas case. In that case, the D.A.'s office faced allegations of cronyism for failing to file vehicular manslaughter charges against the then-33 year old son of San Luis Obispo County's treasurer, tax assessor and public administrator Frank Freitas, who has been in office for more than three decades. Shea's office was accused of trying to sweep the case under the rug, until media attention was given to the victim's family and public outrage ensued.
Here are the facts of that case. Between 1988 and 1998, Kenneth Freitas had accumulated 19 traffic citations in SLO County. In 1998, he was arrested for a road rage incident and while awaiting prosecution, was arrested for a second. Both charges were combined into a single case. Under Judge Donald Umhofer, all four felony charges were reduced to misdemeanors and under a plea bargain, Kenneth Freitas served a short jail term and underwent anger management classes.
Shortly after his probation ended, Freitas drove through a crosswalk in Grover Beach and killed 17-year old Sarah Scruggs as she was crossing the street with a friend. Drugs or alcohol were determined not to have played a role and Freitas was driving the speed limit. The police report of the incident went directly to the desk of Deputy District Attorney Lee Cogan, who assigned cases for prosecution. Instead of assigning this case, however, the report sat on his desk for six months. After the victim's family approached Shea on the issue, he retrieved the reports from Cogan. It was then, according to then Chief Deputy District Attorney Steve Brown, that it was first noticed that Kenneth and Frank Freitas were related.
Shea's office contacted the state attorney general's office regarding whether the attorney general should take the case based on a perceived conflict of interest within the SLO D.A.'s office. What was not explained was the exact relationship, which constituted a conflict of interest between Freitas and each of the 30 prosecutors in Shea's office.
Following a decision by the attorney general not to file charges against Freitas, Shea inexplicably took up the case again, filing a single misdemeanor charge just hours before the one-year statute of limitations was to expire. The conflict of interest apparently no longer existed.
"The grand jury investigated [Shea] in that case," said Blackburn, who after leaving New Times co-founded CalCoastNews.com and now focuses on video production for his Central Coast News Agency. "One of the things they addressed was this kind of low-grade corruption. In a bigger community, these things-these country club favors-would be considered major issues, but they seem to get away with it here.
"Shea keeps a real tight ship over there and made a practice of only talking to the media about issues he wants to, which he couldn't get away with in a larger media environment like Los Angeles or Sacramento," Blackburn added. "He really personifies to me what is wrong with this county. That lack of transparency, taking care of business out of the public eye."
"Frankly, our office initially dropped the ball by not making a timely decision on whether or not to file charges," Shea said of the Freitas case. "We did, we dropped the ball. We have a very good office. We are not perfect, however. But I guess as a good office does, we eventually picked up the ball and did the right thing."
Other criticism is more recent. In the recent high-profile case involving transplant surgeon Hootan Roozrokh, the D.A.'s office waited 18 months before filing three felony charges, alleging he committed dependent adult abuse by prescribing excessive amounts of medication in an attempt to hasten the death of disabled man Ruben Navarro in order to successfully harvest his organs. Roozrokh was acquitted in the six-week trial after a jury determined the prosecutors failed to show sufficient evidence in the case.
"I was disappointed and frustrated for many months prior to charges being filed," said M. Gerald Schwartzbach, Roozrokh's Los Angeles-based attorney, known recently for leading the defense team of actor Robert Blake in his murder trial.
"I had offered to meet with Mr. Shea numerous times to discuss the investigation and whether charges should be brought. He was never willing to meet with me," Schwartzbach said.
"Frankly," he added, "I thought charges should never have been brought. As a result, the county had to spend all this time, resources, and money for a case [for] which they had no evidence, and it eventually ended in an acquittal anyway."
Schwartzbach said he believes the D.A.'s office only decided to file charges after a number of national media outlets began reporting on the investigation, which was the first of its kind. He also claims the D.A.'s actions were irresponsible and the fallout from all the attention the case attracted negatively impacted organ donations.
"They figured come hell or high water they were going to get a conviction," he said. "I feel it cost lives because every day people are dying because of the publicity associated with the prosecution. I feel donors who were already on this list redacted and others became afraid to sign up because they are afraid their doctors are going to kill them to get their organs."
Shea declined to comment on the Roozrokh case, pointing out that a civil case is still pending.
The D.A.'s office has also been accused of pushing for harsh sentences for non-violent, drug-related offenses and for failing to restrain a local sheriff's department bent on targeting medical marijuana dispensers and users in the county. SLO-based criminal defense attorney Ilan Funke-Bilu, who has handled many drug-related cases, said he believes politics play a part in these prosecutions.
"I would like to see the D.A.'s office be a little more progressive in decriminalizing medicinal marijuana cases," said Funke-Bilu. "There are just way too many cases where the police do not recognize that medical marijuana is not a crime, and the D.A.'s office could educate the police more. When we see our police off spending time on non-crimes, it's their responsibility to spread the message that this will not be tolerated."
Furthermore, he said it is the D.A.'s job to reign in the local police departments and sheriff's department when filling the courts with minor medical marijuana violations.
Alluding to the federal prosecution of Charles Lynch, Funke-Bilu said, "I will go to my grave thinking that politics was a factor in that case. I'm not saying it's the main factor but it definitely played a part."
Praise from adversaries
Though Shea has been described by those familiar with him and his office as a "detail-oriented," "cautious," "reticent," and even "unusual" D.A., many at the same time confide that he is a "considerate," "affable" guy who "you can duke it out with all day in court and go out for a drink with afterwards."
While Shea is not one to flaunt his successful cases in front of the media, and seems content to let the cases speak for themselves, others in the community familiar with his work reflected on what they know about the man and what they thought about his performance as District Attorney. New Times asked whether his style has improved the effectiveness of the office or has led to a lack of transparency and oversight.
"I do think it is a little unusual and I'll bet you that most people in this county can't tell you who the D.A. is," said Richard Carsel, who was a prosecutor before going into criminal defense in SLO the mid-70s. "I think that just speaks to what his motivation is. Gerry isn't the guy who's out to promote Gerry, and a lot of D.A.s do that. You can spend your time promoting yourself or you can spend the time making the office stronger.
"This is a straight-shooter," Carsel added. "If the case isn't there, he's not going to do it. And I'm saying this as one who was never on the same side, so that's a compliment."
"Gerry is very cautious," said Jeff Stein, also a SLO criminal defense attorney who faced then-deputy D.A. Shea in court in the '80s. "He makes a great effort not to overlook any details. And that's his character quality; he's not the type of person you'd expect to slip up and make comments off the top of his head. Does he obsess? I would have to say yes, a little bit, but anybody who does this job must be calculated."
"Compare Mr. Shea with the publicity hound from Orange County," said Funke-Bilu. "I think for many prosecutors the media is a way to achieve greater satisfaction and self righteousness. I think Gerry's reluctance to be a media hound is one of his strong points."
He added, "As a taxpayer, I want my D.A. in his office, tweaking the budget, making decisions that will make law administered more justly. He can be gelid, but he can be eloquent and I think he could take on reporters if he wanted to. But I think it's a conscious effort on his part."
Shea speaks of Shea
As for the man himself, he is the first to take exception to the idea that he shies away from the spotlight, pointing to his monthly press briefings at his office-although his deputies lead many of those-and his speaking engagements around the community as proof.
"I'm out there talking to community groups all the time," he said, citing the League of Women Voters, Kiwanis, the Military Order of World Wars, and the Retired Active Men's Club. "I've been in front of the Board of Supervisors a number of times on gangs, the budget, and victim's rights. Domestic Violence Month is coming up in October and I'll be in front of them for that."
Though he considers his relationship with the media "just fine," he said in his position, it's a constant balancing act to provide information to the public about the dealings of his office without prejudicing the judicial process.
Shea emphasized, "You know, I think it's important for me that ultimately the office speaks through the cases that we handle."
Though Shea remains an enigmatic figure, one fact is unmistakable. In a county where incumbents historically run unopposed, for now only one man seems to hold all the cards when it comes to who will be San Luis Obispo County's D.A. until at least 2014. That is he.
Contact Matt Fountain via the editor at econnolly@newtimesslo.com.