STILL WATERS VINEYARDS PULLED PORK SANDWICHES: This was the first-place judges' choice at the Paso Robles Winemakers Cook-Off. Start with a 5- to 7-pound pork butt or shoulder. Rub pork with garlic, dry mustard, salt, and brown sugar seasonings according to your taste. Place in crock pot and add 2 cups Still Waters Zinfandel. Cook on low setting for 6 to 8 hours. Remove pork from crock pot, and gently shred meat with two forks. In a large bowl toss shredded pork with barbecue sauce. Lightly brush the sandwich rolls with Still Waters estate olive oil and toast. Fill roll with shredded pork mixture and top with coleslaw.

Barbecue Sauce

• 1 1/2 cups apple cider vinegar

• 1/2 cup Dijon mustard

• 1/2 cup ketchup

• 1/3 cup brown sugar

• 2 T. Worcestershire sauce

• 3 garlic cloves, minced

• 1 tsp. salt

• 1/2 tsp. black pepper

Combine all ingredients in a blender, and taste to adjust seasoning.

Spicy Asian Slaw

• 1 head green cabbage, shredded

• 1 head red cabbage, shredded

• 1 red onion, chopped

• 2 green onions, thinly sliced

• 2 carrots, thinly sliced

• 1 cup salted peanuts (optional)

Combine all ingredients in a large bowl, toss with dressing, and refrigerate for one hour.

Slaw Dressing

• 1/4 cup rice wine vinegar

• 1 tsp. sugar

• 1 lime, juiced

• 1/4 tsp. ground ginger

• 1/4 tsp. salt

• 1/2 cup mayonnaise

• 3 to 4 dashes Tabasco sauce

Pat Hoover explained: "Each year the recipe for the Winemakers' Cook-off is a big secret, but we utilize all of the fresh vegetables and fruits that we grow on our estate."

The Hoovers provide complimentary produce for guests at their tasting room every day. They also have Sunday concerts in the olive grove where guests can enjoy treats like their award-winning pulled pork sandwiches with Still Waters fine wines.


My first interview in 1996 with winemaker John Munch of Le Cuvier in Paso Robles was unforgettable to this former chef. He was the first winemaker I ever heard say: "Winemaking is like cooking." Indeed, it seems so, and most winemakers I know love cooking as much as they do making wine. Gary Eberle grilling ribs and sausages at the tasting room barbecue immediately springs to mind. That's why it's incredibly easy to get winemakers to compete against their peers in a cook-off heat. What's odd is to see two cooking battles taking place in North and South County on the same day: Saturday, Aug. 11.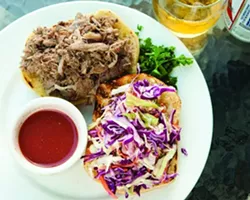 PHOTO BY STEVE E. MILLER
PULLED IT OFF : New Times staffer Glen Starkey and fiancée Anna Robertshaw made the sauce and coleslaw, while photographer Steve E. Miller made the pulled pork—all based on the winning Winemaker Cookoff Recipe from Still Water Winery. The final sandwich was spectacularly delicious and quite easy to make.
For several years, I've been among the judges at both cook-offs, but they didn't take place on the same day (I was forced to give one up because I can't eat that much in one day). That said, I have to admit that no matter how many dishes we judges have to taste through, we have a blast. Interestingly, there are always some dishes that stand out above the rest no matter how full you feel. For guests, the fun comes from visiting the wineries' booths and trying them with the recommended wines.
Here, I can only provide some information about each, and you'll have to decide which event suits your appetite. As always, our outstanding wine community gets involved because the events contribute generously to important charities, including the Paso Robles Rotary scholarships and Transitions-Mental Health Association.
The 14th annual Paso Robles Rotary Winemakers Cook-Off
This evening event has it all: more than 30 winemakers grilling up tasty dishes to be paired with killer wines, live music, and decadent little bribes. The rebel winemakers in Paso aren't above bribing you to cast your vote their way so they can win the giant trophy that says they're No. 1. Last year, the winner was Still Waters, owned and operated by Paul and Pat Hoover, who handily snagged the judges' vote for their pulled pork sandwiches braised in Still Waters Zinfandel. After skipping a couple years, Pat noted, they came back to take the big prize. The first place people's choice, which always differs from the professional food judges' choice, was Mitchella for mini-beef Wellingtons.
Not only do you get all the good eats and wine, there's live music by Julie Beaver and the Bad Dogs and several hotel package deals. The winemakers' cook-off is held at River Oaks Hot Springs from 6 to 9 p.m. Tickets cost $75 each for food and wine from more than 30 Paso Robles wineries. Designated driver tickets cost $40 each. You can buy tickets at the door, get them in advance online at winemakerscookoff.com, or call 1-877-264-6979. I prefer the La Quinta Inn, because it's close by, there's shuttle service, and they provide excellent rooms at reasonable prices. Seven hotels are participating, and you can reserve a $10 roundtrip ride through Pride Luxury Tours. Proceeds benefit the Paso Robles Rotary's Harlow Ford Scholarship Fund for local high school seniors.
The fifth annual SLO Wine and Grill Affair
This South County competition is held at the historic Filipponi Ranch where Clesi has its winery and tasting room. You'll find five wineries battling it out, but the smaller event provides plenty of good food and wine to keep you sated. And it supports an excellent cause: Transitions-Mental Health Association. Last year the winners were Filipponi Ranch Cellars for first place judge's choice and Salisbury Vineyards for first place people's choice. This year they'll be joined by Cal Poly Wines, Clesi, and Tolosa wineries. Besides the competing wineries, you'll find Bella Pops, California Bee Company, Central Coast Brewing, Chaparral Gardens, Growing Grounds Downtown, and Tiber Canyon Ranch. The Mother Corn Shuckers will perform their acoustic Bluegrass Americana music.
It takes place at Filipponi Ranch Cellars, 1850 Calle Joaquin, SLO, from 1 to 4 p.m. where guests and professional judges will vote for their favorite dishes. Parking is free, with a shuttle providing rides from the church parking lot to Filipponi Ranch and back. Tickets cost $35 each in advance by calling 540-6511 or visiting firstgiving.com/Page/2507199/Donation, or pay $40 each at the door.
Contact New Times' Cuisine columnist at khardesty@newtimesslo.com.