As SLO County prepares to ring in the New Year, local air pollution officials are looking back at how past wildfires impacted local air quality.
An annual report by the SLO County Air Pollution Control District listed wildfires as one of the main contributors to air quality standard exceedances in 2016. While the data is still being analyzed, APCD officials expect that 2017's wildfires will also have an impact on county air quality.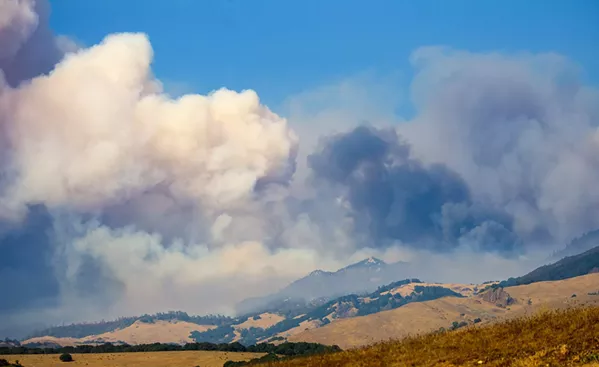 Photo By Jayson Mellom
SMOKE OVER SLO Wildfires like the Chimney Fire had a major impact on SLO County's air quality in 2016, according to a recent report.
According to the report, smoke from the Soberanes and Chimney wildfires both had "major" impacts on air quality in the county in 2016 and were responsible for many of the instances where the county bypassed federal and state air quality standards. Beginning in July 2016, the Soberanes Fire burned more than 130,000 acres in or near the Los Padres National Forest in Monterey County. It was followed by the Chimney Fire, which raged in August and September 2016, burning more that 46,000 acres around Lake Nacimiento.
"The year's highest ozone concentrations at Paso Robles, Atascadero, Red Hills, and Carrizo Plains ... all occurred during this period," the report stated.
With the embers from the devastating Thomas Fire still smoldering, APCD Officer Gary Willey said the impact of wildfires on air quality would remain a "big ticket" issue for the department, and will likely pop up in its report on 2017.
"We will have a similar narrative," Willey told New Times.
Thus far, the Thomas Fire has burned more than 280,000 acres in Ventura and Santa Barbara counties, making it the largest recorded wildfire the state of California. Despite its massive size, the fire and others that occurred in 2017 might actually have less of an impact on SLO County's air quality than those in 2016.
"My basic instinct is that [2016's] fires impacted us more because of their proximity and the weather conditions," Willey said.
Wildfires will also be a major part of the APCD's mission in 2018. Willey said the department anticipates an increase in the use of controlled burns to mitigate the risk of fires in 2018 and will work with fire officials to strike a balance between the necessity of such burns and their potential impact on local air quality.
"There's going to be some give and take," Willey said. "This is going to be an issue throughout the entire state."