PHOTO BY DAVID MCCLISTER
ICON: Willie Nelson plays April 8 at the SLO PAC.
Just three weeks before his 81st birthday, the incomparable Willie Nelson & Family will perform at the Performing Arts Center's Cohan Center on Tuesday, April 8, at 7:30 p.m. I'm not going to lie to you. Willie's pretty old and doesn't quite have the spark he used to, which is to say he's only about a thousand times better than any other country performer you've ever seen, rather than one hundred thousand times better.
He's lost some nimbleness in his picking; he's sang his hits so many times that to keep himself interested he sometimes plays with them in ways that may make you pine for the album versions you know inside and out; he definitely seems super stoned all the time, but—hey!—he's Willie "Freakin'" Nelson. And if you've never seen him live, you've got to do it, and if you have seen him live, you probably want to do it again.
Frankly, at this point, he's got nothing more to prove. He's got so many great songs, from "No Place For Me" to "Am I Blue?" to "Whiskey River" to "Always on My Mind" to "Turn Me Loose and Let Me Swing" to "Mendocino County Line" to "Roll Me Up and Smoke Me When I Die." See what I did there? That's a great Willie single from every decade from the '50s to the 2010s. Songs in seven decades! And I didn't even mention songs such as "Crazy," "Red Headed Stranger," "My Heroes Have Always Been Cowboys," and "Stardust."
If there's a music award he hasn't won, I haven't heard of it. He's also an author, actor, and activist. Yes, I wish I'd seen him in his prime in the '80s, but Willie still puts on a great show, and seeing him in person, up there on stage, that voice, that beat-up old guitar—that'll always be pure magic.
Tickets range from $50 to $100 (call 756-4849).
Variety pak!
PHOTO COURTESY OF SAINTSENECA
FOLKSY: Saintseneca plays SLO Brew on April 3.
SLO Brew's got seven shows in seven days this week, starting Thursday, April 3, with Saintseneca (8 p.m.; all ages; $10 presale or $12 at the door). This young band hails from Columbus, Ohio, and is led by singer-songwriter and multi-instrumentalist Zac Little, who was raised in Appalachia. "I was raised on farms," Little explains, "and I think that my perspective on music was shaped by where I grew up. It was twenty minutes to see the nearest person. Being so isolated forced me to be introspective and resourceful. As a kid I would explore these abandoned houses and barns and wonder what had happened in those places." Little's lonesome and tender folk sounds straddle generations. The Blank Tapes and Vikesh Kapoor will open.
On Friday, April 4, Baths plays (7:30 p.m.; all ages; $13 presale or $15 at the door). Ethereal, ambient, and poetic, the artist known as Baths debuted four years ago with Cerulean, a post-modern pop masterpiece that established his place in the L.A. scene. Of his new album Obsidian, Baths (né Will Wiesenfeld) says, "The songs and lyrics all came out of a pretty fucked and arduous process of trial and error, but I hope people understand that I'm not the depressed, suicidal, and death-obsessed person the record may paint me as being. These are just darker areas that I wanted to explore."
On Saturday, April 5, check out Rome (7:30 p.m.; all ages; $15 presale or $17 at the door). After Sublime front man Bradley Nowell's untimely passing, Rome helped the band reboot itself as Sublime with Rome. The new band's album, Yours Truly, spawned the top-five single "Panic." Now Rome's got a new album called Terrorista. "This album is a benchmark in my life and creativity," Rome said. "It tested me to see how far I could take a vision. The album has taken close to three years to complete, but in reality I have wanted to achieve this sound since I started writing music at the age of 14." Bare Feet will open.
On Sunday, April 6, Emancipator will take the stage (7:30 p.m.; 18-and-older; $16 presale or $18 at the door). The Portland-based trip-hop electronic producer Emancipator's (aka Doug Appling) newest album, Dusk to Dawn, is filled with infectious, woozy tracks that will wash over you. Slow Magic and Nym will open.
On Monday, April 7, hear the ripping rock of High on Fire (8 p.m.; all ages; $14 presale or $16 at the door). The power trio is so freakin' heavy thanks in part to guitarist Matt Pike's death-metalesque vocals and sick guitar licks. Prepare to be bashed!
On Tuesday, April 8, witness the joyous one-man-bandism that is Zach Deputy (7:30 p.m.; all ages; $11 presale or $13 at the door). Look up his song "Coconut" on Youtube and see how he employs a looping pedal, percussion, guitar, and vocals to create a fully rendered reggae track. He's like a big, cute, teddy bear. Dan Curcio (Moonshiner) will open.
And finally SLO Brew closes out the week with Tyron Wells on Wednesday, April 9 (7:30 p.m.; all ages; $14 presale or $16 at the door). This earnest pop rock performer has an incredibly soulful voice and writes beautiful ballads.
One-two punch!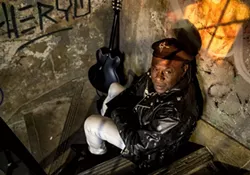 PHOTO BY MICHAEL WEINTROB
DEEP BLUES: Joe Lewis Walker appears on April 5 at the SLO Vets Hall.
Listening to Joe Lewis Walker's muscular guitar licks and gritty vocals is akin to being transported into a dark, sweaty nightclub filled with rabid blues fans. His energy seems limitless, his ability to draw on a variety of blues styles without peer.
The 64-year-old was born in San Francisco on Christmas Day in 1949, picked up the guitar at the age of 8, and by 16 was well known in the Bay Area music scene. That's right; he's been performing professionally for nearly half a century!
During his early years, he played with John Lee Hooker, J.J. Malone, Buddy Miles, Otis Rush, Thelonious Monk, Willie Dixon, Charlie Musselwhite, Steve Miller, Nick Lowe, John Mayall, Earl Hooker, Muddy Waters, and Jimi Hendrix.
He took a break to attend San Francisco State University, earning degrees in both English and music. All the while he performed with The Spiritual Corinthians Gospel Quartet. After playing the New Orleans Jazz & Heritage Festival, he decided to return to his blues roots and formed the Bosstalkers and delivered his first of a dozen albums, Cold is the Night, in 1986. He never looked back.
His most recent CD, Hornet's Nest, was recorded in Nashville and is filled with a dozen hook-laden blues, R&B, rock, and gospel songs. Multi-award winning performer Joe Lewis Walker plays the SLO Blues Society this Saturday, April 5, at 8 p.m. in the SLO Vets Hall ($20 at the door; 21-and-older; free dance lessons at 7:30 p.m.). Lenny Blue Band opens the show.
More music …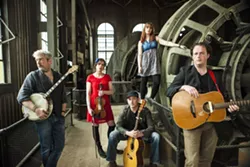 PHOTO COURTESY OF SOLAS
IRISH DISH: Solas plays Cal Poly's Spanos Theatre on April 4.
The Monroe is going to bring their special brand of soul to the Community Church of Atascadero (5850 Rosario Ave.) this Thursday, April 3, for a fundraiser for The Wellness Kitchen, which will start the evening at 6 p.m. with some soup! The concert starts at 6:30 and will also feature The Blind Willies of San Francisco. A $10 donation is requested for this all-ages show.
This Friday, April 4, at 7:30 p.m., dig the roots rock and "hillbilly blues power" of The Mystery Trees at D'Anbino ($10; 227-6800 for reservations). The quartet features Dorian Michael and Kenny Blackwell playing American music on electric guitars with Ken Hustad on bass and Bill Severance on drums. They say their music is "where black and white traditions collide" and that they play "a range of sounds that encompass the blues, country, rockabilly, and Appalachian music in one big ball because all those styles are parts of the same spectrum of America's most earthy musical culture."
Fans of traditional Irish music, do not miss Solas, playing on Friday, April 4, at 8 p.m. in Cal Poly's Alex & Faye Spanos Theatre. The group calls their "rich and haunting multi-media/musical experience" "Shamrock City," which "sets the story in Butte, Montana—a mining town at the turn of the 20th century—in a dramatic tale as seen through the eyes of an Irish immigrant and frontman Seamus Egan's great-great uncle, Michael Conway." Student and adult tickets are $32.60 and $40, respectively (756-4849).
Laurie Lewis will present a special CD release party during the next Red Barn Community Music Series concert this Saturday, April 5 (potluck at 5 p.m.; show at 6 p.m.; $15 donation at the door). The show features Laurie Lewis, Tom Rozum, and Nina Gerber presenting a fresh batch of new songs, and you can get a taste of what's in store when Tom and Laurie perform live on KCBX 90.1FM during the Broken Spoke Folk Show that same afternoon around 2 p.m. Three great players, and not to be missed! All proceeds go directly to the artists!
Has it been 10 years since Unfinished Business came upon the Central Coast scene, delivering the finest in '60s rock, soul, surf, and R&B covers? Yep, and this Saturday, April 5, they're celebrating their longevity with a fundraising show at the Pismo Beach Vets Hall (doors at 5:30 p.m.; $40 tickets by calling 431-3067, which include a barbecue dinner). The dinner, dance, and show benefits the San Luis Obispo Children's Museum and the Partnership for the Children of San Luis Obispo County, which operates Tolosa Children's Dental Center.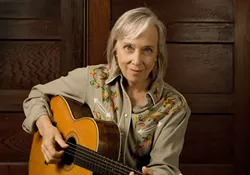 PHOTO BY MIKE MELNYK
LA LE: Laurie Lewis plays the Red Barn on April 5.
On Saturday, April 5, Depeche Mode fans will get a special treat when Gaza Strip Club (formerly The Deathtower) will perform, in its entirety, an acoustic version of the Depeche Mode album Violator using acoustic guitars, ukulele, violins, and harmonized vocals. This 7 p.m. show is all ages and pass-the-hat.
Poet and singer-songwriter Darius Degher will present both poetry and music at three events this week: poetry at the Steynberg Gallery, Sunday, April 6, 3 p.m.; music at Bon Temps Creole Café's Songwriters At Play showcase on Monday, April 7, at 6:30 p.m.; and poetry at Wise Owl, Cambria, Wednesday, April 9, at 7 p.m. Degher also plays sitar and played on Warren Zevon's "Bad Karma."
Keep up with Glen Starkey via twitter at twitter.com/glenstarkey, friend him at facebook.com/glenstarkey or myspace.com/glenstarkey, or contact him at gstarkey@newtimesslo.com.