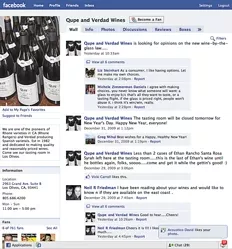 SCREEN SHOT BY STEVE E. MILLER
ON THE WEB : Local wineries have nurtured an enthusiastic following online.
M
any businesses have struggled to survive the recession, but last year was particularly hard on the wine and restaurant industry. We lost some good eateries in SLO County because they simply couldn't make ends meet, and it was tough for our local wineries, even our most popular labels. Most survived by cutting costs; many simply made less wine in 2009. The trickle-down effect is that many businesses that supply or buy from wineries have suffered. The wine growers ended up with grapes hanging on the vine that no one would buy. In restaurants, wine sales fell so they bought less wine from the wineries. However, despite the recession, Central Coast winemakers remain optimistic about the new year.
"The wine business goes as the economy goes, but there are signs it's getting a little bit better," said Robert "Bob" Lindquist, winemaker and owner of Qupé wines, which is renowned for Rhone varieties. "We made adjustments in 2009. I went into the 2008 vintage with rose-colored glasses on, not realizing the worst was yet to come." That year he increased production by 10,000 cases but found he had to fall back to the original number last fall. Still, he explained, it was a good move that won't force him to take major price drops like the big-brand companies are doing. "Statistics say wine consumption is strong but not the amount people will spend per bottle."
SCREEN SHOT BY STEVE E. MILLER
Noting that Chardonnay and Cabernet Sauvignon are still mainstream varieties for most Americans, he appreciates the fact that Qupé has nationwide popularity. "We're struggling with wines like Roussanne and the reserve Syrahs, but our Central Coast Syrah (value-priced) and Y Block Chardonnay are selling (the latter was promoted on the Today Show
, which boosted sales). It's wine in the range of $20 a bottle and less that is selling well in this market. Our Bien Nacido Cuvée, a 50/50 blend of Chardonnay and Viognier, is still popular. I think the word Chardonnay on the label helps. We're all hoping for the best in 2010; it seems like it can't get worse," Lindquist chuckled. "We're all in this together, restaurants too. Hopefully, people will start dining out more often."
In 2009, Tablas Creek Vineyard had its lowest grape production since the 2001 vintage, but that had nothing to do with the economy, according to general manager Jason Haas. "We had a terrific year on every level, and traffic at the wineries continues to grow. People who might have flown to Europe or Napa are now driving to Paso Robles and that has insulated us from the effects of the recession," Haas explained. "Our tasting-room visitors were up only two percent but sales were up 15 percent. I don't think consumers are necessarily looking for bargains. They're looking for value in whatever it is that constitutes value to them."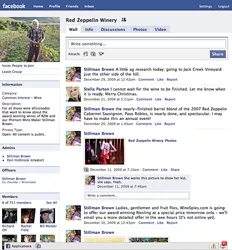 SCREEN SHOT BY STEVE E. MILLER
Haas noted that people are more adventurous and interested in Rhone blends, which outsell single varietals like Syrah. Top ratings from wine critics over the past six months made his sales soar, too. "It's all up to you to make your case that what you're selling is valuable. People are more critical but still find value at different price points." Lastly, he credited Facebook, his blog, and the winery website for keeping customers and distributors connected with what's happening at Tablas Creek.
Red Zeppelin, a small artisan brand established by owner and winemaker Stillman Brown, sells most of their wine through a mailing list, which has grown as members recommend it to their friends. His constant activity on Facebook helps him stay in touch with his wine club members. I always enjoy this UC Berkeley alumnus's witty posts.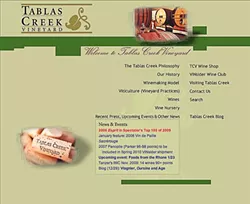 SCREEN SHOT BY STEVE E. MILLER
"Pleasing wine drinkers is my mission, and it makes for an awesome lifestyle. I love my job," said Brown. He admitted the economy has the wine industry on a plateau with less money coming in. Nevertheless, he believes it motivates winemakers to produce better wines and to keep experimenting with new varieties. "There won't be a mass market for Gruner Veltliner," he quipped, "but I don't think you can stop progress. The overall increase of quality and styles available has increased wine consumption, and it's making wine drinkers happier."
In the not too distant future, he plans to open a tasting room in coastal North County. Last year he also consulted for a new vineyard planted above Cayucos named Seventh Heaven. "We need more coastal viticulture. It's tricky, but when it works, it produces grapes of extremely high quality." A longtime advocate of Cal Poly's enology and viticulture program, his Wet Zepplin concert last September raised more than $2,000 for the university. "We're making new varieties and better wines than in the past. That's why I support Cal Poly. We need them to do the research outside this country to see what we can do here."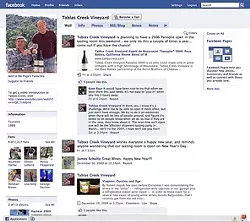 SCREEN SHOT BY STEVE E. MILLER
Finally, I called John Alban, winemaker and owner of Alban Vineyards, to ask about his outlook for 2010. One of the Central Coast's cult brands, there's an impressive queue of people just waiting for an opening on his mailing list to buy his wines. He and his wife, Lorraine Alban, also own J & L Wines, which distributes some of the finest wines produced on the Central Coast. The Alban's have their fingers on the pulse of the wine market.
"In the coming year, I see people remembering how much they love and miss drinking great wine. And I see an ever-strengthening market as people begin to feel better and better about things and want to get back in touch with what they liked and enjoyed so much,"
SCREEN SHOT BY STEVE E. MILLER
Alban prognosticated during my annual call. "I think you'll see greater appreciation of white wines, which I've seen over the last five years. Eight years ago white wines were scorned; that's changed. I see continued growth in Viognier and Roussanne. There's tremendous
interest in Austrian white wines, and the Sauvignon Blanc market woke up several years ago, as did Riesling." He also addressed growing interest in sustainable vineyard management even though the recession, adding he hoped that's behind us. "The new buzz word is sustainable: number one, it has no meaning; and number two, there's no point in running any type of business if you don't think it's sustainable. I think we'll see the pursuit of quality and more Earth-friendly farming with softer practices in the vineyards."
The winemakers have certainly given me hope for improvement in the New Year.
You can reach New Times' Cuisine columnist at khardesty@newtimesslo.com