A comma—it's just a pause separating one thought from the other, a breath in between the beginning and the end.
But in that short breath, there's much to be explored as Vivian Bearing, the protagonist in playwright Margaret Edison's first and only play, the Pulitzer Prize winning Wit, finds out.
PHOTO COURTESY OF JAMIE FOSTER PHOTOGRAPHY
MIGHTY AND DREADFUL : Vivian Bearing (Megan C.C. Walker) begins to rethink her life's focus on knowledge over compassion after she's diagnosed with terminal ovarian cancer.
Vivian is an academic, a highly successful English professor who specializes in the poet John Donne's Holy Sonnets. Her world is small, consisting of work and the English language, until one day she's diagnosed with terminal ovarian cancer.
Megan C.C. Walker, tapped to play Wit's leading lady, wanted to tell Vivian's story.
"Pretty much every person has a connection to cancer," Walker said. "For me it was about this woman's quest for grace and redemption. She's a woman who needs human connection and kindness."
But how do you play a woman dying of a cancer that you've never experienced? In an effort to really show audiences what the process of being diagnosed and living with ovarian cancer is like, the Little Theatre collaborated with professionals from the Hearst Cancer Resource Center and Wilshire Hospice.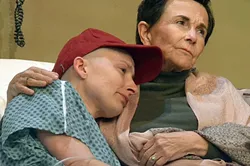 PHOTOS COURTESY OF JAMIE FOSTER PHOTOGRAPHY
DEATH, BE NOT PROUD: Vivian Bearing (Megan C.C. Walker) is comforted in the hospital by her one and only visitor, her former mentor and professor E.M. Ashford (Rosh Wright).
"They were our eyes and ears for how accurately we were portraying everything about these characters," Kelly Fidopiastis, the play's director, said.
For instance, what does it actually feel like to have cancer?
"They [the nurses] said sometimes it's a continuous pain or a spurt of pain," Walker said. "Sometimes it's dull or strong. Most of the time it comes when you don't expect it."
Like Walker, Luiza Dutra, a registered nurse and director of patient care at Wilshire Hospice, wanted people to hear Vivian's story because it's a story she sees patients living every day.
"Megan captured exactly what I had experienced in the past," said Dutra, who sat in on rehearsal to give feedback. "The cast brought me to tears at the end of rehearsal because it reminded me of patients that I had taken care of."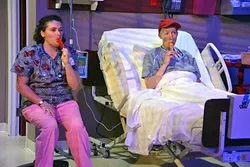 PHOTO COURTESY OF JAMIE FOSTER PHOTOGRAPHY
WE WAKE ETERNALLY: In a quiet moment of compassion, Vivian Bearing (Megan C.C. Walker)enjoys a Popsicle with her nurse Susie Monahan (Kerry DiMaggio), one of the only people at the hospital who treats her like a human and not just research.
Dutra advised the cast on little things, like the placement of a patient's wheelchair, and bigger things, like when that compassionate, human connection between a nurse and patient would first happen. She spoke of how a nurse might sit on a patient's bed to comfort them and also told Walker that the pain should be a lot more animated.
"The pain [from cancer] will resurface and remind you, 'No, you're not in control,'" Dutra said. "They captured the doctor/nurse relationship sometimes being more matter-of-fact in the medical hustle and bustle and that sometimes the person can be forgotten. This isn't just about the disease, this is about a person facing death."
And on the surface Wit can be viewed as a play that's simply about death, but really it's about living. In a flashback scene, Vivian's former professor E.M. Ashford (Rosh Wright) admonishes her pupil for using the wrong punctuation in her paper on Donne's Holy Sonnet X: Death Be Not Proud.

LIVE LIKE YOU'RE DYING : Catch 'Wit' at the San Luis Obispo Little Theatre before the play's short life there comes to an end on May 15. Tickets range from $15 to $30 and are available online at

slolittletheatre.org

.
"It reads, 'And death shall be no more' comma 'death thou shalt die.' Nothing but a breath, a comma separates life from life everlasting," the professor tells young Vivian.
"I think Vivian goes through life totally in control and reliant on herself, the smartest person in the room, and it's not until she gets cancer that she realizes that she missed it, she missed life," Walker said. "I hope it inspires audience members to hug, love, and connect with their fellow humans because all we have is each other."
Ryah Cooley is taking a deep breath at rcooley@newtimesslo.com.