Morro Bay city leaders held a special meeting Aug. 13 to discuss how the town can stay financially afloat. The situation is so dire, according to an independent report, they may have to consider un-incorporating if drastic action is not taken.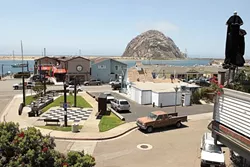 PHOTO BY STEVE E. MILLER
ROCK AND A HARD PLACE : Morro Bay City officials must make tough budget decisions, if they hope to fix the city's chronic deficit spending.
Assembled in City Hall at the Wednesday afternoon meeting, four council members, including one who announced earlier in the year that she will vie for Mayor Janice Peters' seat in November, as well as the mayor, a handful of residents, and a collection of advisors from various city departments, searched for light among the dark forecasts of where Morro Bay could find itself in a decade.
According to a study conducted by San Jose-based Management Partners at the city's request—it cost some $60,000—the city is facing a "persistent general fund structural deficit."
"Morro Bay must take immediate action. … The alternative is not really the running of a continuous deficit … instead what is at stake is the continued existence of the community as an incorporated city …"
Basically, the consultants found, the city is spending more money from the general fund than it can hope to replenish from taxes or other revenue sources. Many city departments are not self-supporting, and user fees for many services are set too low. Meanwhile, according to the report, the city infrastructure is suffering, and many departments, including the police, are stretched to the breaking point. But Morro Bay's bureaucracy, the report concludes, is not a fat one.
The report identified 21 areas where the city could save money, generally by cutting or combining services. Another 13 money-generating strategies were identified, mainly centered on raising fees and taxes. Still, the report said, even if most or all of the ideas for generating and saving revenues were to be adopted, it would only float the city for another ten years before city leaders would have to get creative again.
Among the budget-cutting moves ranked highly by city leaders are the elimination of the Assistant City Manager position and the possible elimination of a city fire department. The city would not do without fire services but is considering a contract with CalFire, as well as the use of volunteer or on-call fire fighters, in place of an official fire department. Although the report recommended getting rid of the police department, which is chronically understaffed, the council seemed less enthusiastic about handing over law-enforcement responsibilities to the sheriff.
Even with such cuts, leaders said, fees and taxes likely will go up.
"I do not like taxes," Council Member Bill Peirce said, as he prepared to recommend an increase in the public utilities tax. "I hate asking people to pay additional taxes, but I think we are at a point where we need to fully explain what this is for, and why we think we need it. And then I think we need to put it in the hands of the community and let them decide whether or not it's worth it, as far as trying to maintain the services they provide."
Unless a costly special election is called, leaders said, Morro Bay voters will likely be asked two years from now to vote on increased utilities taxes, so that the general fund is no longer subsidizing those services. The city could also see an increase in the current 10 percent bed tax for hotels, increased fees for recreation programs, or the elimination of citywide recreation programs. Officials also requested a study on the cost of the citywide tourist trolley, fares for which have failed to cover operational costs. They also asked for a study to compare Morro Bay's boat docking and mooring fees with those of other coastal cities. The cost of keeping a boat in Morro Bay will probably increase—except for commercial fishing boats—even though fees are comparable to Port San Luis.
"This is again undervaluing Morro Bay," Council Member Melody DeMeritt said about the city's mooring cost, in relation to places such as Tahoe and Catalina. "And I don't want to keep undervaluing Morro Bay because of tradition or history."
How did the city get to this point?
Experts said pinning Morro Bay's woes to one event or misstep would be disingenuous; rather, the city has suffered a series of blows.
Fishing in Morro Bay has declined along with many other American fishing towns, the report said, as commercial fishing has moved elsewhere.
Lower revenues from the Morro Bay Power Plant, which now operates only rarely, represent another huge knock to the city's $10 million-per-year budget.
Plant revenues reached $2.5 and $3.5 million for 2001 and 2002, respectively, but declined to some $300,000 last year.
As a result, the city's general expenditures have outpaced revenues for five of the past six years.
City leaders said they don't want to unincorporate, a step that would have the county picking up the task of providing most services; it would make Morro Bay's government similar to Los Osos or Cayucos or other populated but unincorporated areas.
City Manger Andrea Lueker said that it's far too early to know what kind of costs the county would incur if the city were dissolved.
---
Staff Writer Kylie Mendonca can be reached at kyliemendonca@newtimesslo.com