Shortly after 10:30 in the morning on Monday May 8, a 22-year-old Morro Bay woman parked her white Nissan Sentra on the top floor of the Marsh Street parking garage. "She just sat in her car with her windows down listening to music,â€? says Johnny Candearia, an occupant in the only other car that parked on the top level of the garage on Monday morning. "I thought she was smoking pot or something.â€?Â
Â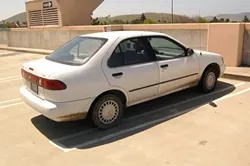 # When Canderaria returned to his car, police investigators were searching the Nissan Sentra. On the front seat was an opened credit card bill. The young woman whom he had seen in the car, dressed in a T-shirt and jeans, apparently jumped feet first from the garage, and landed on Chorro Street in front of Copeland's Sport Store. Both of the young woman's ankles were broken, blood was seeping from her mouth, and she was convulsing in pain. She is now listed in critical condition at Sierra Vista Hospital with a broken pelvis and broken legs.
Â
Responding to numerous calls from stunned onlookers, SLO police and fire personnel soon arrived at the garage. The young woman screamed as medical personnel assessed her injuries and prepared her for transport. "I think those that saw this will have issues for a long time,� says SLO Police Sergeant Pete Hubbard. "It will affect their lives.� Police investigated the possibility of foul play, suicide, or an accident. Police have determined that the young woman's injuries were self-inflicted.
Â
Mary Mitchell-Leitcher was driving by when she heard the woman land. Phaidra Rice, a soft-spoken Cal Poly student was standing across the street. "I heard a loud smack, turned around, and she was lying on the ground,� Rice says. "I held her and we prayed for her. Can the community pray for her? She is going to need it.�
                                                                                                        Â