For a small Buddhist congregation run from a converted residence, the San Luis Obispo Bodhi Path Center has a surprisingly easy time attracting world-renowned teachers. According to Michelle Schaffner, who helped initiate the SLO chapter, Tibetan masters like Shangpa Rinpoche, Lama Jampa, and Shamar Rinpoche, founder of the international Bodhi Path movement, have led meditation sessions at the center, drawn to the area's peaceful scenery and few but dedicated practitioners.
One of the first westeners to be recognized as a reincarnated master, Trinlay Rinpoche, has visited San Luis Obispo before, and he'll soon return for the center's most ambitious project yet: a travelling lecture series that will dissect the 7th century text, The Path of the Bodhisattva, point by point. Usually, travelling teachers repeat the same message at every stop, but this time, each of Trinlay's talks will be recorded and posted online so that practitioners will eventually be able to access a complete series of 56 unique discussions held at 14 Bodhi Path Centers across America and Canada.
Locals were anticipating too much public interest to feature Trinlay at the center's usual cozy meeting space, so his San Luis Obispo lectures will instead take place at Steynberg Gallery from 7 to 9 p.m. on April 30 and May 1. A donation of $35 is suggested for both days, plus a separate teacher offering, but no one will be turned away for lack of funds.
"I've been wondering for years why so many renowned, high, high-caliber teachers are coming here," Schaffner said. "From the teachers' point of view, they have a very strong desire to use this place, to make it an essential place."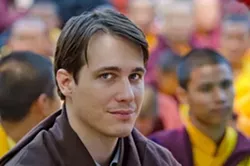 PHOTO COURTEY OF SLO BODHI PATH CENTER
WHEN WEST MEETS EAST : One of the few westerners to be recognized as a reincarnated master in Tibetan Buddhism, Trinlay Rinpoche will stop at Steynberg Gallery April 30 and May 1 from 7 to 9 p.m. each night for part of a traveling teaching series across Northern America. The complete series will be recorded and available to view online at Bodhipath.org.
Schaffner said plans are in the works to build a temple with outdoor meditation spaces ideal for weekend retreats, a big step from the center's humble beginnings in Schaffner's living room circa 2001. She said she'd never been too worried about spirituality, but when she learned she was pregnant, she had to contemplate how she would answer her child's inevitable questions about God and the meaning of life. It didn't take her long to find a home in the peaceful teachings of Buddhism. At first, a local teacher led a handful of Schaffner's friends in meditations and discussions, but the group soon expanded and joined the international Bodhi Path network, which strives to teach Buddhist principles with a secular approach that can fit with western lifestyles.
Trinlay is a perfect symbol of that goal.
"He's so clear," Schaffner said. "His clarity in everything and anything he says just absolutely blows you away."
His voice is colored with an exotic, impossible-to-place accent and the calm cadence of a man who knows his place in the world, which makes sense considering that Trinlay circled the globe three times before his eighth birthday and was on the path toward becoming a Buddhist master before most kids are properly toilet trained.
"When I was small, my parents accepted that I follow that path," Trinlay said in a phone interview. "I was very eager to do so."
Born in 1975 to a French father and an American mother living in Switzerland, Trinlay said he first met a Buddhist teacher when he was 13 months old. He doesn't remember the experience, but his parents later recounted that tiny Trinlay gravitated toward the teacher. By age 3, he was incessantly asking to return "home" to Asia so he could live as a monk. Tibetan leaders met the young child and determined that he was a "Tulku," the manifestation of a recently departed master. An American boy was similarly recognized at around the same time, and together, he and Trinlay were the first westerners ever to travel east for formal Tulku educations, receiving the venerated title of Rinpoche.
Trinlay said his mother came with him to India, but he was essentially raised by an old master. He and the monks travelled across the world to learn and teach, and at age 10, Trinlay returned with his family to Europe, where he continued studying Buddhism but also began a traditional western education.
"It didn't seem strange to me," Trinlay said. "It was just my life."
He's spent most of his adult life traveling and teaching people simple methods for cultivating love and compassion in their lives. In SLO, his lectures will focus on describing what it means to be truly awake so that people may strive for enlightenment as a clear goal, and he'll outline the seven preliminary steps toward that ultimate prize.
The first step is simple: "to wish to become a better person," Trinlay said.
By dwelling on love, Trinlay said it's possible to view everyone—even one's enemies—the way a mother sees an ugly, bratty child. Though the child has obvious shortcomings, the mother loves him or her unconditionally, and when we see that every living being deserves that kind of love, incredibly selfless acts of kindness become second nature. The whole world benefits from the individual's outlook.
"What we are and what we become are the fruits of our own mind," Trinlay said. "So we seek salvation not in the veneration of a powerful creator, but by cultivating the human qualities within us."
Staff Writer Nick Powell can be reached at npowell@newtimesslo.com.