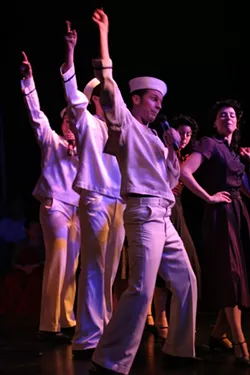 PHOTO BY GLEN STARKEY
GOTTA SING, GOTTA DANCE! : In a scene ripped from the 1949 Gene Kelly/Frank Sinatra film On the Town, the cast of Swingin' with Sinatra delivers a rousing rendition of "New York, New York."
I
'm eating a delicious but unpronounceable Italian dish made with scampi and saffron and staring across the table at a six-foot blond in a hot pink cocktail dress. We're at Buena Tavola, and the blond is Dora Mountain, one of the models from the Embodiment human canvas art show and also a New Times
designer. She's wearing really high heels, so when we stand next to each other I come up to her neck.
The best part of being with a woman who's way out of my class is watching guys' jaws drop when they look at her and then watching the look of utter incredulity as they look at me. "WTF?" their eyes say.
Take that, suckers! I have a good personality!
It's Saturday, Feb. 27, and we're grabbing a bite before martini night at the SLO Little Theatre, where we're going to see Swingin' with Sinatra, a musical bio-play about the Chairman of the Board. Since Frank was a scrawny, weird-looking guy who happened to land Ava "The Shape" Gardner, I wanted to feel what Frank must have felt when he traded up to an out-of-his-class babe. Feels pretty good. As soon as we walk into the theater lobby, writer, producer, co-director Mary Meserve rushes up and suggests Dora become a showgirl.
"You're gorgeous," blurts Mary, first pushing us toward the bar, then pulling us into the theater to show us the set design. It's only 7 p.m., and the curtain doesn't rise for an hour. A few of the dancers are warming up on stage.
"Nice costumes," I say. "You guys look like shit."
I was kidding about my good personality, and the girls aren't wearing their costumes yet. Mary slaps me across the arm and pulls me over to meet her co-director Bill McLaughlin, whom I remember as the Gorton's Fisherman in the old commercials.
"Weren't you in some Roger Corman movies?" I ask.
PHOTO BY GLEN STARKEY
GOOD GENES! : Mom Salli Layaye (left) and daughter Kari Hall put on their best '60s look for last Saturday's martini night performance at the SLO Little Theatre.
"I was," says Bill. "I was in the three of them."
"Didn't Robert De Niro get started in a Corman film?"
"Yes, and so did Jack Nicholson."
"Good company."
Bill's done loads of theater, too, and he regularly teaches acting workshops. I tell him I should get a photo of him for the story, and then like a cheetah he runs out the front door of the lobby and I don't see him again.
Dora and I head over to the bar for another round, where we find SLO Little Theatre executive director and amateur bartender Kevin Harris.
"She'll have another dirty martini, easy on the vermouth, and I'll have another Gibson—no pubes this time."
In an earlier email, Kevin had promised to tea bag my drink when I wasn't looking. He's classy like that.
As I take my drink and hold it up to the light, looking for impurities, I catch sight of two awesomely hot ladies making coy "take our photo" eyes at me. Then one of them just comes out and says, "Take our photo!"
"Wow, you look like Pricilla Presley," I say to Salli Layaye, who tells me her daughter Kari Hall bought her ticket as an early Mother's Day gift.
PHOTO BY GLEN STARKEY
VA-VA-VHROOM! : Showgirls! Martinis! Sinatra's music! Swingin' with Sinatra has it all!
"That's your daughter?"
Yes, and she's married.
"I have four girls," says Salli, who after I put her in a headlock admits the other three aren't married (Yeah, baby!). Then Salli tells me her grandfather Elwood "Ole" Olson was a drummer who played with Frank Sinatra, Tony Bennett, and the Tom Dorsey Orchestra.
Salli's a singer and she gives me a copy of her CD Touch My Heart. When we finally sit down for the show, she's seated right next to me and occasionally sings along with the performers on stage. She sounds as good as she looks.
Meanwhile there's one awesome production number after another, and squeezed in between are scenes from Frank's life. Regrets? He had a few, but too few to remember.
Over the course of the show, we get a taste of Nat King Cole, Elvis Presley, Joey Bishop, Dean Martin, Sammy Davis Jr., Jerry Lewis, Ava Gardner, Nancy Sinatra, and some amazing dancers.
I look over at Dora and then Salli. I'm sandwiched between a supermodel and an über-MILF! I'm starting to think some of that Sinatra magic is rubbing off on me, but after the show Dora walks home and Salli leaves with her daughter and son-in-law Zachary.
Regrets? I've had a few, and this one's seared into my memory.
Glen Starkey takes a beating and keeps on bleating. Contact him at gstarkey@newtimesslo.com.