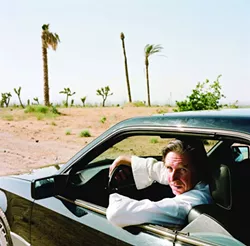 PHOTO COURTESY OF JOHN DOE
MUSICIAN, POET, ACTOR: Triple threat John Doe will lead X, his 36-year-old punk act, through its paces on Dec. 12 at SLO Brew.
Seminal L.A. punk act X boasts a Hollywood Cinderella story about two Midwestern boys—Joe Doe (née John Duchac) and Billy Zoom (née Tyson Kindell, who'd played with Gene Vincent)—who both found themselves in L.A. and answered each other's classified ads looking to start a band. Then John met Exene (née Christine Cervenkova) at a poetry workshop in Venice, and they became lovers and co-writers of most of the band's lyrics. Along came D.J. Bonebrake (née Donald J. Bonebrake), and soon the quartet was playing Hollywood's famed punk club the Masque. Fans flocked, and in 1979 they played a gig at The Whisky a Go Go, where ex-Doors keyboardist Ray Manzarek saw the band and became their producer.
What followed was a series of groundbreaking albums, lyrically and musically more sophisticated than the punk coming out of New York and London's nascent punk scenes, music with roots in rockabilly and old-time country, but with the same propulsive force and anarchic appeal of punk.
They soon befriended another band that did things their way: rockabilly, cowpunk, Americana act The Blasters, from Downey, that featured brothers Phil and Dave Alvin (Dave's no longer with the band), bassist John Bazz, and drummer Bill Bateman. Original members Phil, John, and Bill are currently joined by guitarist Keith Wyatt (Albert Collins, Ginger Baker, Jack Bruce, Robben Ford).
Next Thursday, Dec. 12, X and The Blasters will share the bill at SLO Brew for what they're calling "A Family X-Mas" (8 p.m.; 21-and-older; $32 presale or $35 at the door).
"You know, we played with The Blasters about 7 or 8 years ago, and it was just great as always," said John Doe. "Why'd we wait so long to do it again? I guess we were just saving this for a special occasion."
X and The Blasters will play 14 dates together, from Arizona to California or Oregon and Washington. Doe also says you can expect some collaboration between the bands as Blasters front man Phil Alvin and Exene have sung together in the past, and he also mentions that Blasters drummer Bill Bateman is simply amazing to behold. New Times spoke to John Doe via telephone.
NEW TIMES I was looking at your web site and I couldn't help but think as I was reading the various members' responses to the interview by Heidi Siegmund-Cuda that you seem the least nostalgic.
JOHN DOE I don't know. I don't see anything wrong with nostalgia. It's honoring a time that passed, but I don't know. I don't miss the past and all the mistakes that were made. I don't regret them either since they were sometimes the most interesting moments. I think the best thing about getting older is you're able to look back and be grateful and accept it. Peter Case once said, when you take a bunch of pictures, maybe a few look good, but if you wait 10 years and look at them again, you think, "Man, these are all great."
PHOTO BY FRANK GARGANI
ORIGINAL LINE-UP!: The four original members—(left to right) Billy Zoom, John Doe, Exene, and D.J. Bonebrake, show here in the early '80s—are back together.
NEW TIMES D.J. Bonebrake said the band is sounding better than you guys did 30 years ago; that the band is tighter. What's your take?
DOE Hmm. I think it is tighter and we play with more purpose, and we're not as high [laughs], so we may have a little more stamina and a little more … I don't know. There's something to be said about youth and craziness, and I don't ever want to take that away from someone in the midst of it. But playing together again has been pretty great, an intoxicating power and beauty. We didn't lose anything but we gained more seasoning. With age you're able to muster about 15 percent objectivity and awareness when you're in the middle of the hurricane. That's what Bill Bateman and D.J. Bonebrake have in common. They're just beating the shit out of the drums but they can look around and have an awareness. When you're young, it's all a flash.
NEW TIMES With a band with a history like yours and so many iconic songs, there's a certain amount of audience expectation, I'd guess. Are there some old songs you're sick of playing?
DOE Umm … not really. There are some that we'll put aside for a moment and bring 'em back. I now understand how people can play for three hours once you have a catalog that's so big. And Exene's not too hot on "True Love," and I think if we did "Wild Thing" it'd drive people crazy. We'd sound like a cover band.
NEW TIMES How about new songs? Are you guys writing?
DOE I am, and Exene and I have written a few things. I wish we could get it going, but it's just a weird thing—a lot of the elements that go into recording. We may re-record some of our old material for licensing purposes.
NEW TIMES So when you play live, it's all stuff from your catalog?
DOE Yeah, but we always pull out different songs we haven't played. We have a rotating collection of about 35-plus songs, and each night I make a different set list, hopeful that the band doesn't get pissed off. Billy inevitably says, "Why didn't you put in the good one?" And the "good one" changes from night to night.
NEW TIMES Do you guys all still get along?
DOE We're about the only punk band from 1977 still playing together. The thing about being together for 36 years is you begin to appreciate someone's quirks, forgetting about past transgressions and being grateful about all the good times in the past.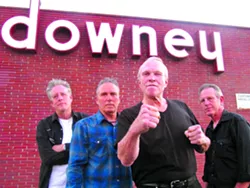 PHOTO COURTESY OF THE BLASTERS
STRAIGHT OUTTA DOWNEY!: Rockabilly and cowpunk act The Blasters share the bill with X at SLO Brew on Dec. 12.
NEW TIMES So what inspires your creativity these days?
DOE Oh, um, the same stuff, I think: a mixture of artistic curiosity and ambition to keep creating. Lately, between the last couple of [solo] records, it's been for me, "Hmm, it's been a couple years—better get into writing some more songs."
NEW TIMES A lot of people think punk is a young person's game, that as we age we mellow, and as we mellow we lose our edge. But you guys don't seem to have lost that edge at all. Even in your acting career, when I see you in films, there's something unpredictable about what you're going to do. [Doe has appeared in Road House, Great Balls of Fire, Roadside Prophets, Pure Country, Wyatt Earp, Boogie Nights, Forces of Nature, Brokedown Palace, The Good Girl, and about 60 other roles.]
DOE Well, that's a great compliment. Thank you. I think you do mellow with age, but maybe there's more focus. I mean, did David Carradine mellow with age? Maybe part of it is comfort—if you've made $10 million and don't need to work, but if you still have to work for a living that makes you hungry and tougher, and we do have to work for a living, and I don't resent that. I used to think money was bad and I had to be artistic about everything—you know?—the main reason to do it is for art's sake, but eventually you realize that everyone's got to make a living.
NEW TIMES Is punk rock still relevant?
DOE Punk rock's in a great place right now, and it's still a really underground world, and that's where it should be. That's not to say it hasn't come to the mainstream. I love Green Day. They say, "We're going to write a rock opera," and they do and it's pretty good, and that's great. But it's also great to go to a crummy punk rock club and pay ten bucks to see eight bands and to get a black eye. I think young people come to see X because we're a touchstone. We're still here.
PHOTO COURTESY OF THE LADY CROONERS
COUNTRY STRONG: The Lady Crooners play Dec. 6 at Last Stage West, Dec. 7 at Linnaea's Café, and Dec. 8 at Sculpterra Winery.
Also at SLO Brew this week is Boulder-based electronic act Robotic Pirate Monkey on Thursday, Dec. 5 (8 p.m.; 18-and-older; $13 presale or $15 at the door) with Terravita opening. Get your dance on, clubbers!
Country singer-songwriter Will Hoge returns on Saturday, Dec. 7 (7:30 p.m.; 21-and-older; $13 presale or $15 at the door) with local Texas soul man Joe Koenig opening.
Incredible jazz, country, world music alchemists Hot Buttered Rum plays Sunday, Dec. 8 (7:30 p.m.; 21-and-older; $13 presale or $15 at the door) with Head for the Hills opening.
Cali jangly rockers The Mowglis play Tuesday, Dec. 10 (8 p.m.; all ages; $12) with opening acts Blondfire and Hunter Hunted.
Oh, and put this one on your radar: On Tuesday, Dec. 17, House of Pain front man Everlast (aka Whitey Ford) will play an acoustic set of hits like "Jump Around" and "What It's Like." I have his new acoustic album, and it's amazeballz!
More music…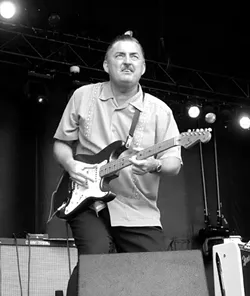 PHOTO COURTESY OF CHARLIE BATY
BLUESTASTIC!: Electrifying blues guitarist Charlie Baty will be joined by Mark Hummel on Dec. 7 at the SLO Vets Hall.
I got my calendar and CD; did you get yours? Three of the models from the 2014 Banjo Babes calendar and CD combo play "The Lady Banjo Show," featuring Evie Ladin, Moira Smiley, and Erin Inglish, on Friday, Dec. 6 at 8 p.m. in Unity Church Sanctuary (visit erininglish.com for $16 presale tickets or pay $18 at the door).
San Francisco-based folk-pop-country act The Lady Crooners play a string of shows this week, starting Friday, Dec. 6 at Last Stage West (8 p.m.), then Saturday, Dec. 7 at Linnaea's Café (8 p.m.), and finally on Sunday, Dec. 8 at the Songwriters at Play showcase at Sculpterra Winery (1 p.m.) with a series of other performers. The group sounds like they have an awful lot of fun performing—great picking and harmony singing!
Missing blues guitarist Charlie Baty since he left the Nightcats? Never fear, because he and harmonica player and vocalist Mark Hummel will team up for the next SLO Blues Society show this Saturday, Dec. 7, at 8 p.m. in the SLO Vets Hall (21-and-older; $20 at the door). The Irene Cathaway Rhythm and Blues Band opens the show.
Keep up with Glen Starkey via twitter at twitter.com/glenstarkey, friend him at facebook.com/glenstarkey or myspace.com/glenstarkey, or contact him at gstarkey@newtimesslo.com.