Sunday, April 27, was like any other spring day in San Luis Obispo. The breeze blew through the trees, and the weather lingered in that pleasantly mild zone that so often settles on this part of the coast.
At 2:15 in the afternoon, personnel from the San Luis Obispo Fire Department responded to a reported structure fire in the neighborhood of Stoneridge Drive, where southwestern adobe-style houses dot the hillside.
When firefighters arrived, they found flames in the residence's garage, apparently generating from a square glass baking dish holding a gooey, resiny substance. Once they'd spotted the telltale canisters of butane, they notified police. Officers eventually secured a warrant and entered the premises. They've since reported discovering that the two men present had been in the middle of making concentrated cannabis, or hash oil, and that one of the men was grinding a metal pipe in the garage, sending sparks flying and setting the makeshift lab on fire. Luckily, the flames triggered a sprinkler system in the garage, which limited the damage, said SLO Fire Marshall Rodger Maggio.
The event landed one man in custody—arrested on suspicion of felony manufacturing a controlled substance—and the other in the hospital with charges pending. It was the latest of a small but growing number of episodes where it seems that the fairly simple process of making hash oil went terribly wrong.
Stories like this have hit the news in the last few years, as home production of concentrated cannabis follows the growing popularity of hash oil. The concentrated cannabis—also known as dabs, honey oil, wax, shatter, bubble hash, or extract—comes from a wide range of production methods, and there are a variety of ways to classify the finished product. Depending on who you ask, there are favored forms and preferred ways to inhale. Ten years ago, "honey oil" was more a novelty than anything, and it would be placed on top of a bowl of herb for that extra kick. Now, it's taken straight, smoked using intricate implements that attach to bongs, or vaporized using electronic devices similar to e-cigarettes. Dabs have become so common that people say "flower" when they're talking about marijuana in its natural form—the bud—just so there's no confusion.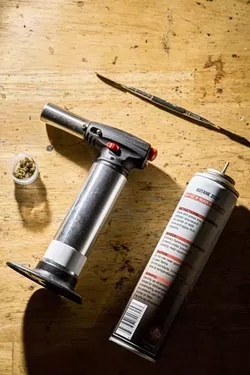 PHOTO BY HENRY BRUINGTON
AN EXPLOSIVE TREND: All the makings for smoking concentrated cannabis (minus the bong), and a can of butane. Using specialized implements that attach to bongs, a metal piece is heating with a torch, and then a dab is placed on the metal, causing it to burn.
Famous rappers drop lines about dabs in their rhymes and have been touting the activity in online videos, becoming a part of an endless rabbit hole of YouTube clips in which people are filmed smoking the stuff in the most extreme ways possible.
What's known as "dab culture" has spread underground, through the counter-culture, and in the medical cannabis community, creating a demand that some people are all too happy to supply, using a process that can transform relatively low-grade marijuana or the post-trim leftovers (shake, leaves, and stems) into a high-value product.
And while there are various ways to extract concentrated cannabis, the use of butane has become the most common of all. It's pretty much the easiest, quickest, and most accessible method, and it yields one of the most potent concentrates available—thus the onset of butane hash oil, or BHO.
Aside from smoking or vaporizing marijuana, there are two ways to extract its psychoactive ingredients. One involves heating it and absorbing it in lipids, or fats, i.e. butter, the main ingredient in pot brownies. The other way uses solvents, which strip the terpenes (the desired parts of the plant) and move them into a concentrated form. This can be done with devices that employ carbon dioxide. Ice water can also be used for a solvent-less product. Butane's composition as a heavy liquid gas has earned its regard as the best bang for your buck. Butane canisters can cost anywhere from $5 to $15, and the other pieces for the process are just as cheap and available.
Here's the catch, though: Butane is highly flammable, and the people who use it work in a realm rife with a do-it-yourself, at times experimental, attitude, often lacking any oversight or basic safety measures. Doing it indoors is a bad idea, but working in the backyard can attract unwanted attention. Once the extraction is done, it can take hours or days for the butane to evaporate from the thick, gooey, greenish-brownish-blackish substance.
And there's another catch: Under Proposition 215—the Compassionate Use Act of 1996, which decriminalized growing, possessing, and consuming marijuana with a proper doctor's recommendation—collectives and patients can possess and transport concentrates. They can't make BHO, however, thanks to another law on the books that predates Proposition 215 by a decade. In the 1980s, lawmakers added Section 11379.6 into the Health and Safety Code, designed to combat the then-growing trend of methamphetamine and PCP production, which placed an enhanced felony charge for manufacturing a controlled substance and carried a minimum three-, five-, or seven-year prison sentence to "every person who manufactures, compounds, converts, produces, derives, processes, or prepares, either directly or indirectly by chemical extraction or independently by means of chemical synthesis, any controlled substance." The language then defines "controlled substance" with a list that includes essentially every drug known to man, including marijuana.
That law—and the publicity generated by the occasional inferno—has put BHO under a microscope, and medical cannabis advocates and law enforcement agents alike grapple with the challenge at hand, respectively.
Catching fire
One thing BHO producers and law enforcement agents will agree on is that making hash oil is very dangerous. Butane is a flammable gas. It's what fuels the flame of a lighter and what makes a camp stove cook your beans. As the BHO process is a clandestine one, labs are often anything but industrial-grade. Hash oil is often made in kitchens, bathrooms, or garages, where proper ventilation or fire retardants are usually nonexistent. One person who's made BHO told New Times, "It's like riding a motorcycle; you're going to crash sometime."
After a pause, his friend sitting next to him chuckled and said, "Well, I've owned four motorcycles, and I've never crashed."
The two, both speaking on condition of anonymity, explained that while there have been major fires that have made the news, they've heard word of plenty more small fires that were contained before major damage occurred. You might say that as far as BHO production goes, if you play with fire, at some point you're bound to get burned.
The best way to avoid an accident is to follow the fundamental rule: Don't make hash oil anywhere near an ignition source. But if there's one thing you can say about mankind, it's that history is marked by people who do stupid shit.
All of the incidents in which officials in San Luis Obispo County responded to fires erupting from suspected BHO labs have led to arrests with felony manufacturing charges.
Before the April 27 fire, there had been three fires in San Luis Obispo, all in 2013. The year started with the explosion of a suspected large-scale hash lab in a mobile home at the Laguna Lake Mobile Estates. On Jan. 8, the SLO Fire Department responded to a fire on Lynn Drive, arriving to see flames pouring out of windows and reaching into the sky. After the fire was extinguished, firefighters reported discovering hundreds of butane canisters on the premises. Officials then found 180 pounds of marijuana, scales, and conversion cylinders, some full of product yet to be extracted. The explosion was so strong that flying debris—including several butane canisters—sprayed in all directions and dented the mobile home next door.
San Luis Obispo Fire Marshal Rodger Maggio determined that the conversion process in this case took place under a canopy on the patio where circulation was poor. The damage was so intense, with so many possible ignition sources present, they couldn't determine what specifically sparked the blaze. It could have been a nearby pilot light, a dryer, a compressor motor from either a washing machine or a refrigerator (which appeared to have exploded), or a spark from a device that was plugged into the wall but left unrecognizable by the fire.
San Luis Obispo officials saw two smaller suspected BHO-related fires in 2013, according to SLO Police Department Capt. Chris Staley: an apartment fire on Stafford Street in August and another on Murray Street in October. Both incidents led to arrests on suspicion of manufacturing.
Countywide, there have been at least three more suspected BHO-related blazes that drew a response from firefighters and eventually the Sheriff's Department. In March 2012, an explosion in a Los Osos residence blew a sliding glass door from its frame. A November 2012 fire in a Morro Bay residence was ignited by the pilot light of either a floor or wall heater, blowing out the windows and injuring one person, who was transported to the Fresno Burn Center. Both incidents brought felony manufacturing arrests.
The first apparent incident of this kind in SLO County occurred in Templeton in November 2009. There, a suspected BHO lab exploded in a mobile home where an 11-year-old child was present. One man was arrested on suspicion of felony manufacturing and child endangerment, and one woman was arrested on suspicion of child endangerment.
The child endangerment charges were eventually dropped in court, and the primary defendant pleaded not guilty, then no contest, to the manufacturing charge, sentenced to one year in jail and felony probation. Most cases have resulted in a similar sentence.
Elsewhere, the list keeps going, full of incidents that are both weird and worrisome. While the following may be outliers to the larger production trend, they're still notable.
On April 29, a couple was reportedly making BHO in their tent in a San Leandro homeless encampment when something exploded. Another man in the encampment cut the tent open and discovered that the two had a sticky substance covering their faces and arms, before rushing them to an apartment complex nearby and causing a bit of a scene. Just three days before that, in Littleton, Colo., where BHO fires are reportedly happening once a week, an explosion on April 26 sent a man to the hospital, leading authorities to discover that he and his girlfriend were operating a suspected BHO lab in the same house where an 8-month-old baby and a 3-year-old child lived.
Reports of injuries continue: On Sept. 29, 2013, in Santa Cruz, three men in their early 20s suffered life-threatening injuries; they're suspected of making BHO in a garage. The fire was sparked by a water heater, also in the garage. Additional butane canisters exploded as firefighters attempted to contain the blaze. Ten days later in the same town, a 29-year-old man was severely burned and two dogs injured when the man lit a cigarette lighter while operating a suspected BHO lab, causing an explosion that blew out the windows. As one Santa Cruz resident told New Times, the blast sent flames out from the skylight.
In 2011, a man was killed in Livermore after an apparent lab operated by his roommates exploded. As a result, a couple pleaded no contest to voluntary manslaughter and accessory charges.
Chemical equations and legal decisions
There are only two incidents in which local law enforcement agents made arrests for suspected BHO production and filed felony manufacturing charges that didn't involve fire. On Feb. 14 of this year, county probation officers reported discovering a BHO conversion lab and marijuana grow while executing a probation search.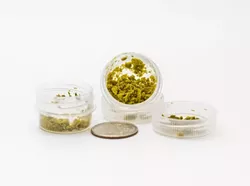 PHOTO BY HENRY BRUINGTON
GREEN MATTER: Butane hash oil (pictured) has become widely popular among cannabis connoisseurs. The substance varies in quality and consistency depending on production and refinement methods.
One month prior, in January, the Sheriff's Department pursued a tip, secured a warrant, and entered the home of 28-year-old Michael Allen Siegfried. There, deputies reported finding evidence of a BHO conversion lab, 30 pounds of marijuana ready to be shipped, 80 pounds of loosely packaged marijuana, guns, and cash. Siegfried was arrested on suspicion of felony manufacturing, possession for sale, and assault on a police officer.
Two other individuals were also arrested, according to Siegfried's attorney Louis Koory. They're represented by different attorneys; one person is facing manufacturing and possession charges, while another is facing gun charges for firearms that were legally registered. All three men were providers for a medical cannabis collective, Koory said, and all of the seized cannabis products were earmarked for medical use. While it's likely that a possession for sale charge can be successfully contested in court because of Siegfried's role as a provider, a manufacturing charge will be difficult, Koory said.
"In essence, you have a statute that was designed to combat meth labs and PCP labs, and it's being used against people making concentrated cannabis," the lawyer explained.
The manufacturing statute and its application toward those arrests for BHO conversion have been a bit of an albatross for medical collectives operating under Proposition 215 laws, leading to challenges.
In 2008, the California Second Appellate Court upheld a ruling that found Niall Patrick Bergen guilty under the 11379.6 statute of manufacturing a controlled substance. Attorneys for Bergen, who was arrested for operating a BHO conversion lab in the garage of a three-bedroom rental he used as a grow house for a collective, argued that because concentrated cannabis is still cannabis from start to finish—it's merely concentrated from plant matter to oil—the manufacturing statute is improperly applied because it was intended for a process that chemically altered one substance to another to make methamphetamine. The appellate court wasn't persuaded and upheld the charge, finding that a chemical was still used in the process. The Bergen Decision stands to this day, and has been upheld at least once in the case of a San Francisco man unsuccessfully challenging felony manufacturing charges.
This is a source of frustration for the medical cannabis community.
Lance Rogers, a San Diego-based attorney who counsels the California Cannabis Industry Association (CCIA), said that 11379.6 applications are misguided.
"Prosecutors are trying to fit a square peg into a round hole," Rogers said. "The meth lab statute was originally designed for activities that you would see on Breaking Bad: the clandestine mixing of chemicals to produce methamphetamine."
Koory—who, as one of the prominent medical marijuana defense attorneys in SLO County, has dealt with his fair share of cases involving law enforcement agents making arrests regardless of Proposition 215 protections—says agents are well aware of this loophole.
"They're hoping to sway public opinion and justify these arrests, because the public doesn't buy cannabis arrests anymore," he said.
SLO County Sheriff Ian Parkinson disagrees.
"Lou can say what he wants, but this has nothing to do with 215," he said.
Parkinson later explained that as far as his department is concerned, deputy sheriffs pursue BHO labs because they're a "significant public safety issue, and it's proven to be dangerous."
"It's been proven in this county that it's a problem," said Tony Cipolla, spokesman for the department.
For Cipolla, the statute is one way to deter the continued spread of BHO labs.
"It's effective, I think it's fair, and any time that we can identify the safety risks to the public then I think we're doing our job," he said.
Both Koory and Rogers understand the rationale that using butane is dangerous; Rogers equates it to "playing around with camping fuel."
But that's where they see the law as an obstruction to a process that can otherwise become safer if it were allowed to move out of the garage and into a commercial facility with proper safety mechanisms, and maybe even with a proper inspection and regulation process.
Clearing the air
Like most things pertaining to marijuana in California, the discussion sooner or later turns toward supporters' long-term goal: legalization.
As it is now, local medical cannabis providers have taken different stances on BHO. One CEO of a collective, speaking on condition of anonymity, told New Times that while he's philosophically against it because there's no way to know what residual chemicals and compounds are left behind in the finished product, he still carries it because demand is so high. Another collective CEO said he won't carry BHO because of the legal gray area.
"If law enforcement has an issue with BHO, then I have an issue with BHO," he said, also speaking anonymously.
That particular dispensary does carry hash oil extracted with carbon dioxide (CO2), a process many people say is much cleaner and less dangerous. Hash derived from CO2 is far less common, however, partly because it generally requires a $50,000 machine plus the CO2. The process is a closed-loop system that recirculates the gas and minimizes risk of leakage. Where CO2 and other processes fall in the legal gray area is still unclear, Rogers said, but there haven't yet been any cases of the felony manufacturing charge being invoked.
Still, BHO is the reigning form of cannabis concentrate. With popularity comes demand, and it's got to come from somewhere.
"We still have access, but unfortunately we have access through third parties, which we have no control over," said Ryan Booker, executive director of Ethnobotanica, one of the largest and most reputable collectives in the area.
Like most providers, Ethnobotanica tests and vacuum purges the concentrate it receives, a process that can further purify the product. For Booker, the key piece to the puzzle is maintaining the spirit of Proposition 215: granting sick patients who rely on medical cannabis safe and legal access to the medicine. BHO, he said, is a part of that mission for people who prefer the arguably cleaner method of vaporizing it.
As part of Oregon's medical cannabis provisions, the state allows concentrates to be derived in a commercially inspected, closed-loop system. In Colorado and Washington, both of which recently legalized marijuana for adult use, there are similar provisions. Those states, however, are still seeing BHO-related fires, pointing to the challenge faced by medical cannabis advocates in California.
As of press time, two bills that would establish a set of regulations for doctors, growers, and medical cannabis dispensaries are currently working their way through Sacramento, and may be a step toward setting the ground rules absent in the industry.
Such guidelines would be beneficial to everyone involved, said Sean Donahoe, deputy director of the CCIA, because then there'd be a set of rules to which everyone could adhere. This would eliminate confusion between different parties and create ways to provide necessary regulation. It could even provide some relief from the feds, who've indicated they'd relax if California were to establish a clear set of rules and regulations.
"It's what we've been trying to do for years in the state, to get some sort of rules," Donahoe said. "There are no rules."
In the state Senate, SB 1262, championed by the League of California Cities and the Police Chiefs Association, originally set out to restrict and crack down on the process for doctors to issue recommendations, and also looked to ban BHO. Both of those provisions were dropped after the bill was amended, which in turn attracted support from medical cannabis advocates. The bill would place regulatory powers in the hands of local agencies. AB 1894, currently working through the state Assembly, offers a different approach, placing regulation in the hands of the Alcohol Board of Control. In order to move forward, both bills—which are facing sturdy roadblocks—need to clear their house of origin by the end of May.
For now, however, it appears that neither of these laws would trump the existing statute that brings a felony manufacturing charge to BHO extraction. But Donahoe hopes that eventually the rules and regulations might bring concentrated cannabis production into the fold. In the broader sense, however, Donahoe is hopeful that for many, the long-awaited day will come when marijuana is legalized in California.
"The simple fact is, it's just overdue," Donahoe said.
Contact staff writer Jono Kinkade at jkinkade@newtimesslo.com.
-- Melody DeMeritt - former city council member, Morro Bay