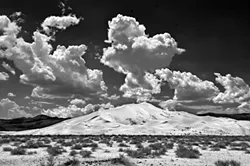 PHOTO BY DON EATON
EUREKA DUNES :
Don Eaton does his best to avoid bald skies, and Renée Besta goes out of her way to travel off the beaten path. Over the past couple of decades they've scoured the nation's west and southwest, independently of one another but with a shared goal: to capture the beauty and majesty of the region. They also share a joint black and white photography exhibit at the Art Center, "Double Vision: Timeless Images of the American West."

Eaton is a retired naval officer who spends his summers traveling to national monuments and parks with his family—Sierras, domes, Tetons, glaciers, and valleys. Besta has a degree in chemistry and a hand in a half-dozen photography clubs and organizations, including serving as President of the Art Center's Photographic Society.

Since retiring from the Navy, Eaton's commitment to his art has intensified. His subjects include anything from a barn in Cambria to a gnarled bristlecone rising away from a desert landscape to the vast valleys and spiraling peaks of the Grand Canyon. But nearly all of them share one feature in common—a sky dominated by clouds no mortal could possibly sculpt.

Eaton is a primarily self-taught photographer; as part of his quest to hone his skills, he read Ansel Adams' instructional books. Having grown up on the East Coast, Eaton finds himself mesmerized by the topography of the Southwest. His awe is easily translated to someone viewing his photographs.

"There are spectacular vistas. In spite of the visitors you still get an opportunity to see unspoiled land and examples of God's grandeur," he said. "It makes you feel like you're surrounded by timelessness, which is a nice feeling."

Many of the locations that Eaton photographs are frequented by other tourists and photographers. But Eaton's rich skies and otherworldly lighting ensure that his photographs remain distinctive and that his perspective remains his own.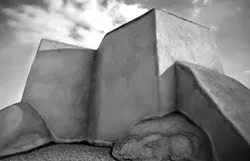 PHOTO BY RENEE BESTA
RANCHO DE TAOS CHURCH :
"I passed that barn since I took that photograph a jillion times, but you'll never see that again," he points to a photograph in which the heavens seem to be simultaneously opening and spilling light onto a barn.
Though he shoots in color, the landscape photographer's final products are almost exclusively black and white. It lends the images greater depth and allows for a more complete impression of what Eaton saw and experienced. His exhibit partner, Besta, shares this philosophy.
"Sometimes color can really get in the way of the mood, the feeling you are trying to express. I think it's more appropriately expressed in black and white. It kind of strips everything away."
The pair also shares in common a childhood far removed from the peaks and valleys that now dominate their photographs. Besta grew up in a small conservative steel-mining town in Illinois, dominated by flat plains. When she was 12, her family took a road trip along the original Route 66, from Saint Louis to California. She was armed only with an Instamatic.
"I was just completely mesmerized, the rich red earth, the sky, the cloud formations. It's a spiritual experience and any photographer will tell you, when you are in these places you feel so small, you think 'I'm here just for a speck of time.'"
FOUR EYES, TWO LENSES: "Double Vision: Timeless Images of the American West," featuring photography by Renée Besta and Don Eaton will be on display through Jan. 31 at the SLO Art Center. An artist's reception takes place Jan. 16, from 2 to 5 p.m. The Art Center is located at 1010 Broad Street, and is open 11 a.m. to 5 p.m. every day except Tuesday. For more information visit sloartcenter.org.
As an adult, Besta moved to California and took vacations to Arizona and New Mexico at every available opportunity. She visits ruins, kilns, pueblos, and petroglyphs, always willing to hike or drive to far-flung locations. Anyone can go to the Grand Canyon, Besta insists, but she wants to show people sights they're unlikely to ever have seen.
Besta also serves as an advocate for photography on the Central Coast and is currently enthusiastically sharing information about high dynamic range imaging, a technique she started working with about a year ago. After placing her camera on a tripod, Besta takes multiple exposures of a single scene at different shutter speeds. She then uploads these images to computer software that allows her to combine the images. It's a complicated process, and one that has come under discussion in a lot of photography circles and literature.
"That's one of the things that I love about photography," she said. "It is an art and a science and it continues to technically evolve."
Arts Editor Ashley Schwellenbach evolves artistically and scientifically. Send species listings to aschwellenbach@newtimesslo.com.