Some people really take their off-roading seriously. I've been on one of those three-wheeled ATVs down at the Oceano Dunes once. It was fun for about 30 minutes, but I haven't felt the need to do it again. However, I guess for some people the smell of gasoline, sand in their eyes and noses, and the liberating freedom of jumping a sweet sand dune into a snowy plover nest is a siren's call.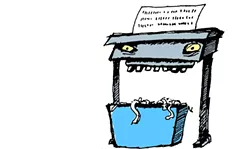 Some folks are going apoplectic about the possibility that the Oceano Dunes may be permanently closed to off-roading by Jan. 1, 2026, if the California Coastal Commission votes to approve staff recommendations outlined in a Feb. 18 report.
You know who's not standing for it? The Pismo Beach Chamber of Commerce, which is holding a "PEACEFUL DEMONSTRATION opposing the California Coastal Commission 5 year plan to remove OHV from Oceano Dunes!" screamed their press release.
Scheduled for Sunday, March 14, at 2 p.m. "on the sand just off the Grand Avenue entrance to the park," the demonstration will include pro-off-road speakers followed by a "Hands Across Oceano Dunes," right before sunset. Hopefully this human chain of motorheads won't be broken by a speeding Jeep Cherokee with oversized wheels! You know how hard it is to see at dusk!
Oh, wait. I see in the fine print, "attendees will position themselves like they are holding hands." Whew, close one. Actual hand-holding seems kind of COVIDy. Also, in a blow to freedom, they're also saying, "Everyone will be required to wear a mask and bring their own gloves," but "Access for all masks and flags will be available while supplies last." Huh?
"A chamber of commerce proudly stands up for the businesses in their community, especially when it can cause closure and major revenue losses, which leads to unemployment and a reduction in tourism," Chamber Chairperson Valerie Mercado said. "The Pismo Chamber therefore is standing together with the business community, local residents, and families that have enjoyed the dunes for generations. These people are our friends, members, neighbors, and customers."
Wow, I can picture a waving American flag when Valerie speaks. Maybe that's why the Chamber press release said, "American flags and Save our Dune flags are strongly encouraged."
There will also be "Education stations and coloring books will be provided for the kids."
"Mommy, I ran out of sand-colored crayon again! Wahhh!"
I get that chambers of commerce get involved in politics, but I can't recall a chamber ever organizing a protest.
Hey, Valerie, if you feel that strongly about off-roading, how about lobbying to open Pismo Beach to off-roaders? Or do you not want dust kicked up and wafting through town into people's clam chowder bowls?
Speaking of freedom, gotta hand it to Kennedy Club Fitness. All that cardio is paying off in their fight to avoid paying $7,000 in SLO city fines for ignoring state health and safety guidelines. Kennedy lost its appeal of the fines and could take their fight to superior court if the city doesn't back down, and they've hired State Assemblyman Jordan Cunningham's law firm to represent them.
The city's fines are based on state mandates, but according to Kennedy owners, their string of four gyms are essential businesses no matter what the state says. And instead of endangering their members with indoor exercise, they're building up their immune systems! Hell yeah! This should get interesting! In the meantime, Kennedy started a GoFundMe campaign that had raised $17,640 of a $30,000 goal as of March 10.
Um, is this about the city fines, which donations have already paid for twice, or is this about principles? And if it's about principles, wouldn't the principled thing have been to follow state health and safety mandates? Or are you guys just on 'roids and super angry?
And finally, in the Not In My Backyard department, meet Ashley Smith, a Morro Bay mother who's appealing her city's permitting of a proposed addiction and rehabilitation detox facility going into what was formerly a Rodeway Inn. Called Morro Bay Recovery Inc., the facility would use the 27-room motel to help those with addictions to drugs and alcohol.
Of course, as well all know, anyone with a drug or alcohol addiction is a total reprobate undeserving of help, especially when that help is located near Ashley Smith's home. Smith is naturally worried about safety issues since people seeking help from their addictions are all scumbag criminals.
Smith wonders if the facility will be completely fenced and patrolled by guards. Why stop there, Karen ... er, I mean Ashley. How about concertina wire, machine-gun turrets, and a ball and chain on every prisoner's ... er, I mean patient's ankle?
Sure, it will be state licensed and regulated, and like most such facilities, I can't imagine it will be inexpensive to be admitted, and it will be fully staffed by people overseeing the recoverees who will need staff or physician permission to leave the facility, but "Danger, Will Robinson, danger!"
It's hard enough to seek help considering how our society stigmatizes addiction. Do we really need to make a stink because a new and desperately needed recovery facility is opening up? Maybe if Ms. Smith knew someone in need of recovery she'd be more open to being part of the solution instead of the problem. Δ
The Shredder needs a drink. Send drink chips to shredder@newtimesslo.com.