As a warm-up for St. Paddy's Day, O'Reilly's has got the blues again. This time, the Arroyo Grande club has guitarist A.C. Myles playing their soon-to-be-famous "Friday Night Blues Concert Series" on Friday, March 14.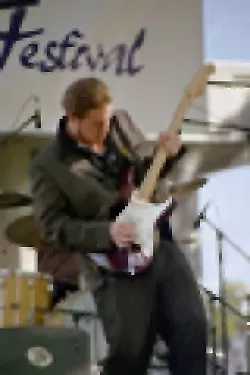 PHOTO COURTESY OF A.C. MYLES
GUITAR WAIL : Blues guitarist A.C. Myles brings his Stevie Ray Vaughan-esque playing to O'Reilly's on March 14.
# Myles works his blues magic in the same vein as Stevie Ray Vaughan, Rory Gallagher, and Eric Clapton.
"Now that sounds like a pretty tall order for such a young guy," said O'Reilly's owner Jeff Wynn, "but A.C. is one of those performers that once you see him on a stage, you'll never forget."
The only son of a Memphis-born guitar-playing father and German immigrant mother, Myles is California born and bred, growing up "in the migrant worker rurals of a Central California town."
Living room jam sessions gave way to a trio he formed in his early teens, where he soon found himself playing guitar and singing classic rock'n'roll songs and blues covers for biker gangs and bar crowds.
"I started playing guitar and singing in the bars when I was young. Real young," Myles claimed.
By 2002, the then-21-year-old had released two original self-produced albums. By 2004, he played the 25th and final Blues Estafette in Europe with sax legend Joe Houston. And in 2005, he did a string of gigs with West Coast guitarist Craig Horton. He did a three-week tour of the Middle East region, performing for U.S. and coalition troops in Kuwait, Saudi Arabia, Bahrain, U.A.E., and Africa.
He's now touring in support of his 2006 release Up to the Neck With the Blues.
"I just want to play for the people who love this type of music," he said. "They understand what we're about. If we do right by the people, then I think we'll be around for awhile."
Dream on
There's a new socially conscious sheriff in town, and its name is Deep Dream Project, also known as a quartet of rockers who've turned their considerable prowess toward music with a positive message.
PHOTO COURTESY OF DEEP DREAM PROJECT
DREAMERS : Socially conscious rockers Deep Dream Project debut at Mongo's on March 15.
# "Deep Dream is the positive reflection to one's self that addresses the negative thoughts and choices that all of us feel at the end of the day, week, year, or lifetime," said the band in a press release. "As you listen to Deep Dream, we all
hope you'll dream a little dream, listen up, learn, and listen again."
In "Believe in Yourself," the band sings, "The sun is going to shine and things are going to go my way. This time I know it's right and yet I'm here to say, can't stop, can't hold it back, no, things are going to work out okay. This time I believe in myself and all the world to say, believe in yourself, I can't hear no lies."
It may be a tad earnest, but band members Paul Duggan, Jambo (one name like Madonna!), Mike Metzler, and Ron Grove think the time's right for a positive message.
Deep Dream Project makes its debut on Saturday, March 15, at 9:30 p.m. at Mongo's. Dragwater follows at about 10:30 p.m. Tickets are $3 and $6 at the door, and Deep Dream will also be showing their new video "Gumby Climb the Moon," sanctioned by Joe Clokey, son of Gumby creator Art Clokey.
A Carnival of Afro-Latin sounds!
I like music that feels like a trip (and no, not the acid-induced kind a trip to some exotic locale). Peru Negro and its 20-piece ensemble feels like a trip to black Peru.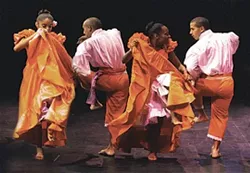 PHOTO COURTESY OF CAL POLY ARTS
TAKE A TRIP TO PERU : Peru Negro and its 20-piece ensemble plays March 16 at the SLO PAC.
# On Sunday, March 16, Cal Poly Arts presents Peru Negro during a 3 p.m. matinee at the SLO PAC. Combining Afro-Latin music and dance, the concert will colorfully show off Peru's African heritage through traditional music, authentic instruments, buoyant movement, and vivid costumes.
Currently, the ensemble is on a 46-city, three-month tour, showcasing songs and dances that trace their history to the arrival of African slaves in Peru in the 1600s. Peru's own government has designated the group "Cultural Ambassadors of Black Peru."
Tickets are $28 and $34, with student discounts available on all seats. Get them at the PAC Box Office or call 756-2787. Read more about them on page 22 in this week's New Times!
More music
Dogman Joe, the dynamic and soulful San Francisco rocker, hits Frog and Peach on Thursday, March 13, from 8 to 9:30 p.m. He's had three honorable mentions for VH-1's song of the year, and his warm, jangly approach to music is simply infectious. Check out his MySpace pagefor a taste.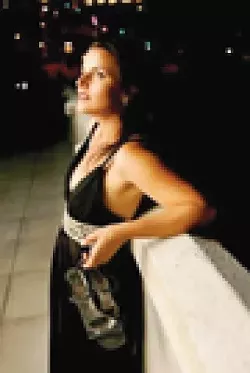 PHOTO COURTESY OF TOKELI
CITY NIGHTS JAZZ! : Jazz vocalist Tokeli performs with the Mike Raynor Group at the Sea Venture Hotel on March 19.
# Wanna get some funk in your trunk? Check out Delta Nove when they hit Downtown Brew on Friday, March 14, at 8 p.m. ($8 advance at the venue and Boo Boo's 21-and-older). The Long Beach-based quintet will rock the dance floor with a tasty blend of funk, Brazilian samba, Afro-beat, world music, jazz, rock, ska, and reggae. Now celebrating their 10th anniversary, the band was voted as one of the "Top 10 Bands to See in 2005" by Jambase.com, nominated as "Best Live Act" at the Orange County Music Awards in 2004 and 2005, and named Best Live Act in 2006 and 2007--hey, not bad!
Get your reggae on at the Frog and Peach on Friday, March 14, when Fuzzy Logic plays a show of "roots for dem youths." BYOS! That's Bring Your Own Splif, Rastas.

Sixteen bands entered, but only one will leave victorious! I'm talking about Hoovers Live's steel cage death match battle of the bands, which happens every Friday until the final battle on May 9. So far, Romeo & the Juliets have beaten A Knife Called Mike, Machine beat Miss Match Socks, Criticnue beat Dragwater, A.F.R.O. beat The Sound of Music, What the Funk? beat Tah Ven Dero, and Slick Bishop beat Red Eye Junction. On Friday, March 14, Thayer faces off against Ragg. The audience votes for their favorite, so get out there and do your patriotic duty and vote!
Inveterate folk duo Bob and Wendy will be joined by Tim Novoa and Travis Harms on Saturday, March 15, for an 8 p.m., pass-the-hat concert at Cafe Luna (1804 Osos St., SLO, near the Amtrak station).
Are you filled with ennui? Well excuse my schadenfreude, but ha ha ha! Okay, just kidding. The R.A.H.M.A. (Renewed Awakening to a Healthy Mental Awareness) Center's fundraiser will lift your funk on Saturday, March 15, beginning at 10 a.m. with music by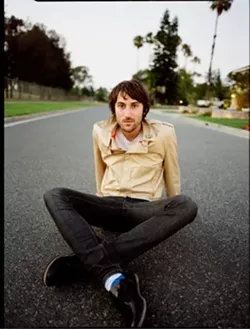 PHOTO COURTESY OF MATT COSTA
STREET SITTER! : Skate rat turned singer-songwriter Matt Costa returns to the area with a concert at the Graduate on March 20.
# Cali-Cubano act ZongO. Jazz ensemble the Andre Copher Quartet begins at noon, followed by reggae music with DJ Codestar. There's also an auction and raffle, info booths, organic foods, and more. It all happens in Giovanni's parking lot in Morro Bay. Come on out and support this nonprofit organization that's dedicated to the wellness of the mind, body, and spirit.
Let's say you've got your peace on after hanging at the R.A.H.M.A. fundraiser all day, but you still want to increase the peace, baby. Well, just zip on over to the SLO Grange Hall where Larisa Stow & the Shakti Tribe will keep the good vibes flowing with a 7 p.m. new age concert on Saturday, March 15. Stow & the Tribe were recently nominated for Album of the Year and Best Vocalist of the Year by the New Age Reporter, so be prepared to have your soul fire ignited by their east-meets-west mix of mantras and uplifting songs promoting peace, hope, and love. Advanced tickets are $15 (at the Novel Experience or by calling 544-9663) or pay $20 at the door. Can I get a shanti ommmmmmmm?
Et tu, Steynberg? Stray Dog Cabaret presents "Ides Of March: Music and Poems to Slay an Empire," featuring the talents of Lisa Coffman, Jaine Rice, Dian Sousa, and John Van Eps on Saturday, March 15, 7:30 p.m. in the Steynberg Gallery. Admission is $5. Singer-songwriter Rice and bassist Van Eps have been playing SLO venues as a duo for four years. Coffman is a California writer with an East Tennessee heart. Sousa is a Holy Road Union Tours artist with several books to her credit: Sunday Blood and Jamaica Rum: Poems of Spiritual Schizophrenia and, most recently, Lullabies for the Spooked and Cool. She's also one of the cofounders of SLO Code Pink, and she's SLO's poet laureate for 2008.
The Red Skunk Gypsy Swing Band plays Cad's Coffee House (1056 LOVR, Los Osos) on Saturday, March 15, from 6 to 8:30 p.m. There's no cover charge, but seating is limited so you may want to get there early.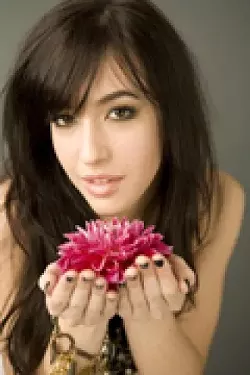 PHOTO COURTESY OF KATE VOEGELE
TV STARLET : One Tree Hill star Kate Voegele brings her singer-songwriter self to Downtown Brew on March 20.
# Cal Poly's University Wind Orchestra and Wind Ensemble will present their Winter Band Concert at 8 p.m. on Saturday, March 15, in Harman Hall in the Performing Arts Center. Titled "Pomp and Pipes," the concert features Cal Poly organist Paul Woodring and the new Forbes Pipe Organ. Tickets are $8 to $19, available at the box office or by calling 756-2787.
St. Paddy's is nearly upon us, and what better way to celebrate than getting crocked at McCarthy's, eh? What's that? You don't drink green beer? Okay, the second best way to celebrate this Irish holiday is with the contemporary traditional Celtic music of Craicmore at The Clark Center for the Performing Arts on Saturday, March 15, at 8 p.m. Craicmore (Irish for "great fun") doesn't do rebel songs or drinking songs. Instead, they draw their words and music from the Irish and Scottish tradition while claiming influences as diverse as the Afro Celts, Chieftains and Pogues, rock, and Australian indigenous music. Tickets are $22 to $30. Visit the box office or call 489-9444.
Drummer/author (you don't see that combo too often) Bill Moody is the next attraction at the Famous Jazz Artist Series at the Hamlet on Sunday, March 16. As a drummer, Moody has played and recorded with the likes of Maynard Ferguson, Jon Hendricks, and Annie Ross, but he may be better known as the author of a series of exciting jazz mystery novels that have been universally praised in publications such as the New York Times, the Chicago Tribune, and the Washington Post. For this special presentation, Moody will discuss his books and play some of the music associated with them. There's a $15 4 p.m. show and a $12 7:15 p.m. show--or see them both for $20. Reservations are recommended: 927-0567.
Human Bell is a synthesis of Dave Heumann, front-man of Arbouretum, and Nathan Bell, best known for his work in Lungfish. They were recently handpicked to open for the Boredoms on their West Coast and Midwest dates, but on Monday, March 17, they'll play a free in-store at Boo Boo Records at 5:30 p.m.
City Nights Jazz presents vocalist Tokeli (one name, like Charo!) from San Diego. She'll perform with the Mike Raynor Group at the Sea Venture Hotel on Wednesday, March 19, from 6 to 9 p.m. Drummer Raynor's ensemble also includes guitarist Jacob Odell and bassist Dylan Johnson. Tokeli sings in English, Portuguese, and French Jazziz Magazine praised her "style, control, pitch, and wonderful sense of rhythm." Check her out!
PHOTO COURTESY OF CAL POLY ARTS
ARRIBA! : Noche Flamenca travels from Madrid to bring you the heart and soul of flamenco at the Performing Arts Center on March 20.
# Skate rat turned singer-songwriter Matt Costa returns to the area with a concert at the Graduate on Thursday, March 20. Some of you may remember that he popped into town a couple of months ago to play a free in-store show at Boo Boo's to promote his new album, Unfamiliar Faces. That intimate concert whet a few whistles and now Otter Productions, Inc. is ready to unleash the full Costa experience with a 9 p.m. show (doors at 8 advance tickets are $16 at all Vallitix locations including Boo Boo's, or $20 at the door).
I've never seen One Tree Hill, so I don't know who Mia is, but apparently Kate Voegele plays her, and she's coming to Downtown Brew to promote her new album, Don't Look Away, on Thursday, March 20. I checked out Voegele's MySpace page and discovered that a) she's a hottie, b) she sings hooky pop rock with country influences (she's got a guy who plays pedal steel, mandolin, and cajon, after all!), and c) I actually don't have a "c," but it seems like you're supposed to do these things in threes. Anyway, advanced tickets for this all-ages show are $10 at the venue and Boo Boo's.
Some dances you feel in your feet and others your hips, but flamenco you feel in your loins. Arriba! Noche Flamenca, led by group founder Soledad Barrio, travels from Madrid to bring you the heart and soul of flamenco at the Performing Arts Center on Thursday, March 20, at 8 p.m. General public tickets range from $32 to $44, with student discounts available on all seats. Call 756-2787 or pick them up at the PAC Ticket Box Office.
CD Reviews
The Ruby Suns--Sea Lion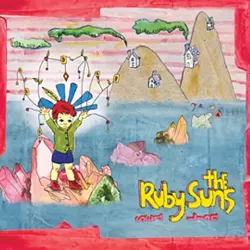 # Naming his album after the sunning aquatic life colony off Highway 1, Ryan McPhun, the singular fixture of The Ruby Suns, wrings out the influences of his world travels (New Zealand, Thailand, Africa) with an album as indebted to the layered harmonies of the Beach Boys as it is to the sunny melodies of African/Polynesian pop. If ever a record could wish for a bit of sunshine to crack through the cloud cover, Sea Lion is dense and dizzying relief from any winter mirthlessness. "Oh, Mojave" and "Tane Mahuta" lean heavily on Polynesian polyphonic rhythms and melodies, and its huge backing chorus will have you envisioning outriggers and musical scenes from South Pacific. But never does the album pander to simple arrangements. On gentler tracks--the warm mellow horns on "Remember" or the ambient Brian Eno-esque "Ole Rinka"--The Ruby Suns still build upon cumulus layers of volume that only add to the golden array of sound. Like a dripping icicle, this is an audible signal of spring's arrival.

Dead Meadow--Old Growth
# Some may dismiss Dead Meadow's latest exercise in stoner rock as not alarming enough. With Black Sabbath's heavy blues riffs as the guiding light, there's a strong instinct for the lumbering jams to shift into fifth gear and explode into metal thunder before returning to a dirge-like ending. On their sixth album, Old Growth, Dead Meadow stays in the middle of the road, offering mid-tempo to slow-burning rockers with occasional flashes of lightning. Jason Simon's vocals still seem affected by Dramamine, slowly emitted like a burnout of arrogant boredom that decorated many of the Doors' most plodding songs. Yet, within every Dead Meadow song, there's the moment when the pounding shifts up, the fuzz of guitar is unleashed, and you lovingly fall deep into the hypnotic equation. With a constant pacing and groove reminiscent at times of classic rock (the Band, Pink Floyd), this may not push you out of your chair, but you will sit back, comfortable.
-Malik Miko Thorne, of Boo Boo Records and KCBX's Night Train
---
Glen Starkey can't spell, and apparently beer doesn't help. Lend him a dictionary at gstarkey@newtimesslo.com.