There's no shortage of great live jazz in SLO County. Between the SLO Jazz Federation's shows, Charlie Shoemake's Famous Jazz Artist Series at the Hamlet, the great jazz programs at both Cuesta College and Cal Poly, and the dozens of deeply talented local performers appearing at the many venues that promote this most American of musical idioms, you don't have to look very far for a worthy jazz show. Every once in a while, though, something extra special comes to town, and this week it's NYC drummer-composer Matt Slocum, who's touring in support of his newest recording After the Storm, which was released on Oct. 11. He'll perform selections from the new album on Monday, Oct. 17, at Steynberg Gallery (7:30 p.m.; all ages; $15 general admission, or $10 for students) with collaborators Gerald Clayton (piano) and Massimo Biolcati (bass).
PHOTO COURTESY OF MATT SLOCUM
HE'LL TAKE YOU THERE : NYC drummer-composer Matt Slocum has an amazing new album and a show at Steynberg on Oct. 17 to promote it.
At 29, Slocum has emerged as a star of his generation, a double-threat performer and award-winning composer whose compositions build on the past and expand into the future. On After the Storm, he delivers six originals as well as "It's Easy to Remember," "Everything I Love," and Slocum's arrangement of Ravel's "La Vallée des Cloches."
According to press materials, Slocum and his trio recorded the album after a weeklong engagement at the venerated jazz spot Dizzy's Club Coca-Cola, and the record "highlights the emotional depth and imaginative sophistication of Slocum's compositions as well as the trio's tremendous musical growth and unique brand of intuitive exploration, interaction, and empathy."
Indeed, the record takes listeners to unexpected places and is a reminder that jazz is far from dead. When players tune into one another, their collaboration can lead to places even they didn't know they could get to. After the Storm is what jazz is meant to be.
Fast times at SLO Brew
The New Times Music Awards judges have spoken, and four contenders—the first place winners in the rock-alternative, Americana-country, blues-R&B, and hip-hop genres—will face off in a special concert on Thursday, Oct. 13, at SLO Brew (6:30 p.m.; all ages; $7 presale or $8 at the door). See Briertone, Dr. Danger Band, Jade Jackson, and Public Defendaz when they're judged by a panel of three music industry insiders to find which of these first-place winners will be crowned with the Best Live Performance award. Read more in Art Bash! (p. 48) where you can take a look back at a few scenes from last year's competition.
And if you want some more Briertone, head back to the Brew on Friday, Oct. 14, when they play a CD release party with opening acts The Ragged Jubilee, Lakes, and Sassafras Union (6:30 p.m.; all ages; $10 presale or $12 at the door).
There's more Cal Poly Tailgating to be had on Saturday, Oct. 15 (noon; all ages), when SLO Brew and 93.3 KZOZ's Jeff and Jeremy present live music on SLO Brew's outdoor stage and a live broadcast on KZOZ! 

Here are the rules: Go to LOT H12. Enter on Highland, turn left on Via Carta. It costs $10 to park, but it's free to party!
 BYOB (beer and barbecue … nothing will be for sale or provided). You must be 21 or older to drink (campus cops will be on hand to make sure). KZOZ, Cal Poly, and SLO Brew 
encourage responsible fun! Get a designated driver. Don't drink and drive … ever! The fun kicks off six hours before game time!
PHOTO COURTESY OF TECH N9NE
NEO PRIMATIVE : Hip-hop hero Tech N9ne hits SLO Brew on Oct. 18.
Get your hip-hop on this Tuesday, Oct. 18, with Tech N9ne (8 p.m.; all ages; $30 presale or $35 at the door) with Krizz Kaliko, Kutt Calhoun, and Jay Rock opening.
Things go country on Wednesday, Oct. 19, when Pat Green headlines a show with Whiskey Dawn (7 p.m.; 21- and-older; $25 presale or $27 at the door). Green's a singer-songwriter whose raw honesty creates compelling songs listeners can really sink their ears into.
Finally, mark your calendars for the return of Dave Alvin and the Guilty Ones, who hit SLO Brew on Thursday, Oct. 20 (7 p.m.; 21-and-older; $17 presale or $20 at the door). Alvin is an American icon, a member of the Blasters who's penned such classics as "Born on the 4th of July."

Songwriters at Play
You'd think Steve Key would run out of great singer-songwriters to tap for his weekly Songwriters at Play showcases, but he seems to have an endless stream of quality performers.
On Thursday, Oct. 13, for instance, he's got headlining act Driftwood Fire playing The Porch (6:30 p.m.; all ages; pass the hat). This female duo delivers the vivid songwriting and prodigious playing skills of multi-instrumentalist Charlotte Formichella and singer-guitarist Lynn Scharf. This showcase also includes a guest set by another duo, Miss Shevaughn & Yuma Wray, who bring lap-steel, banjo, mandolin, guitars and organ, in a musical style blending classic country, '60s AM radio, Motown, and blues. Driftwood Fire, who has a new album called How to Untangle a Heartache, will also play Linnaea's Café on Friday, Oct. 14.
PHOTO COURTESY OF CON BRIO
DIG THIS! : On Oct. 16, Sculpterra Winery hosts Con Brio, a San Francisco band that's been called "a funky, acoustic, jazz/blues casserole."
On Sunday, Oct. 16, Sculpterra Winery will be host to headliner Con Brio (1 p.m.; all ages; pass the hat), a San Francisco band that's been called "a funky, acoustic, jazz/blues casserole."
On Tuesday, Oct. 18, Kelley McRae headlines the showcase at Kreuzberg (6:30 p.m.; all ages; pass the hat) and returns for a show at Sculpterra Winery on Sunday, Oct. 23 (1 p.m.; all ages; pass the hat). Now hailing from NYC, McRae grew up in Mississippi. Paste magazine gave her four stars, WNYC's Soundcheck named her performance one of the year's best, and Bob Harris of BBC Radio called her "brilliant."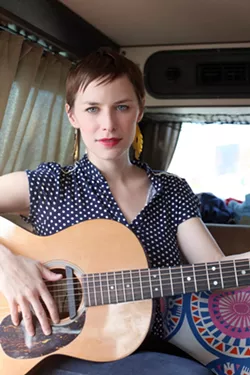 PHOTO COURTESY OF KELLEY MCRAE
SING IT, SISTER! : Mississippi lass Kelley McRae, now of NYC, plays two upcoming shows: Oct. 18 at Kreuzberg and Oct. 23 at Sculpterra Winery.
All of the showcases feature several performers playing four-song sets.
Two tones
From Bach to Beatles and barnburners to ballads, you're guaranteed to love the music of world-renowned finger-style guitarist Richard Smith and cellist Julie Adams.
His sparkling fretwork and her warm tone and lyrical style breathe new life into everything from Scott Joplin rags and Sousa marches to Chopin, Mozart, and fiddle tunes. You'll hear jazz standards, Chet Atkins, Jerry Reed, Django Reinhardt's gypsy swing, as well as the couple's intriguing originals.
PHOTO COURTESY OF RICHARD AND JULIE
FOLK-TASTIC! : Hear music from Bach to the Beatles when Richard & Julie perform at SLOfolks concerts on Oct. 14 at Coalesce and on Oct. 15 at Castoro Cellars.
See them Friday, Oct. 14, at Coalesce Bookstore at 7 p.m. ($20; call 772-2880) and Saturday, Oct. 15, at 7:30 p.m. at Castoro Cellars ($20; call 888-DAM-FINE).
These two are extraordinary performers who sold out their last local SLOfolks show, so waste no time!
More music …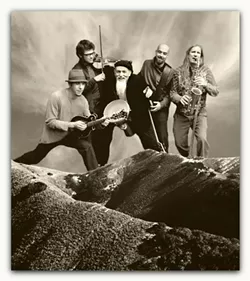 PHOTO COURTESY OF WORLD WIND
GET ECSTATIC!: World groove band World Wind plays Oct. 14 as part of the Central Coast Bioneers Conference at the SLO Vets Hall.
World Wind will bring its booty-shakin' blend of exotic improvisational world grooves to the Central Coast Bioneers Conference on Friday, Oct 14, from 5:30 to 7 p.m. in the SLO Vets Hall. The open-to-the-public event costs a mere $5 and begins with a one-hour Soul Motion dance event with Seshen Aiwahine (4:30 to 5:30) followed by an hour and a half of dancing to live music by World Wind, a stalwart of the ecstatic dance scene that's played Esalen Institute, The Ojai Foundation, Sacred Spaces in Santa Monica, Dance Jam Ventura, Dance Tribe Santa Barbara, Freestyle Dancejam in Pacific Grove, Dance Church in Santa Cruz, and The Mystic Garden Party for Conscious Dancer Magazine.
Nathan & Jonathan McEuen have played alongside some of the best musicians in the industry: Willie Nelson, Vince Gill, Robben Ford, Dave Mason, Kenny Loggins, Dwight Yoakam, and more. On Friday, Oct. 14, from 7:30 to 9:30 p.m., see them at D'Anbino ($15, or $10 for members).
Also on Friday, Oct. 14, Steynberg will be host to Jazz Gitan at 7:30 p.m. ($15; call 547-0278). This jazz ensemble carries on the tradition of gypsy swing created by Django Reinhardt and Stéphane Grappelli during their domination of the Paris jazz scene during the 1930s.
And there's yet more for Friday, Oct. 14: At 8 p.m., the Performing Arts Center's Cohan Center will transform into a percussive dream when Cal Poly Arts presents Taiko 2.0, an explosive evening that merges the Japanese-drum explorations of percussion quartet On Ensemble with world-renowned taiko pioneer Kenny Endo. Guest artists will include Japanese flute phenom Kaoru Watanabe and accomplished percussionist Eien Hunter. Together, Kenny Endo and On Ensemble are a formidable, creative force. Patrons are invited to attend a free pre-concert lecture presented by Music Department Faculty Member Ken Habib at 7 p.m. in the Performing Arts Center's Philips Recital Hall. Student and adult tickets range from $16 to $38. Call 756-2787.
Roseville-based rock and reggae act Simple Creation will make its SLO Town debut on Friday, Oct. 14, at Frog and Peach (10:30 p.m.; 21-and-older; free), but they're no newcomers. The quartet formed in late 2007 and has played more than 250 shows throughout California. They cite Sublime, Rebelution, Pepper, and Bob Marley as influences, but they bring their own blend of reggae and rock "to get the party started and keep it bumping all night."
Three Legged Dawg (Fred, Spanky, and Andy) have a couple gigs lined up for Saturday, Oct. 15. "Seen the shirts? Seen the hats? Heard the rumors?" asked Spanky. "Well, this Saturday is your chance to hear what all the barking's about. It's been a good year for the Dawg. Along with some great gigs at local and distant establishments, this year finds us at Don Quixote's in Santa Cruz, the Ojai Music Festival, Pescadero Country Store, The Milk Bar in the Haight, and this weekend's return to Sea Pines Resort for the final day of this year's Indian Summer Concert Series. We're really looking forward to joining forces with The Kicks for a day of good tunes and vibes. And if that's not enough, Saturday night the Dawg will transform from a three piece acoustic jug band into a freak-flag-flyin' rock'n'roll band at Sweet Springs Saloon with the help of Slim (Cuesta Ridge) on the skins. We're lovin' the acoustic thang, but ya got to crank it up every now and then. It'll bring back fond memories of Fryer Duck and the Raindawgs, Midnite Ryder, and the Skydawgs." See them at Sea Pines from 2 to 6 p.m. and Sweet Springs from 9 to close.
Linnaea's Café is host to So-Cal singer-songwriter Alice Wallace on Saturday, Oct. 15, from 8 to 10 p.m. "This will be my first time playing in the SLO area! I am releasing my debut album in November, and will likely be stopping back into Linnaea's on a West Coast tour with my band in January to promote it. I'll just be playing this show solo as a preview and hopefully gather a few new fans for the tour," she said.
SLO Mambo will bring its butt-shaking Latin jazz sounds to D'Anbino on Saturday, Oct. 15, from 8 to 10 p.m. The seven-piece ensemble turns out high-energy Afro-Cuban sounds that are guaranteed to get folks on the dance floor ($10, or $5 for members).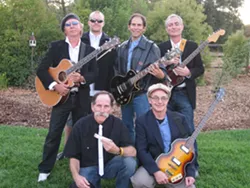 PHOTO COURTESY OF THE PIASANOS
GOOD FELLAS! : See The Paisanos with their new members on Oct. 15 at Frog and Peach.
The Paisanos hit Frog and Peach on Saturday, Oct. 15, from 10 p.m. to 1 a.m., and they have some new members and their best lineup yet. Denny Carvalho, who sang and was the drummer for The Mighty Croon Dogs for 10-plus years, is now the lead singer; Robin White, from Prime Suspect, is playing bass and singing; and Stan Sine, a sideman who's backed the likes of Roomful of Blues, James Cotton, and Junior Wells, will be blowing harp for the band. Don't forget longtime members David Wilson and Doug Blinkhorn. "This is by far the most fun yet!" gushed leader Joe DiVincenzo. "We now have the entire crayon box to play all the shades of rock 'n' roll!"
On Sunday, Oct. 16, the Famous Jazz Artist Series is at it again, this time with co-producers Charlie and Sandi Shoemake taking center stage as they inaugurate their "famous composer" series. These special events will be presented occasionally during each concert season and will be showcasing the work of some of the best-known composers of the Great American Songbook. Charlie Shoemake on piano and vibraphone and Sandi Shoemake on vocals open the series with the music of Jimmy McHugh ("Don't Blame Me," "On the Sunny Side of the Street," "I'm In the Mood for Love"). There's just one performance, at 4 p.m. Tickets are $15; call 927-0567 for reservations.
PHOTO COURTESY OF CILLIAN VALLELY AND KEVIN CRAWFORD
THE OLD COUNTRY : Hear the uilleann pipes and Irish flute of Cillian Vallely and Kevin Crawford when they perform on Oct. 16 at Painted Sky Studios.
Hear the uilleann pipes and Irish flute of Cillian Vallely and Kevin Crawford when they perform Sunday, Oct. 16, at 7:30 p.m., in the intimate and acoustically resonant Painted Sky Studios in Cambria ($18, available in advance in Cambria at the Business Center, 927-8880; and The Yew Tree, 927-0500). From Armagh, Northern Ireland, and Birmingham, England, respectively, Vallely and Crawford are both members of Ireland's highly respected traditional band Lúnasa, considered by many to be the finest Irish band on the scene today. It doesn't get any more authentic than this.
Portland-based Bryan Minus & The Disconnect have released their debut full-length record, Empty Skies, and will hit Boo Boo's for a free in-store on Monday, Oct. 17. Built around a drum machine, the songs bring together '80s dark wave and '90s alt-rock.
Local indie acts Oh My Land and The Deathtower will be joined by Fresno act Fierce Creatures on Thursday, Oct. 20, at The Z Club (9 p.m.; 21-and-older; $5).
Don't forget to buy your tickets for what promises to be a super awesome blast from the past '80s extravaganza! Remember, on Saturday, Oct. 22, OPTIONS Music Festival will present at the Alex Madonna Expo Center "That '80s Thing" featuring The Fixx, Berlin, The English Beat, Bow Wow Wow, and Missing Persons. Now I've got to find my leopard-print vest and black and white creepers. Visit optionsmusicfestival.org to buy your tickets!
Keep up with Glen Starkey via twitter at twitter.com/glenstarkey, friend him at Myspace.com/glenstarkey, or contact him at gstarkey@newtimesslo.com.