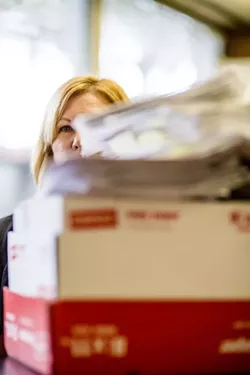 PHOTO BY HENRY BRUINGTON
BURIED: San Luis Obispo Superior Court Executive Officer Susan Matherly and her staff process about 400 criminal records every week to keep up with requests from local background screeners.
On a rainy Tuesday morning, Susan Matherly was hefting large stacks of paper and dropping them on a long desk in her office.
"This is six months' worth of stuff," she said before returning to a corner of the room to retrieve a white cardboard box, about the size of a microwave, packed with hundreds of similar documents.
"It's so heavy I can't even pick it up," she joked before lugging the box back to her desk and dropping it with a heavy thud.
Inside the box were dozens of packets of rubber-banded documents. Each document contained a list of about 20 names. This, in effect, is the archival system at the San Luis Obispo Superior Court for results generated by requests for background checks on approximately 400 names per week. Court staffers run these names through their records to check for a hit.
"There's a level of sophistication to review these requests that's required so we make sure we are protecting the public," said Matherly, who, as the court's executive officer, is responsible for handling issues of public access.
A hit can include everything from a DUI to drug charges to traffic violations to violent crimes such as rape or assault.
Court staffers run searches on each and every name that comes in. Currently, it takes about 40 hours per week—a full-time position, Matherly noted—spread among a handful of staff to keep up. Matherly herself said she spends lunch hours running names through the court's records.
"As of March 21, I think they were completely caught up," she said.
But they're not always caught up, which has been the source of a two-year scuffle between Matherly and her staff, and a group of background screeners who rely on public access to criminal records to do their jobs.
Judie Smith is perhaps the most vocal out of a group of local background screeners: four people who contract with Consumer Reporting Agencies (CRAs) from around the country to conduct criminal background checks totaling thousands per month. For two years, Smith, other local screeners, and the contracted CRAs have flooded local court officials with emails and phone calls protesting what they say is a block to public access. In one such email dated Feb. 21, Smith wrote to Matherly:
"I'm sure you're getting very tired of the emails and calls, but it won't stop until there truly is public access. We can't stop. Too much is at stake. 1,000s of people are at risk of being denied something due to lack of public access, and most of them are innocent."
Those people include anyone who agreed to a background check when applying for a job, a loan, or even an apartment lease. Some of them are local, some have since moved out of the area. Many understand they need the background check completed in order to move forward with their applications, while others likely have no idea.
Kevin*, for example, was unaware that his name appeared on one of the many lists now filling the cardboard box in Matherly's office. But his name turned up a hit for driving without proof of registration. When New Times contacted Kevin, he said he never knew that his record had been checked.
"I don't know," he said. "I'm surprised. I haven't applied for anything."
At best guess, he figured he might have been checked after applying to work with his son's scout troop.
But two years ago, anyone could have checked out Kevin's record—or that of anyone else—easily on one of the Superior Court's public access terminals. In fact, many background screeners were conducting their searches exclusively on that system, which housed a virtual treasure trove of information stored on county-maintained servers.
The Grover Beach branch of the court closed—and with it the public access terminal available in South County—due to budget constraints in late 2011. Matherly said that's when she first learned the terminals even existed and of the unfettered public access to criminal records. That's also when she got her first call from Smith.
"She said, 'I spend three hours a day on the computer at Grover Beach,'" Matherly told New Times. "And I said, 'What?'"
In addition to a cost per keystroke, which Matherly said used to run about $1 million per year for IT, the old public access system provided information that should have been sealed. Court officials had no ability to block access to expunged records for low-level drugs offenses, for example, or crimes that had been wiped away by a treatment program.
So Matherly pulled the terminals, thus triggering the fight that continues even now. Background screeners were initially required to pull records from the front window at the courthouse, but when Matherly realized the amount of time her staff devoted to handling those requests, she limited requests to 10 searches per day.
"We had no idea what kind of volume we were going to have," she said.
Smith, on the other hand, began hiring people via Craigslist to stand in line, after which the court developed a new system: Background screeners would submit lists to court staff, who would then run searches and return the results, usually in about three to five days.
PHOTO BY HENRY BRUINGTON
BLOCKED: For two years, Judie Smith, a local background screener, has been fighting with court officials to gain access to criminal records. More recently, Smith says delays from the court have held up thousands of job and housing applications.
Other nearby courthouses operate in much the same way, though some have attempted to move the volume of requests out of physical courthouses. In Los Angeles County, most searches are handled online using a sliding scale that starts with a $4.75 fee per search and goes down as low as $4, depending on the search volume. Monterey County court officials, on the other hand, accept requests for searches of about 10 to 20 names with a turnaround time of about three to five days. In Santa Barbara County, court officials review emailed requests with the same turnaround time. As elsewhere, they charge 50 cents per page for additional copies, per the rules spelled out in California government code.
But Santa Barbara Superior Court Executive Officer Darrel Parker noted that he understands why SLO County officials are running more slowly, given financial constraints and the task of implementing a new electronic records system: Odyssey.
"After years of cuts … what they're undertaking up there has got to be difficult for them," he said.
That more recent bottleneck has reignited the fight, as a limited supply of court staffers scramble to get the Odyssey software in place and up to date. But for Smith, that's no excuse for hampering public access.
"They had no plan for how they were going to deal with access into historical information, and that's pretty significant," Smith told New Times.
Speaking from her home office overlooking the hills north of Arroyo Grande, Smith was soft spoken and affable, warning a New Times reporter and photographer to close the door tightly to prevent quail from sneaking into her house.
Though her main job is as a human resources consultant, Smith essentially moonlights as a background screener.
"I represent about 50 background screening companies, but there are multiple layers, often times, between myself and the employer," she said.
It works like this: Someone applies for a job, and the employer asks the employee for permission to run a background check. That information is then passed down through a number of companies until it eventually makes it to one of the CRAs with which Smith has a contract. Finally Smith receives a list of names, which she inputs into a form and sends to county court officials to see if there are any hits.
She's paid by the name, regardless of whether there's a hit, but when there's a delay, Smith said it affects her financially—but more so, it impacts the applicant, who can't move closer to getting hired.
As court officials are in the midst of implementing the Odyssey software, Smith said she's experienced extensive delays in receiving back those lists.
"I had almost 2,000 names outstanding for almost six weeks," she said. "That's a lot of people—and I'm only one researcher."
Anyone held up because of a background check has the option to go to the court for a signed "no report" letter. According to court officials, SLO County issues about 10 to 15 of these per month.
Smith attributes the delays to poor planning and poor communication between court staff and background screeners.
"I don't believe that they intentionally have barred anything, but the reality is for a good month we got absolutely nothing," she said. "Now that is denial. You can split hairs—yeah, eventually they got it—but what it really boils down to is inadequate planning."
But according to Matherly, who said she's consulted state officials from the Administrative Office of the Courts, her office is only legally obligated to provide "reasonable access" to records. Translation: The court will provide its legally mandated public information, but there isn't a strict timeline to do so.
And given the ongoing budget constraints (the court has trimmed its budget by about 10 percent and its employees by about 13 percent over the past five years), she said that commercial background screeners are not the office's top priority.
"You can come to the courthouse; you want a record, we'll give you a record," Matherly said. "But the idea of bulk records, this is commercial; they're third-party vendors."
She added that there are other methods of collecting the same information through the FBI and Live Scan, but those services cost money while the court records are free.
"There's a multitude of reasons they look for records, and I don't even know what those are," Matherly said. "They just give us a lot of names."
Such statements have earned the collective outrage of Smith and other local background screeners as well as agencies going up the chain of command. Many have criticized court staff for delaying their ability to complete background checks, and at worst attempting to cut off public access just because of who the people asking are. They further allege that without their work, employers and neighborhoods might be in danger if violent criminals and rapists, for exampled, are unknowingly hired or allowed to live near a school.
Andrew Solow, vice president of Gladding & Michel Investigative Offices in the Bay Area, has sent numerous emails to local court staff, as well as to Presiding Judge Barry LaBarbera.
"What I figured out was basically they're breaking the law in my opinion," Solow said in a phone interview. "But I'm not a lawyer."
In response, court staff cite government codes that dictate what is and isn't mandated concerning public records. Solow said he doesn't intend to sue, but he's contacted other organizations and urged them to bring litigation against the county court—though no one has taken up the case, he said.
The issue has rippled throughout the background screening community and as far as the National Association of Professional Background Screeners (NAPBS), a North Carolina-based trade organization.
"We work very actively lobbying at the federal and state level against legislation or with legislation that makes sense with screening or the screening industry," said Melissa Sorenson, the NAPBS executive director.
Asked about the issue in SLO County, Sorenson said, "We have certainly seen this before. I wouldn't say that it's regular, and I'm not aware of any other jurisdictions that have it as an ongoing issue like we've seen in San Luis Obispo."
Local legislation and changing federal policies have shifted the regulations on background checks. Most recently, a new set of guidelines from the Equal Employment Opportunity Commission (EEOC) released in 2012 had a significant impact on background checks, Sorenson said. While the EEOC can't regulate background checks specifically, it issued the guidelines designed to protect minority groups, who are more statistically prone to have a criminal record, and therefore at risk for unfairly being denied a job.
"Assuming that current incarceration rates remain unchanged, about one in 17 white men are expected to serve time in prison during their lifetime; by contrast, this rate climbs to one in six for Hispanic men; and one in three for African American men," according to the EEOC guidance.
In a written statement, an EEOC spokesperson said the commission "has started to enforce this law aggressively in the past few years."
Background checks are further regulated by the Fair Credit Reporting Act. Ultimately, employers are only supposed to base hiring decisions on convictions, and exclude non-conviction arrests that are more than 7 years old. Additionally, only criminal history that has a "nexus" with the job functions should affect someone's chance at employment.
In practice, however, and with the rise of easy access to criminal background information online, the legal guidance isn't necessarily a hard-set rule.
"I think what we're seeing is, in the past, folks were able to do their time and move on with their lives," said Madeline Nieghly, a staff attorney for the National Employment Law Project. "Now there's kind of a change where every sentence becomes a life sentence."
At the same time that background screeners are pushing to gain access to criminal records, other organizations and politicians have been trying to lessen the impact on employment applications. This July, public employers in California will be legally barred from asking an applicant to disclose criminal history until after deciding he or she is qualified for the job. Sacramento Assemblyman Roger Dickinson authored the bill that created the law, and while it doesn't apply to background checks, he said the idea was to reduce criminal recidivism by giving past offenders a better shot at finding a job.
"The idea has been to eliminate the initial inquiry into conviction history or criminal history in order to give all applicants a chance to be considered on their merits and just get their foot in the door," Dickinson said during a phone interview from his Sacramento office.
Locally, Matherly and Smith said most hits on background checks are for DUIs and drunk in public charges, followed by drug charges and domestic violence. As Matherly put it: "So you come to Cal Poly, you have a little too much fun, and then it haunts you forever."
But for Smith and other screeners, the lack of serious charges should expedite the process, because at the end of the day people are still being denied employment and housing. While Smith casts a wider net—she reports all hits going back as far as a decade—she said it's up to her higher ups (the CRAs) to filter out hits that shouldn't be forwarded to employers.
"You don't ever just want to not hire someone because they have a conviction," she said. "That would be very dangerous."
For Smith, one of Matherly's worst offenses was that she stopped communicating with background screeners.
"If she would have just sat down and talked … I'm really smart and I really understand business, and I bet if she would have engaged in a conversation with me, this would have been handled a long time ago," Smith said.
In response, Matherly told New Times, "I've told her everything I could tell her.
"I don't understand that argument, the [lack of] transparency," Matherly added. "It's really to check government; it's not for commercial searches."
Despite the ongoing fight between court staff and screeners, national and state legislation designed to protect applicants from squeamish employers, and the very question over public access to information versus personal privacy, someone like Kevin may never have any idea the number of people who have touched his background record.
"That's kinda strange that somebody's checking me out," he said.
* New Times isn't publishing his last name.
Contact Senior Staff Writer Colin Rigley at crigley@newtimesslo.com.