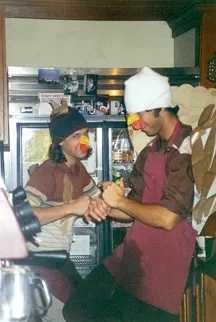 When Linnaea Phillips first opened the doors to her café, a whopping quarter of a century ago, the world was a rather different place. Ronald Reagan was president, New Times was but a twinkle in Steve Moss' eye, and even Starbucks had yet to embrace the concept of selling ready-made coffee. Phillips was 50 years old, and more than prepared to create, brick by brick and idea by idea, the city's first downtown café.
The café's current owner, Marianne Orme, invites the public to celebrate Linnaea's Café's 25th birthday on May 1 from 6 to 9 p.m. The space will be adorned in its finest raiment—work from local artists who have exhibited at the café in the past 25 years. Espresso will flow like nectar on Mount Olympus under the skilled hands of past and present employees, and the customary flow of business will be suspended.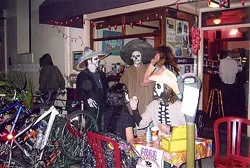 "I had come from Europe and somehow people there enjoyed sitting around and drinking coffee and talking," explained Phillips, who takes a playful pleasure in throwing people together, not unlike the ingredients of an elaborate and combustive recipe. "And I come from the tradition of, when I walked through the door, my mom would say, 'Oh, would you like coffee?' So the idea of the European café was very prominent in my thinking."
Her son found the space, on Garden Street in what had previously operated as a wig shop. Various friends contributed to the construction process; Phillips would host brick parties and friends and acquaintances would bring them by wagons. Ceramicist Bob Nichols would then fire the bricks so that participants could etch personal messages into them.
Over the course of the next 15 years there was very little that Phillips and her band of dedicated volunteers and employees did not attempt in the space. It started with breakfast, with an emphasis on wholesome, earthy, vegetarian fare. From there, café cooks reckoned that it would be just as simple to prepare lunch alongside breakfast. Which, in turn, gave way to dinners—waffles on Monday, tamales on Tuesday, rice and beans on Wednesday, and so forth and so on. She wanted to serve wine as well, but the landlord was inexorably opposed to alcohol, in all of its manifestations.
They've peddled books, in conjunction with Phoenix Bookstore. And established a granola table, which customers abused because it was located outside the employee sight line. Phillips hosted Thanksgivings in the café's garden, and an event called the Mozart Café got shut down by the fire department because there were too many people in attendance. They've hosted lavish and colorful Dia de Los Muertos celebrations. A pair of imaginative employees used to host Wednesday theme days; each Wednesday customers would vote and the following week the duo would dress in accordance with that week's theme, Wall Street day, turkey day, beekeeper day, and pink day being among the winners.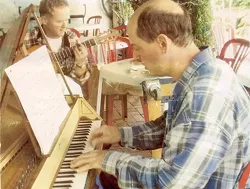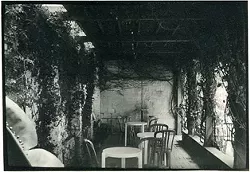 In decades past it served as a trysting place for fledgling couples reluctant to begin their romance in a bar. The space has seen wedding receptions. And wakes. Politicians have politicked in the garden.
"Many a person has come to me and said, 'I met my husband' or 'I met my wife in there,'" said Phillips.
Perhaps one of their longest-running experiments was inspired by a patron who had visited a café with books that customers were allowed to write in. Phillips decided to install the journals in her own café. Creativity flourished; some customers wrote ideas, which others responded to in turn. Ken Haggard (an architect) drew elaborate houses. Then came a time when the entries became angry and sexually perverse. Phillips removed the books, amidst charges of censorship from patrons—which she acknowledges were just. After a brief cooling-off period, the books returned to their habitual shelves where the journals thrive today.
Some endeavors failed, while others flourished. But Phillips, Orme, and their band of faithful baristas have enjoyed the ride.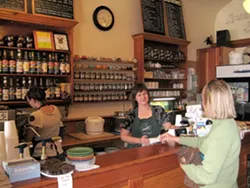 All along the way, the café has blazed a trail as a business committed to art. The walls are lined with strips intended to support paintings and photographs. A stage in the farthest corner of the café has seen innumerable concerts and poetry readings (before the café opened, Phillips' own house was perpetually overrun by musicians from around the world). There's almost always been a piano at Linnaea's, usually donated by a café regular.
Around the turn of the century, Phillips relinquished the reins of control to Orme, the longtime manager, allowing Phillips to travel to China to teach. Since then, Orme has chartered new directions for the café, engaging its baristas in competitions and planning its birthday fete, while retaining its core commitment to community, sustainability, and merriment.
"As people say, this is an institution," concluded Phillips, who retains the status of someone responsible for a cherished landmark despite no longer being involved with the café's working operations. "It has become a tradition. It seems to retain its warmth and acceptance and equality and things that I think are important anywhere. It seems to come out of the walls."
Arts Editor Ashley Schwellenbach can be reached at aschwellenbach@newtimesslo.com.