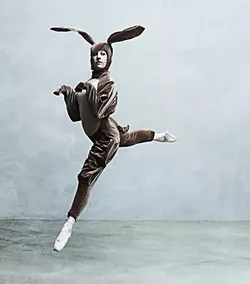 PHOTO BY BARRY GOYETTE
THE BUNNY HOP : Riva London stars as the velveteen rabbit in Ballet Theatre San Luis Obispo's holiday production.
Hopping, bouncing, springing, leaping, graceful, sprightly, noses aquiver: there's not a great deal of difference between rabbits and dancers, if you stretch your imagine a little. And Ballet Theatre of SLO is collapsing what little disparity there might be with its brand-spanking-new production, The Velveteen Rabbit
, running at the PAC Dec. 5 and 6.
This year's performance marks a departure from Artistic Director and choreographer Theresa Slobodnik's original holiday show, The 12 Days of Christmas. In August, Ballet Theatre of SLO relocated to the Dance Obispo studio downtown, adding chaos to the burden of creating a holiday performance.
"It's so cast and dance heavy," she said, of the past show. "And you can only double people up so much. With the move here, I knew I was going to have to do something different. I had kind of been waiting to do something more theatrical because I love storytelling. In an area like this you can't do the same thing every year, besides Nutcracker. And we already have Nutcrackers."
While looking through classical tales with a holiday twist, Slobodnik stumbled across the story of a toy transformed into a real bunny out of his love for his boy. The story was rich enough to create a 40-minute ballet with a cast of about 40 dancers. The choreographer's first order of business was to find music to accompany the ballet she would create. She happened to have a copy of Alexandre Luigini's now out of print "Ballet Egyptian." Luigini wrote the piece for the opera, Aiida, which was performed only once. Unfortunately, it was only 20 minutes worth of music, so Slobodnik set about editing and arranging it, stretching 20 minutes into 40.
Then came the all-important task of finding her bunny. She needed to be small, expressive, capable of grasping the nuances of the story, and willing to delve into bunny psychology. Slobodnik selected Riva London, a high school senior who's quick to pick up new choreography. With her arms always out, ready to be embraced in a child's hug, the velveteen rabbit, despite being the protagonist in a dance show, is defined by a rather limited range of movement. The toy bunny cannot leap and move in the same manner as the real rabbits that come to investigate her. And when she dances with her beloved boy, played by Asael Picasso, she rocks about as though about to collapse upon the floor.
Rehearsals for the performance incorporate alternately funny and complicated jaunts into the realm of bunny psychology. How would a bunny sitting alone feel if two other rabbits were to mock it for its inability to hop properly? Not very good, of course.

HOP AND SKATE: Ballet Theatre San Luis Obispo stages the world premier of The Velveteen Rabbit, along with Les Patineurs on Dec. 5 at 7 p.m. and Dec. 6 at 2 p.m. at the Spanos Theatre. Tickets cost $18 to $33. For more information, or to purchase tickets, visit pacslo.org.
But how would that same bunny feel on the first occasion when he meets his boy, who tenderly examines his nose, his legs, his ears?
Slobodnik emphasizes theatricality as her show develops. There's a reason, she points out, that her ballet company is called The Ballet Theatre of SLO. Dance too, tells a story. Sometimes that means pushing her cast, particularly the younger dancers who have never been tasked with memorizing choreography. The more miniature of the young dancers put in an appearance as ants marching on and around the hapless rabbit. The rabbit's boy, of course, comes to her rescue, shooing the brigade of six-legged invaders offstage.
Technical proficiency is all well and good, but Slobodnik hopes to foster artists that are more than technicians. She wants them to know how to tap into a story emotionally, and play to an audience.
The entire tale is any child's fantasy, abounding with characters that really are too good to be true. But few adults could resist the tale's sweetness and justice. Through the Skin Horse (Brianna Thompson), the rabbit learns that he might one day become real, through the love of his child. Later, in a graceful, lift-filled dance with the magic nursery fairy (Michelle McLaughlin), the bunny is rewarded for his love.
In addition to the rabbit's tale, Slobodnik is also staging Les Patineurs (The Skaters), one of the company's signature holiday ballets which lasts about 25 minutes. The entire company performs in both ballets, with a 20-minute breather between the two (which the audience calls an intermission). At the end of the evening you might find yourself treating your toys, or your children's toys, with greater respect and love. ∆
Arts Editor Ashley Schwellenbach never met a bunny she didn't like. Wiggle your nose at aschwellenbach@newtimesslo.com.