Whether you're paying off that speeding ticket, doing a background check, or reporting for jury duty, chances are most San Luis Obispo County residents will eventually end up at the county courthouse.
After you walk through the metal detector and pass your metallic objects through the X-ray machine, though, the first thing on your mind probably isn't grabbing a bite to eat.
Despite the literal and metaphorical entry barriers, Young Kim and Paula Yeo—owners and operators of The Courthouse Café—are working hard to prepare food and attract customers in the unlikeliest of venues.
PHOTO BY RHYS HEYDEN
COURTROOM CUISINE: Young Kim and Paula Yeo are the owners and operators of The Courthouse Café, a small restaurant within the San Luis Obispo County Superior Courthouse.
Kim and Yeo—a married couple who moved to SLO County from South Korea three years ago—have owned and operated the small restaurant in the courthouse lobby since October 2013.
"It's true that our customers can't come in here very easily, but we still like this location—it's very safe!" Kim said. "We like having the court workers, attorneys, and jurors come in to eat, and they are very kind to us."
The Courthouse Café is an interesting fusion of a convenience store and a restaurant. While offering a selection of small snacks, candy, and beverages, Kim and Yeo also cook up a variety of custom-made breakfast and lunch foods in the kitchen.
Kim said he has kept much of the menu from the previous owners of the café, featuring standards like bacon, eggs, and toast for breakfast, and sandwiches, burgers, and burritos for lunch.
As a tribute to their Korean heritage, Kim and Yeo also cook up a separate menu of Korean dishes, including ramyun noodles, kogi burgers, and dumplings.
During a recent visit by a New Times reporter, Kim enthusiastically whipped up a "Korean Rice and Beef Combo" on the flat-top grill. The dish features crispy dumplings, flavorful shredded beef and veggies, and a generous mound of rice for a bargain price of just $6.75.
"It was important for us to keep the prices low," Kim said. "We serve a lot of public employees, and we like to make them happy."
Kim is definitely true to his word—almost all of the café's breakfast and lunch offerings are under $7, and some are as cheap as $1.50.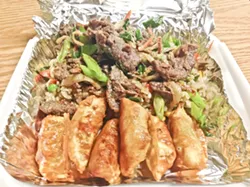 PHOTO BY RHYS HEYDEN
FUSION: The duo serve up a wide variety of breakfast and lunch foods, including specialties like the Korean Rice and Beef Combo (pictured).
Kim and Yeo have previously worked a variety of jobs in South Korea and Buenos Aires, Argentina (where they owned a Korean restaurant), and have clearly developed a good deal of teamwork over the years.
Bantering back and forth in their native Korean, Kim and Yeo both take equal responsibility in the kitchen, flitting around grills, stoves, and ovens as they speedily prepare meals.
Yeo said that one of her favorite parts of the job is managing the café's music—drawing from a substantial stack of CDs she keeps on her desk in the back of the café.
"I actually had a discothèque job in Korea for five years," Yeo said. "I love music, and I play all kinds here—classical, pop, a little bit of everything."
Yeo also makes intricate origami cranes in her free time, a skill she said she picked up as a "very young girl." Multicolored cranes are scattered throughout the café.
Though Kim and Yeo get the weekends off when the courthouse is closed, they arrive every morning during the week at 5 a.m. and stay until 3 in the afternoon. Kim said the hours can be tiring, but their regular court customers are "like a family," and that makes their shifts seem much less onerous.
"We like to make friends, because it is much easier to understand American culture and learn the language if you talk to people," Kim said. "They help us, and we provide good food to them at good prices."
The Courthouse Café is located in the SLO Superior Court building at 1050 Monterey St., SLO. Café hours are from 7 a.m. to 3 p.m.
Staff Writer Rhys Heyden can be reached at rheyden@newtimesslo.com.