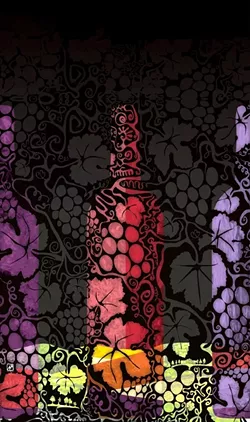 IMAGE BY ADAM PERUN
ZIN OF INDULGENCE : The Zinfandel Festival runs March 18 to 20 and boasts a variety of events from a variety of winemakers.
Hard to believe now, but there were fewer than 20 wineries in Paso Robles when I relocated here from San Francisco in 1996. In fact, I started traveling here when I was the wine tasting coordinator for Wine Spectator magazine. I was liaison between the magazine's critics and winemakers for seven years, and it was the greatest job of my life. I was also special events coordinator working with restaurants around the world competing for our annual grand wine list awards. Among many great memories, I still vividly remember the first Paso Robles Zinfandel Festival I attended in 1994, two years after it began. And I fondly recall visiting Peachy Canyon when owners Doug and Nancy Beckett made wines next to their home on a mountaintop along Peachy Canyon Road. I visited Wild Horse in Templeton where I met Ken Volk and tasted his extraordinary Wild Horse Zinfandels, among many other varieties with which he was infatuated. Today, there are more than 200 brands in Paso Robles, according to the Paso Robles Wine Country Alliance (PRWCA). Fifty-two Zin specialists will pour Zinfandels in every style imaginable during the 19th annual Paso Robles Zinfandel Festival.
ZELEBRATE: The Paso Robles Zinfandel Festival runs March 18 to 20. The big Zin tasting event takes place on Saturday evening, March 19, at the Paso Robles Event Center on 2198 Riverside Drive, Paso Robles. Two levels of tickets are available: ZIP (Zinfully Important Person) tickets for $85, which get you inside an hour ahead of the crowd for a better chance to talk to the vintners, (6 to 9:30 p.m.); and the Zin Fan Del ticket for $60, which gets you into the tasting from 7 to 9:30 p.m. On Friday, Saturday, and Sunday there are food and wine tasting events, seminars, and wine tastings galore. In fact, it's not just the Zinfandel producers getting this party started. Paso's Rhone, Burgundy, and other varietal specialists will be offering some enticing treats to get you to their events, too. You'll also find the usual winemakers conducting terrific seminars, like the 17 Far Out Wineries "Walkabout Zin Tasting," held at Justin Winery Saturday morning from 10 a.m. to 1 p.m. Cost is $55 per person, which includes appetizers. You can make reservations at faroutwineries.com/events, and it's wise to call ahead. Another interesting seminar takes place at Robert Hall Winery on Saturday from 11 a.m. to 1 p.m. Danika Reed of Vivant Fine Cheese will pair six of Robert Hall's classic varieties with international cheeses, featuring unusual pairings like Cabernet Sauvignon and Gorgonzola. Tickets cost $30 each. They're sticking with the Zin theme at Turley Wine Cellars, where you can compare Zins from Paso, Napa, Howell Mountain, Dry Creek, and Contra Costa side by side and experience what sets Paso apart from the rest. It's $20 per person, and takes place at 11 a.m. and again at 1 p.m. Please note that no one younger than 21 will be admitted to these events. Those are just a few of the great happenings throughout Paso Robles wine country all weekend long. Keep your Zin festival ticket handy—more than 75 wineries will provide special offerings for ticket holders. For event details and ticket sales, visit pasowine.com.
Lately, some media members have argued over which varieties of wines are best grown in Paso, because the high scores typically go to Cabernet Sauvignon, Rhone blends, and Syrahs. But Paso will always remain among the best California regions for Zinfandel. It has since the pianist and Polish Prime Minister Ignace Jan Paderewski started making his first award-winning Zinfandels in the 1920s at his neighbor's winery, York Brothers. Now York Mountain, it's the oldest continuously operating winery in San Luis Obispo County. Rotta was the first commercial winery in SLO County, dating back to 1856, while York Mountain was established in 1882. But the former was closed for many years until later generations re-established the brand.
The Zin festival's auction, titled "Bottles, Bottles, and More Bottles," however, is not limited to Zinfandel. Wisely, the PRWCA created a wine collector's auction that connoisseurs will love. It offers everything you could desire to fill your wine cellar: vertical flights of wines from your favorite Paso Robles wineries; large-format bottles with novel names like Jeroboam, which holds the equivalent of six bottles, or Salmanazar, which holds the equivalent of 12 bottles of wine; and beautifully etched-bottles by local artists. Among them, you'll find everything from Zinfandel, Chardonnay, and Cabernet Sauvignon to Rhone blends, Viognier, and Syrahs.
Nearly every other event taking place this weekend is focused on one variety: Zinfandel. You learn more by tasting Zinfandel in its various forms, whether it's from one extraordinary vineyard or a Zin blend made from several unique vineyards in our popular North County wine region. The Paso Robles Zin Festival takes place throughout the weekend, Friday through Sunday. The party starts early at the individual wineries, but on Saturday night people will crowd the auditorium to taste Zinfandel in all its myriad styles and blends. Every Zinfandel producer—from pioneers like Castoro, Eberle, Peachy Canyon, and Hope Family Wines to newcomers like Ancient Peaks, Sextant, Thatcher, and Turley—will be participating. Among the 19 restaurants and caterers offering culinary treats, you'll find outstanding foods from Artisan, Dining with André, Thomas Hill Organics, and many more.
The PRWCA is pleased to have novelist Rex Pickett, author of Sideways, at this year's festival. He's here to promote his sequel, Vertical, that reunites Miles and Jack on a trip through the West Coast's finest wine regions. You'll be able to buy Vertical and hear Pickett tell his wine-inspired tales. I met him during the World of Pinot Noir Festival, where we all watched Sideways at an ancient theater while drinking great Central Coast Pinot Noirs. He definitely added some fun to the wine-tasting experience.
There are two additional attractions at the Zin fest this year: the chocolate and Port parlor, and the plaza lounge for cigars with Zin. Either way, it's a sweet conclusion to Zin Fest.
You can reach New Times Cuisine columnist Kathy Marcks Hardesty at khardesty@newtimesslo.com.