Goodbye, 2014! You really zipped by! I guess we'll have one more night to party before you're gone for good.
New Year's Eve—such an amazing night, too! It's, like, the only night of the year you can wear body glitter without being mistaken for an exotic dancer. It's one of those nights where people get so drunk, if a vampire bites their neck, Bloody Mary comes out.
PHOTO BY LANCE KINNEY
SING IT, SISTER!: Morgan Monroe of the soul band The Monroe will be one of three acts playing this year's 2014 Zongo Time Traveler's Ball on Dec. 31 at the Los Osos Community Center.
Lots of New Year's Eve parties are already sold out, but there're still tickets (as of Monday, Dec. 22) for the 2014 Zongo Time Traveler's Ball this Wednesday, Dec. 31, at the Los Osos Community Center (doors at 7:30 p.m.; show from 8 p.m. to 12:30 a.m.; all ages; $25 adults and $10 for kids available at zongoallstars.com).
"After last year's sold-out costume ball, Zongo All-Stars is at it again with the 2014 Time Traveler's Ball," said Zongo bandleader Paul Irving. "Dress from any time period—past or future—and join us for a great night of music and dance in Los Osos at the Community Center. The journey begins with the big, soulful, award-winning vocal sounds of The Monroe. Following them will be Solstice, an amazing power funk trio with almost 70 years of collective experience together between members Dylan Johnson, Jacob Odell, and Jennings Jacobsen. Taking you up to midnight will be the hot, fun, Afro-Caribbean sounds of current New Times Readers Poll 'Best Local Band,' Zongo All-Stars. Then at midnight, all three bands and special guests will take the stage for a big super jam to get 2015 off on the right note."
There will be beer, wine, champagne, and soft drinks available, but make sure you have a designated driver. Nobody wants to spend the first day of 2015 in the county jail with court dates and big fines looming!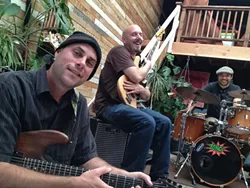 PHOTO COURTESY OF SOLSTICE
FUNK IN THEIR TRUNK: Power funk trio Solstice—(left to right) Jacob Odell, Dylan Johnson, and Jennings Jacobsen—also play this year's 2014 Zongo Time Traveler's Ball on Dec. 31 at the Los Osos Community Center.
Here's my resolution for you: May all your troubles last as long as my New Year's resolution!
From Spain, with love
What is Cosmic Folk? You can find out this Friday, Dec. 26, when Erik La Chapelle plays Luna Red at 10 p.m.
"I'm a musician and singer-songwriter living in Spain," he wrote. "I'm in California for the rest of this month and the first half of January, and I just finished a European tour, playing in Spain, Italy, France, and Portugal. The style of music I play is called Cosmic Folk, and I step on a bass drum and play guitar and sing."
I checked out a few of his videos online, and if you're thinking sleepy, slow folk ballads, that ain't this guy! Even his guitar playing is percussive, and the songs themselves are mostly propulsive rockers. This show should be a great way to wind down from Christmas!
Beat it, Alzheimer's!
There are a lot of accordion jokes out there: What is the definition of an optimist? An accordion player with a pager. What's a gentleman? Someone who knows how to play accordion but doesn't. What do you call an accordion player without a girlfriend? Homeless.
PHOTO COURTESY OF DUANE INGLISH
THE WORLD ACCORDION TO DUANE: Duane Inglish & The Inglishmen (the male members of Café Musique) will play 'A Night to Remember' on Dec. 27—a benefit concert for the Alzheimer's Association of the Central Coast at Last Stage West.
But seriously, folks, accordion player Duane Inglish actually makes accordion playing cool! Really cool! The former owner of the world famous Darkroom, founder of the Live Oak Music Festival, and current member of Café Musique really plays the hell out of his accordion, and he's also a sweet guy, which is why Duane Inglish & The Inglishmen will play "A Night to Remember" this Saturday, Dec. 27—a benefit concert for the Alzheimer's Association of the Central Coast at Last Stage West (6 p.m.; $25 with tickets at the venue and Central Coast Music in Morro Bay).
"The headliner for this year's concert will be Duane Inglish and The Inglishmen (The Men of Café Musique), with their unique mixture of European dance music and gypsy jazz," concert organizers said. "Quarter Moon, one of SLO County's best Americana bands, will open the show, and the Last Stage West's 'house musician,' BanjerDan (Dan Mazer), will be the musical host and emcee. All the musicians are volunteering their time and talent for the event, and Last Stage West will donate 20 percent of the evening's dinner sales to the cause. Last Stage West also welcomes sponsors and tax-deductible donations to be given out as door prizes, and thanks to returning sponsors Central Coast Music and Toro Creek Brewing Company for the continuing support. The goal of the event is to raise funds and donations for the Alzheimer's Association of the Central Coast and to raise awareness of the toll Alzheimer's Disease takes on America and the world every day of every year. Your donations will help the Alzheimer's Association find ways to treat and someday cure this dreadful malady."
Sounds good to me! Doors open at 3 p.m., and Last Stage West cooks up some mean barbeque, so bring your appetite!
All heart
You've got to love a band that pulls itself up from its bootstraps, which is the best way to describe the rise of Santa Maria-based punk and hardcore act
Heart to Heart, which plays this Saturday, Dec. 27, at SLO Brew (7 p.m.; all ages; $12 presale or $14 at the door).
Formed in 2009, it didn't take the group—lead vocalist Nick Zoppo, guitarist and vocalist Jonathan Hayes, bassist Justin Bratcher, guitarist and vocalist Taylor Stillwell, and Nashville-born drummer Blaze Blanke—long to acquire a following, drawn to their energetic style and commanding stage presence.
In 2010, they signed to Anchor 84 Records and released an EP, and in 2013, they signed to Pure Noise Records, recording their first full-length album, Dulce. This year, they played the 2014 Vans Warped Tour, and most recently released another new EP.
Clearly their hard work—and strong work ethic—have paid off for this on-the-rise band. Check them out!
Strike up the band!
It's pretty hard to not have a good time listening to New Orleans-style jazz, which is what you'll get when Sonoma County-based band The Dixie Giants plays Frog and Peach this Saturday, Dec. 27 (10 p.m.; 21-and-older; free).
I checked out the video of their Second Line number, "February," and these guys are amazing, with exceptional horn work. The band is comprised of music educators, jazz students, and a winemaker in training.
According to their website, they were "founded in the summer of 2012 by Dan Charles (banjo), Casey Jones (clarinet), and Nick Pulley (sousaphone), [and] are a group of young, energetic musicians who enjoy the sounds of traditional jazz. Their repertoire includes New Orleans classics written by the likes of Louis Armstrong and Kid Ory, reinterpretations of modern pop/rock songs in the Dixieland style, and original tunes written in the style of traditional New Orleans jazz. Winners of the North Bay Bohemian's 'North Bay's Best Jazz Band' award, The Dixie Giants frequently perform in venues and on the streets of Sonoma County, parading, hollering, and playing their hearts out."
Should be a hoot!
Celtic Christmas
If you want to get in the Christmas spirit as people did in centuries past, you should check out Four Shillings Short this Sunday, Dec. 28, when they play the Unitarian Universalist Community of Cambria's church (786 Arlington Street; 3 p.m.; donations accepted).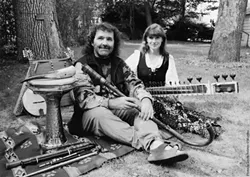 PHOTO COURTESY OF FOUR SHILLINGS SHORT
THE CELT AND THE CALIFORNIAN: Great husband and wife duo Four Shillings Short brings their Celtic, folk, and world music sounds to the Unitarian Universalist Community of Cambria's church on Dec. 28.
"We're coming back to the Central Coast for one more concert before heading East again for another big tour, so this will be the last time folks can see us until Winter of 2017!" wrote Christy and Aodh Og of the Celtic, folk, and world music duo. "We're 21st century bards who play over 30 world instruments and have a great story to tell."
The pair stretches the boundaries of Celtic music by mixing in Indian Ragas and Middle Eastern styles thanks to some excellent sitar playing! In fact, you'll hear everything from folk ballads to old-time songs to medieval and Renaissance instrumentals as well as a cappella numbers played on a wide variety of instruments that include the hammered dulcimer, mandolin, mandola, bouzouki, tin whistles, recorders, medieval and Renaissance woodwinds, north Indian sitar, charango, bowed psaltery, banjo, bodhran, guitar, percussion, vocals, and even a krumhorn.
The husband and wife team have played together for nearly 20 years now. Aodh Og O'Tuama hails from Cork, Ireland, and Christy Martin from California, and they've toured throughout the U.S. and Ireland.
"We're independent folk-artists with 11 recordings, performing 150 concerts a year and living as the troubadours of old traveling from town to town performing at music festivals, theatres and performing arts centers, coffeehouses, folk societies, libraries, and schools."
Aodh Og, according to the duo's bio, "grew up in a family of poets, musicians, and writers. He received his degree in music from University College Cork, Ireland, and received a fellowship from Stanford University in California in medieval and Renaissance performance. He plays tin whistles, medieval and Renaissance woodwinds, recorders, doumbek (from Morocco), bowed psaltery, spoons, and sings both in English and Gaelic.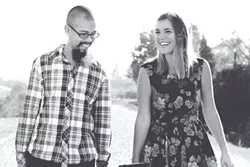 PHOTO COURTESY OF THEM TRAVELIN' BIRDS
TWO BIRDS: On Dec. 29, at Last Stage West, see jazzy, punk-grass Americana duo Them Travelin' Birds (Cassandra O'Connor and Tracy Hui).
"Christy Martin grew up in a family of musicians and dancers. From the age of 15, she studied North Indian sitar for 10 years with a student of master sitarist Ravi Shankar. She began playing the hammered dulcimer in her 20s and has studied with Maggie Sansone, Dan Duggan, Cliff Moses, Robin Petrie, Tony Elman, and Glen Morgan. In addition, she plays mandolin, mandola, bouzouki, banjo, guitar, bodhran (Irish frame drum), charango, bowed psaltery, and sings in English, Irish, Spanish, and Sanskrit."
This will be a great show for the whole family!
Travelers!
Them Travelin' Birds play from 6 to 9 p.m. this Monday, Dec. 29, at Last Stage West. The Oakland-based duo delivers jazzy, punk-grass Americana, and they played more than 200 shows in 40 states last year. Perky chanteuse Cassandra O'Connor and plectrum banjo ripper Tracy Hui create quirky, infectious sounds that are pretty darn charming.
Keep up with Glen Starkey via twitter at twitter.com/glenstarkey, friend him at facebook.com/glenstarkey or myspace.com/glenstarkey, or contact him at gstarkey@newtimesslo.com.